A front-line aspirant   for the Presidency seat of the Nigeria Football Federation NFF), Pinnick Amaju has been wooing delegates to the Elective Congress scheduled to hold  on September 4 in Abuja, with a firm promise to turn around the fortunes of Nigerian football for good.
Amaju, who threw in his hat into the ring for the polls , following the decision of the immediate  past President , Aminu Maigari not to seek a second term, last night assured delegates that if they elect him President of the NFF that he will place more emphasis on youth development and the league.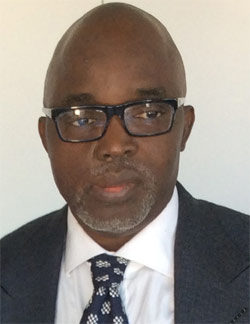 "I am assuring delegates and Nigerians that if elected the next President of the NFF that we will concentrate more on youth development. We will also make the league a thriving business for the players and ensure that our referees go on refresher courses to update their knowledge of the game,
The FA Chairman of the Delta State Football Association, reputed to be the best-run  FA in the country, told Sports Vanguard that he will make the NFF self-sustaining if given the mandate to steer the ship of the NFF.
"I promise to bring my wealthy of experience and robust business network to attract the best sponsorship deals for all our programmes if elected NFF President", added Amaju.
Under his leadership, the Delta State Football Association, currently enjoys  the longest-running football sponsorship deal in  Africa, spanning 14 years with Oceanic Bank, now Ecobank
The DFA has also interned over 500 coaches in the last 12 years at the NIS & Sports Institute in Mosogar, while some coaches have gone overseas for training,  through private sector initiative.
Under Amaju's stewardship, the DFA also sent referees to England for training, with one referee, officiating in Stamford Bridge and Old Trafford as part of the training, which was financed by the private sector.
Delta is the first  State FA to broadcast its  FA Cup finals live on television. This has been on for three years.
And to Amaju's credit, Delta  is the first State or Regional FA in Africa to build a World Class Secretariat, called Patrick Okpomo Football House, which is due for commissioning in about two weeks. The facility was built through private sector initiative