Is it that the Athletics Federation of Nigeria officials do not want to learn or simply they are just a plan- less bunch? The IAAF world junior championships ended last Sunday in Eugene, Oregon USA with Divine Oduduru winning 200m silver; sparing the country the embarrassment of not winning a single medal just like the last edition 2012 in Barcelona Spain.
The team that went to Oregon, paraded some of the best juniors that Nigeria has ever produced in recent times and from all indications, these youngsters were poised to make a name for themselves and bring glory to their country, but it was a pity they weren't well managed to achieve their true potentials.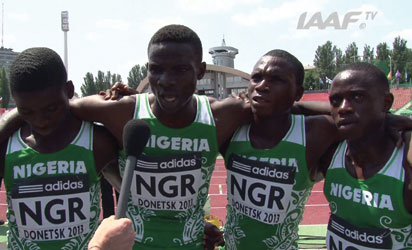 The athletes had relatively good preparations as they camped in Sapele, Delta State for up to three months and they were hopefully looking forward to doing well in the USA, but their dreams soon fizzled out when traveling arrangements was almost bungled. This affected their performances.
A case in point was that of Ese Brume, who had a leading performance of 6.68m going to the championships. But she only arrived a day to her event and of course being an athlete who easily loses her concentration, she failed to progress to the final of the women long jump as she stumbled with a 5.18m jump in the qualifiers.
Others like Kehinde Olubodun, Bashiru Abdullahi practically collapsed in the men's 100m and 110m hurdles respectively.   Samson Oghenewegba Nathaniel and Asekunle Rilwan Fasasi failed to find their level in the 400m. While these were going on in Day one and two of the championships, Akerele Omezia and Tega Odele who were supposed to run the 400m and 200m respectively, were still in Lagos battling to catch their flights having obtained visas late.
"We planned to fail at the World juniors, the AFN messed up," said an athletics coach who pleaded for anonymity.
"It was only 12 days to go that they started the visa procurement process. When actually they have been in camp for three months.
"All the team members could not get their visas at once because some of them were not even informed that they were needed at the embassy for interview.
"Things were so messed up and it was a harrowing experience for the athletes. An athlete like Oluwa Tobiloba, despite the fact that her mum had to pay the visa fee did not eventually make the trip and she was our brightest hope for a medal in the hurdles. This was a girl who did a 13.8 run in Calabar during the trials.
"Omezia and Odele arrived late and this was why we couldn't win any medal in the relays. In the women's 4x400m, the coaches even had to field an athlete that was not fit," said the coach.
He absolved his colleagues, who accompanied the athletes to the tournament of any blame.
"As I am talking to you, some of the coaches who were in camp with the athletes in Sapele have not been paid their allowances.
"Even when they were in camp, the athletes were left on their own. There was no transportation for them to the  venue. If not for Solomon Aliu, who made his bus available and Olu Sule, who provided finance for some of their basic needs, I don't know what would have become of the exercise."
He said that Nigerian athletics officials must attach much importance to the junior programme since it was the bedrock of any development that will be embarked upon in the future.
In 2012, the Nigerian juniors were subjected to ridicule at the Spanish embassy in Lagos as athletics officials in part failed to make necessary arrangements on time. This was besides the fact that some individuals with connections to officials of the embassy wrote a derogatory letter casting aspersions on the Nigerian team. Some of the athletes were given visas and others who were the better legs were denied.