By Jonah Nwokpoku & Franklin Alli
In the first edition of this special report last Friday, it was noted that the lack of infrastructural  development  in the country has assumed a central importance in Nigeria's fight to attain social and economic stability. In this installment,  attempts to utilise the rail system of transportation is reviewed.
AS rail-to-tank farms project of the Nigeria Railway Corporation nears completion, Niyi Alli, the Director of Operations of the rail line has expressed confidence that vehicular traffic that characterised the Apapa area and Tin-Can Island which host the two largest sea-ports in Nigeria will soon be over. According to him, railway links to the tank farms for lifting of petroleum products by oil marketers will be completed by September this year and already, some of the oil marketing companies have started moving Automotive Gas Oil, AGO, by rail, but not yet petroleum because of safety issues.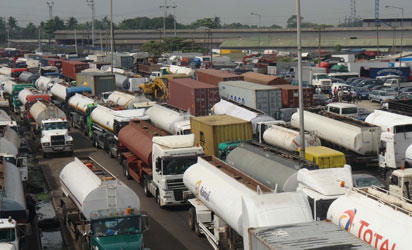 He said: "Recently, the Nigerian railway moved its first commercial quantity of diesel out of Apapa. We moved 12 wagons of AGO from Lagos to Kano. We moved 528 thousand litres of AGO by rail. Moving AGO is a bit easier because you don't need that amount of safety considerations. So, we can trans-load from road tankers to  rail tankers and that is what we will continue to do. As time goes on, we will see an increment in not just the amount of AGOs but also other products.
Product marketer
"In the AGO movement, we used a third party called Connect Rail who brokered the deal between the Nigeria Railways and the product marketer, Eterna Oil Plc. To help address the challenge of the persisting gridlock at Apapa, we are also moving more containers out of Apapa by rail." The corporation, Vanguard learnt, has 40 brand new pressurized tank wagons meant for lifting petroleum products from the ports.
"Pressurised means that they don't leak and that they can be guaranteed of their quantity. But there is a bit more to petroleum products movement than just having tank wagons. The important thing to remember is that unlike other traffics, the point of loading and offloading is where there are always safety concerns.
The first thing we do in our discussions with some of the oil marketers is how to create access to the tank farms and as we speak, we have contracts to rehabilitate all the lines to the tank farms of the major oil marketers.
The lines are currently being built and rehabilitated to their terminals. We also have ongoing discussions with most of them about the facilities that are required to trans-load the products from their tank farms into the tank wagons. We also consider the fact that these materials are highly combustible, so safety is always the key concern for us.
As you can also imagine, we have been out of the loop of petroleum movement for a long time, so there is a lot of safety considerations that need to be put in place because that market is a very safety-conscious market. So we are doing all the modifications that we need to make sure that these tank wagons and the facilities around there are safe, especially for PMS movement. That is where we are really concerned. Once that is done, we are working on it aggressively; you will see a rapid increment in the quantity of petroleum products that is being moved by rail.
We commenced that activity last year. We must remember that the rail was completely dead, so obviously people have got allegiances to other modes of transport and bringing people back is not as easy as that.
Currently, we are moving about 60 40 ft containers every week for ICNL. We are also in serious discussions with APMT and from next month our target is to be running three trains a week between Lagos and Kano. That is in addition to what we are already carrying. We are also in discussion with all other operators like EN and GDNL, to see how we can best utilise their facilities but all these have to do with re-establishing confidence in the rail system.
Over the last few years, we have managed to achieve some feat in that regard especially in terms of providing a safe and reliable service and that is one of the reasons why we can now start to grow. I don't think people should be expecting a massive migration from the road to the railway. This is because, people are creatures of habit, they won't just say rail is back and move automatically, it will take some time. So, in all, what we are doing is gradually increasing our market share. So we are targeting that at the end of this year, we should have 10 percent and by the middle of next year, we should have 20 percent and gradually grow like that.
We are doing a lot of work on the railway whereby we are increasing our capacity and eventually we expect a big bang in explosion in rail patronage. Railway has always been capital intensive and it takes a lot of time and resources to put down the infrastructure that is required. At the moment, we are also rehabilitating all our lines in Apapa which should be completed by the end of August. Once that is completed, we will substantially increase our capacity also.
Once these lines are rehabilitated, we expected most of the oil marketers to increase the amount of products that they move by rail. Our whole intention is to get a better share of the market than we actually have at the moment. I think that is going to happen because the rail has a great strength over other modes of transport in terms of petroleum haulage. For instance, you can move about 900, 000 litres of petroleum by rail at once. You can imagine how many tankers, that is, considering that a tanker carries only 33000 litres at once, which amounts to more than 27 tankers of the road at once. And the product will be delivered between two to three days if it's from Lagos to Kano.
We can't say for sure that because we have this capacity, we will begin to have significant reduction in the number of trucks on the road but we can say that we have this capacity available for these marketers and it is up to them to decide which mode to take. They can as well decide that 900, 000 litres will move by rail and another 900,000 move by road and if that is the case; there will still be no congestion. For instance, you can move about 900, 000 litres of petroleum by rail at once.
Enough capacity
You can imagine how many tankers, that is considering that a tanker carries only 33000 litres at once, which amounts to more than 27 tankers off  the road at once. And the product will be delivered between two and three days, if it's from Lagos to Kano.
But ideally, for us to achieve that, there should be a kind of policy to encourage the marketers to move their products by rail. In terms of that kind of policy, that is where the Ministry of Transport should come in and look into it. But we also take into cognizance that the Ministry cannot do that unless there is enough capacity to move as much quantity of products that are available. And obviously, we don't have the capacity at the moment to move all the required products by rail. We are not there yet but we will get there because we will continue to increase our capacity and capability."
Rail access at Tincan Port: The Federal Government through the Ministry of Transport is currently looking at feasibility studies of where to connect rails. There are various lines that they are looking at and eventually, we know that all the ports in Nigeria must be connected by rail.
We don't know when this will happen yet but we want to maximise the one we have first. The one in Apapa is not yet fully being utilised. Hopefully, we will get that fully utilised and then move on to the next one.
Road decongestion: What we are saying as a Nigeria Railway Corporation is that we are now offering services to the major oil marketers.We will carry as much as they can give us and as much as the capacity will allow us. It is envisaged that then, they will have a reduction on the number of trailers on the road.
That is the plan. However, you also have to consider one thing which is, if the market is growing and they still want to move by road, there is nothing we can do about it. The idea is that we can take as much traffic off the road as we can.
And as I mentioned earlier, one of the beauties of moving by rail is that our freight trains that move from Lagos to Kano carry twenty 40ft container and that is 20 trailers off the road. So imagine if we are able to run five trains a day. That will be 100 trailers off the road but what if they double the amount of imports coming into the country. If that is the case, there will never be an impact on the road.
We are putting in place the entire supporting infrastructure to enable us put pressure off the road by 50% . We are already in discussions with quite a number of the oil marketers and they are very interested because they too realise the beauty of using the rail.
First is the guaranteed reduction in the number of travelling time, the reliability of the service and the safety of their products. We will eventually see a substantive migration from road to rail transportation which in effect will help in reducing the number of tankers on the road and the knock-on effect of that will be reduction in vehicular congestion along the Apapa axis.
This is going to happen as a growth process. Just like everything in the market, it's going  to be a continuous growth. It is not going to be a big bang; it will start small and then grow. We are growing at the moment because we have continued to invest in the capacity to grow. For instance, last year, we started with three trains of containers every week.
Now we are doubling that. Moreover people also forget our passenger trains into Apapa which is also helping to decongest the road. One of our busiest routes is the Lagos MTT that actually goes to Apapa in the morning. And we have put on our brand new DMU train and it is well patronised in that area.
So, a lot of people are now parking their cars at Ijoko and jumping on the train and getting to their work at Apapa. That has also helped to reduce congestion in terms of public people using their private cars to work. So, we are doing everything we can to increase the availability of our train service, both passenger and freight to the Apapa axis in a bid to reduce congestion.
Speaking also on the issue, Taofeek Lawal, staff of NIPCO Plc said; "it will be nice if lifting petroleum products from the port through the railway comes to reality. I am not aware of our use of the facility as at today."
In his own contribution, John Isemede, Director General, Nigerian Association of Chamber of Commerce, Industry, Mines and Agriculture, NACCIMA, is of the view that the Federal Government should muster courage and do a railway line linking the Tincan Port to Oshodi.
"It will solve the problems of traffic gridlocks.   The project may not be up to one year. If you put billions of naira on that road in another few years, it will have that problem. And there is a railway line connecting Apapa port from Ebute Meta. If that one is rehabilitated, the congestion on Apapa expressway will not be there again."