WHAT happened to the Super Eagles in Brazil? Nobody is asking the question, so do not expect any answers. Were fast-paced actions that dismantled the Nigeria Football Federation, restored it to office and finally consumed its President, Alhaji Aminu Maigari, enough to blot out questions about Brazil?
Football is our national opium. When we desire a dose, we forget everything, wallowing in the blissful fantasy it provides. Once the effect wears off, we have our problems before us, worse than what we set out to cure.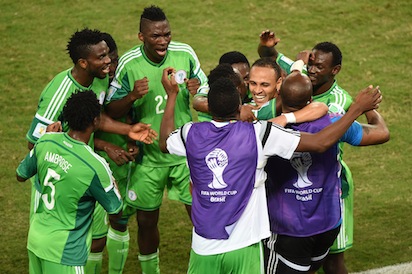 This attitude could summarise our national life. We sent a team to the World Cup with variegated expectations. Scandals, like the team refusing to train over entitlements, were not among them.
Further insistence on money that resulted in a presidential jet ferrying millions of dollars to the team – like our Ghanaian brothers – stunned us. Instructively, both teams lost games played after night-long sessions spent splitting millions of dollars to the last cent.
The story is told of the counting and re-counting of each player's dues until the early hours of match day. Nothing seems to have been wrong with the incidents in Brazil.
Since the World Cup ended, we have had two mini celebrations that appear to be our own World Cup victories. The Super Eagles made the second round at the competition, the best performance since 1998, though it was a milestone erected at the Eagles' inaugural World Cup 20 years ago. Then we rejoiced that FIFA did not impose a sanction that could have locked out our football from international competitions for years.
The absurdity of the celebrations say much about the bland standards we have set for our football, such that we do not care about the billions of Naira we recklessly waste on football at the expense of other sports.
Senate President David Alechenu Bonaventure Mark is among those complaining. He was the leader of the presidential delegation to the World Cup. He had no clue about the wastes in football. Who then is response for these national wastes? Two National Assembly committees (one in the Senate, the other in the House of Representatives) have overseen football and approved its budgets since 1999.
None of the sports committee members, who flooded Brazil, has raised the scandals on the floor of the National Assembly. Their eyes are already set on largesse from the 2015 CAF Nations Cup in Morocco. It promises more benefits for the closed family of football looters.
Election to replace the present board is of more importance to "stakeholders" than curing the ills in our football. The National Assembly should ensure that oversight functions do not literally translate to overlooking the scandals round football.