By OLA AJAYI
IBADAN—As the people of Osun state Saturday vote to elect the governor of the state, former governor of Oyo State, Senator Rashidi Ladoja, weekend allayed fears of people in the state over the use of soldiers during elections, saying similar move had produced positive results.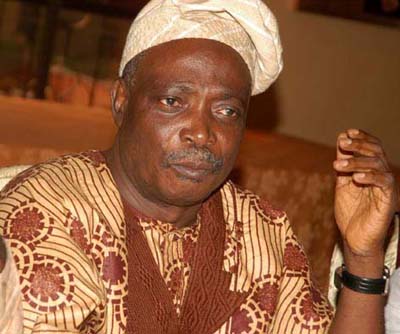 Ladoja who spoke  in his Bodija residence, Ibadan, recalled that the same security measures were used in the 2007 elections.
Ladoja, who is the national leader of Accord argued that the use of security agents gave people sense of security in Ekiti State, but however, warned that the deployment of massive security in 2015 to states would not be possible.
According to him, "Soldiers have always supervised elections in Nigeria. So there is nothing new. In 2007 the GOC gave evidence at election petition tribunals. The deployment of heavy security in Ekiti was due to the hype at that time between the forces of PDP and APC. May be if security had not been deployed people may not have come out to vote. The fact that the election recorded more voters than ever before shows that people had confidence to come when they knew security was in place.
Meanwhile, Minister of State for Works, Prince Adedayo Adeyeye, weekend boasted that there would be another victory dance in the Osun State this week for the Peoples Democratic Party, PDP, saying; "Ekiti State has through our Governor-Elect, Dr Ayodele Fayose opened the floodgate of victory for the PDP in the Southwest and nothing will stop the victory ship from berthing in Osun State on Saturday."
In a statement in Ado-Ekiti, the Minister said Nigerians should ask Governor Rauf Aregbesola why he was contesting the August 9 election meant for Osun State, noting "it is funny that Aregbesola, who calls himself Governor of the State of Osun is contesting Osun State governorship election."
According to him, " In Ekiti, cooperative funds running to several billions of naira deducted from March, April, May and June salary of the government workers are yet to be remitted into the accounts of the cooperatives societies. The situation in Osun is not different, as funds had to be mobilised from other APC controlled States before the workers could get May, June and July salary.
"The entire education system in Osun State has been destroyed with the merger of Muslim Schools with Christian Schools, and demolition of schools established over 50 years ago.
"Therefore, the people of Osun are eagerly waiting for Saturday to come so that they can put an end to the APC misgovernance in their State, and no amount of noise-making, propaganda and falsehood can stop PDP victory."