NATIONAL Union Textile, Garment and Tailoring Workers of Nigeria, NUTGTWN, yesterday, described the importation of the dreaded Ebola Virus disease, EVD, by the late American-Liberian, Patrick Sawyer, into the country as  medical terrorism.
At a one-day sensitization programme for workers, organized by the union, its General Secretary, Mr. Issa Aremu, insisted that the action of the late Sawyer was a clear diplomatic indiscipline and called for immediate implementation of the national conference committee's recommendation on Foreign Policy and Diaspora Matters, which says that Nigeria should promote discipline within the ECOWAS community.
Aremu who is also a vice-president of the Nigeria Labour Congress, NLC, said though the Liberian Government had apologised to Nigeria but by allowing a confirmed Ebola Virus patient whose sister died of Ebola to travel, showed that Liberian authorities had knowingly and inadvertently engaged in medical tourism against a sister country.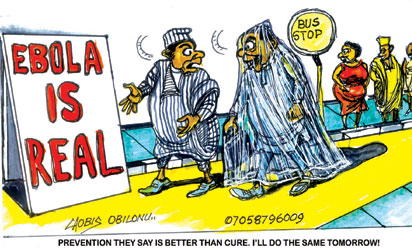 He said,"I agreed with those who said by allowing Patrick Sawyer whose sister had died of the same disease, the Liberian authorities had knowingly and inadvertently engaged in medical terrorism against a sister country – Nigeria. Sawyer, who possibly contracted the virus from his late sister was criminally cleared to engage in an ill-fated travel to Nigeria for a conference organised by the Economic Community of West African States, ECOWAS, without notifying the Nigerian government."
He lamented that Nigerian workers were usually the first contact with anybody likely infected with the Ebola Virus Disease, EVD, arguing that it was an occupational health and safety challenge for organised workers. Aremu appealed to the Federal Government to quickly enter into negotiation with the striking doctors under the Nigerian Medical Association, NMA with a view to calling off the strike.
He said "it is time government engages the doctors by further providing them with the necessary insurance covers to deal with the latest menace of Ebola. Let's sack Ebola not doctors. Above all, both the doctors and the government must be tempered by the miserable Nigeria's health numbers."
He  stressed the need for the government not to neglect other diseases such as malaria and cholera which had been killing people more than the dreaded Ebola, saying, "As deadly as Ebola a virus disease is, we should not forget there are other diseases like malaria, polio and cholera which have cure but still rampant in the country. Thus as we battle with Ebola, we should do more with other diseases with known treatment/prevention."