By Johnbosco Agbakwuru
ABUJA — MINISTER of Labour and Productivity, Chief Emeka Wogu, has said Nigeria has no business being poor because of the vast natural resources abound in its nooks and crannies.
Wogu, who spoke at the 14th National Productivity Day and the award of recognition to selected Nigerians who have distinguished themselves in various fields of endevour, in Abuja, noted that for the country to achieve the Vision 202020 there must be improved productivity at all levels.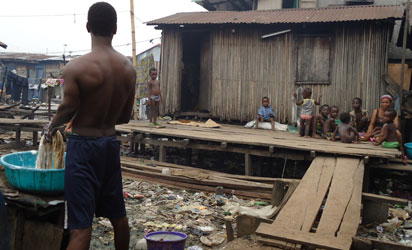 He said the country had missed so many opportunities that made her not to take her rightful place as an economic giant in the comity of nations, but expressed optimism that the articulated transformation agenda of the present government led by President Goodluck Jonathan, had put her on a sustainable path of economic growth and development.
According to him, "the hosting of this ceremony demonstrates the firm resolves of government to transform the Nigeria nation through productivity improvement imperatives. This is because productivity remains the cornerstone for building any virile and dynamic economy.
"The history of this nation is replete with so many missed opportunities and low productivity that have prevented the country from taking its rightful place as an economic giant in the comity of nations. Indeed, Nigeria has no business with poverty given our vast natural resources.
"The country, therefore, needed transformation in all sectors of the economy of jumpstart Nigeria's growth. We must all strive to ensure that this nation achieves its vision of being one of the 20 largest economies in the world in year 2020.
"Improved productivity at all levels remains the key towards the attainment of this goal. It is, therefore, apposite for us to demonstrate greater need for productivity consciousness in all facets of our national lives."
The minister explained that there were various means of attaining productivity which he said was not by coercion but by looking at the contents of the productivity policy and particularly the module put in place to make it easier to be applied in both private and public sector.
He said a highly motivated work force would attain productivity level that had to be commiserated with the level of motivation, noting that the policy had come with the innovative process of target setting compelling people in the public and private sector to attain those targets.
Among the 18 recipients of the Productivity Award were former Head of Civil Service, Alhaji Buka Goni Aji; former Corp Marshal of the Federal Road Safety Commission, FRSC and current Minister of Aviation, Mr. Osita Chidoka; a Vice President of Nigeria Labour Congress, NLC, and General Secretary of National Union of Textile, Garment and Tailoring Workers of Nigeria, NUTGTWN, Mr.Issa Aremu and Lt. General Chikadibia Obiakor (rtd) who was nominated by the military.