By Innocent Anaba, AbdulWahab Abdulah, Onozure Dania & Bartholomew Madukwe
THE Nigerian Bar Association, NBA, has scheduled its annual general conference for August 24, 2014 in Owerri, Imo State.
The association's conference, often has in attendance, over five thousand lawyers from across the country and outside the shores of the nation.But with the landing of the Ebola Virus Disease (EVD)in Nigeria, courtesy of the Liberian-American, Mr Patrick Sawyer, who died some few days afterwards and the four other reported deaths recorded so far, there are concerns over the propriety of the August event.The ebola virus is also ravaging some other West African countries, namely: Guinea, Liberia and Sierra Leone.It will be recalled that the World Health Organisation, WHO, had on August 8, declared the current outbreak of the EVD in West Africa, a Public Health Emergency of International Concern, PHEIC. On the same day, Nigeria's Federal Government proclaimed a nation-wide public health emergency for the same reasons.  Among the control and prevention measures, both the WHO and the Federal Government discourage large gatherings during this emergency.
Ebola, according to experts, is highly infectious and contagious.As efforts are being made in Nigeria to contain the virus, before it becomes a major health disaster in the worlds most populous nation, Nigeria, some lawyers have raised concerns, that just like other major gatherings have been put on hold for now, that the NBA should postpone its Owerri annual conference.Chief among those making the call is the Chairman of Governing Council of National Human Rights Commission, HNRC, Prof Chidi Odinkalu.Aside his public statement on same, he went further to argue that if the Heads of State of Africa at the African Union can defer a regional summit because of Ebola, he saw no justification with the leadership of the NBA, insisting on going ahead with the Owerri conference.Vanguard Law and Human Rights, sought the views of lawyers on the development. Excerpt:
Dr Olisa Agbakoba SAN- "From what I know, the NBA, has not postponed the conference and has not issued any statement to that effect, it means that it will still hold, as they are yet to issue a statement. In my view, the NBA, should send advisory to our members, if its still going to hold, the best the NBA, can do for now, is to send advisory to members that there would be sanitizers at the venues of the conference and put some ground rules on how the entire conference will go.
The organisers must make sure there are enough sanitizers there, and precaution has to be taken.
Mr. Joseph Daudu, SAN
It must hold. Anybody that does not want to come should not come. It is the view of an anarchists that the conference should not hold. But then, they should be careful because whatever we start in this country we forget that other people are watching from outside the country.
We should stop playing politics with very important things. Between the day that Ebola broke out in Nigeria till today, I am sure that over 2000 people have died of malaria, than the Ebola virus that has claimed the lives of four people. So, it is not as much a danger as people make it to be. It is not even something that should be subjected to a debate."
Mrs Funke Adekoya,  SAN "I don't know if the NBA conference has been postponed, but I think it should be postponed in my view, because of the security and health issues in the country right now, the same reasons should make them postponed the conference, but if its not postponed, I will attend.
Chief Joseph Nnwobike, SAN
I think the conference should still go on. The Redeemed Christian Church of God held a conference, and it went on, members are still holding meetings. So, there is relatively no reason why it should be postponed.
Our executive should just make sure that adequate preparations are made. There should be medical arrangements on ground in case of any incidence.
Chief Morah Ekwunoh
If the whole world microcosm of activities, even in Liberia where Ebola is most widespread, is in constant motion, notwithstanding the outbreak of   Ebola epidemic, there is no compelling, convincing and coherent reason why the all-important Annual Bar Conference should be shelved or suspended on the alter of Ebola.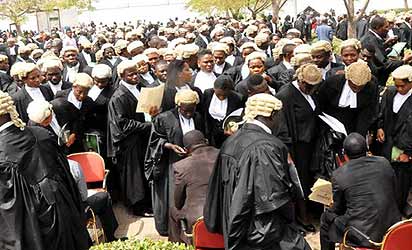 All we can do is to studiously emulate Aso Rock, Churches and other bodies and organisations by crafting, inventing and perfecting, as done by them, our own mode of greetings and, generally, interacting with their added benefit of comic relief while the conference lasts, instead of the unwholesome and unreasonable  act of throwing away the baby with the birth-water, as implicit in the suggestion for postponement or abortion of same. After all, necessity is the mother of invention.
Mr. Yinka Farounbi, Chairman, Ikeja bar
"We understand the extent to which the disease has spread within the country. However, it has not been as terrible as we are trying to paint it. For instance, it has not turned to be a national calamity of any sort to warrant the cancellation of the national conference of the NBA backed by our bye laws.
There were several conferences and congregations that have come up since the outbreak of the disease in Nigeria,  that did not make the organisers to cancel their programmes. There was a congregation of over 2000 people supporting the second term of the president, that has not made them to suspend the programme.
"We have less than 10,000, members participating in the conference, so why must that be an issue? As far as I am concern, we do not need to suspend or cancel the conference. The irony of it is that the disease can catch anybody, anywhere. We are exposed to the danger no matter where we are.
We have not heard of the break out of the disease in Imo State, where the conference is holding. My advice is for the organisers of the conference to put stringent measures in place to protect participants against the eventual outbreak of the disease.
They must be adequately prepared by upgrading the health facilities and also for members to step up our personal hygiene. They must provide sanitizers, screen those participating in the conference and ensure that there is medical team on ground in case of any eventuality.
Unless and until there is serious outbreak of the deceased of Ebola in Imo State, there is no reason for the cancellation of the conference."
Mr. G.O. Ekisola
Why should the NBA conference not hold because of the Ebola virus? People are just talking the way they like about Ebola. After all, in cases where it has been said to exist, precautions have been taken. So, I do not think that Ebola is something that should be creating fears in Nigeria.
I do not think the NBA meeting should be postponed because of Ebola. Are people not eating, are churches not going on with their prayers? We should not think like those who do not believe, let us trust in God. NBA should have confidence in God.
Mr Ogunye Jiti
I am expected to participate in a conference in September at Abuja and lots of people were expected to attend the conference as well, but the conference has been called off because of the out break of Ebola, even though we have not gotten to September.
If we use that as an example, I will say that the NBA should postpone the conference, pending when the Ebola Virus is contained.
That conference was called off because a lot of people are coming from outside the country and all over Africa. The Lagos State Government issued a statement to congregation of Churches and other gatherings that there should be no gathering, but quickly withdrew same.
In any case, may be as a lawyer, I know that the NBA conference has become a ritual that when all what is discussed and is used in our constitution, if there is a good reason for us to call off the conference, it should be called off.
Mr Wale Ogunade – The government is on top of the situation, I don't think that the conference should be postponed because of Ebola, the government is seriously on top of the matter. I heard a governor of a state yesterday, saying that people should stop eating bush meat, so if you eat bush meat, stop eating it. Ebola shouldn't stop the conference.
Mr Monday Ubani- Former NBA Chairman Ikeja branch, The outbreak has been contained, I don't know why people did not stop the political rally on Saturday and that of Abuja? People are still selling in the market, people still go about their daily businesses, people walking the roads, the point is that the government is containing the matter. Let's not give any bad impression to the outside world about our country.
I don't see any reason, why the conference should not hold, if any says it should be called it off, I think that person, is not being fair."
But the President of NBA, Chief Okey Wali, SAN, in a statement, reassured lawyers of their safety and of preparations and measures adopted to ensure that Ebola virus is far from the venues of the conference in Owerri.
He said "On Ebola Virus Disease, measures NBA has taken so far are as follows: purchased hand bacterial and viral sanitizers which will be given to every conferee for usage throughout the conference; Latex gloves and masks for our service providers deployed to man registration, Marshalls (if necessary), etc; Non-contact laser guns for temperature monitoring and screening of participants; Public installed, Standing dispensing non-contact hand sanitizers in select public places, with refills."
Others include Dettol Anti-bacteria hand wash for the various restrooms +mobile toilets; NBA Owerri branch has secured the collaboration and services of Nigerian Medical Association NMA, Imo State Chapter to provide ambulances and other medical equipment and personnel; Education and enlightenment of members. Example is to avoid shaking of hands and physical body contact.
"We will partner FAAN and Aviation Ministry for Airport screening on landing and surveillance at the Airports; We urge our members to please maintain higher standard of hygiene. Note that Imo state is not one of the states that have been flagged as location where potential victims have been sited.
"Please further note that all the conference participants do not gather at the same venue at the same time. They are usually spread out in different sessions going on simultaneously. It is on record that ever since the outbreak of Ebola, there have been larger gathering of people at the same venue at the same time like Churches, Mosques, Religious Crusades, Political rallies. At this gatherings, they always experience the minimum number of 5, 00 people at the same time. There is no NBA session at the annual general conference that has more than 2,000 persons at the same time. Therefore, the 2014 conference in Owerri, Imo State is safe."