By Onochie Anibeze
YOU may accuse President Goodluck Jonathan  of not rescuing Chibok girls more than 130 days after their kidnap by the Boko Haram insurgents. You may accuse the Jonathan administration of not being decisive in handling security matters in the country.
You may accuse President Jonathan of many things but one area that has earned his government some mileage is sports. I make bold to say that as far as sports is concerned Jonathan has done fairly better than his predecessors in the recent past even if I don't pass that as doing well.
I have my reasons for not concluding that he has done well even though he has done better than his predecessors.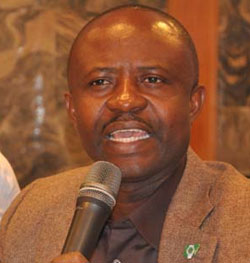 In his tenure, Nigeria won the Nations Cup for the first time since 1994. In his tenure, Nigeria broke a 17-year old medal drought at the World Athletics Championships in Russia, last year. To appreciate this achievement better you should note that the standard in World Championships is higher than that of the Olympics.
Under his tenure, Nigeria won the World Under-17 World Cup, becoming the only country to have done so four times.
Under Jonathan, Nigeria had her best outing at the Commonwealth Games, ending the games at the eight position; the best in the continent.
There are some other feats like the African Athletics Championships and even Africa's Youth Athletics Championships where Nigeria emerged champions in Africa. What we have achieved under President Jonathan has surpassed all we garnered in the last 20 years or more. The records are there.
But I want to be cautious in showering praises on him because his government has been more reactionary than proactive in the area of sports development. Funding development programmes and preparation for international championships have not changed from the past. But President Jonathan handsomely rewards successes in international championships. That, in a way, has encouraged and motivated many athletes, who now go the extra mile in championships, knowing that some rewards await winners. This has helped although mention must be made of the immense contributions of Delta State in preparing our national athletes.
Could Blessing Okagbare have achieved the feats she achieved in Russia last year and in Glasgow this July without the support of Delta State? What was the funding for the preparation of the last Commonwealth Games like? The money the Federal Government approved was released late and the success in Glasgow would rather be credited more to the individual efforts of most of the athletes and the support of Delta State than what the sports ministry did. It is a statement of fact. This problem has been with us for ages and only God knows when it will end.
However, it will be wrong to deny the Jonathan administration credit for what Nigeria has achieved in his tenure. Again, the President has shown tremendous interest in boosting sports. He has moved to address the problem of sports more than his predecessors did even if he is lacking the political will to implement their sports plans. Shortly after the failure of the London Olympics, the President organised a sports summit to ascertain what the problems were. I was there in Abuja and anybody who saw him speak must have felt his passion for sports.
However, I cannot reconcile President Jonathan's passion and determination to transform sports with his appointment of Tammy Danagogo to manage sports in Nigeria. It has been from confusion galore since Danagogo came on board. The man lacks knowledge of the rules in sports and doesn't appear to be consulting technocrats in his ministry. If he did he would not have earned us FIFA suspension by sacking the federation the way he did. If he consulted technocrats they would have tutored him on how to change the federation following due process.
If Danagogo was grounded in sports he would have advised President Jonathan against flying $2.8m to Eagles in Brazil when the boys went on strike over a FIFA grant that was yet to reach the federation. Ghana did it and crashed. We did the same thing at the Confederation Cup in Brazil last year and failed. Against France in the World Cup, the boys were sharing the money Danagogo brought until 2 am on a day they had a 5 pm match. They did not sleep; little wonder they burnt out in the late minutes and conceded two quick goals. Jonathan's money partly destroyed them.
Danagogo is not grounded in sports, we all know that. He also knows that he is on a strange terrain. What surprises me is why he does not consult knowledgeable people around him.
Imagine the mess he made of Nigeria Football Federation Congress in Abuja on Tuesday. He interferes in football matters and calls the bluff of everybody. Factions have emerged and FIFA may hammer us again. The election in Abuja was a comedy. Even the military government did not muscle the federation the way Danagogo is doing now. And the minister lacks the capacity to manage sports administrators.
Under his nose, as sports minister, two factions of the federation emerged and FIFA may come knocking again. 4O delegates have agreed on September 4 for election. The one that produced Chris Giwa was no election. Delegates had left the hall and they cooked up things. Why is Danagogo rubbishing the little achievement President Jonathan has made in sports? The area that Jonathan could boast of in his campaigns for the 2015 election is being ridiculed at home and internationally. Is the President comfortable with that?
If Danagogo knew his onions he would, as sports minister, have influence on the congress and get his way through. But he is completely at sea on how to manage sports. Nobody is against a positive change in our football. I am for it but things must be done properly. President Jonathan should call Danagogo to order and compel him to learn the ropes.
We have two Nations Cup qualifying matches next month and nothing is being done about them. There is no coach and the minister is busy causing more confusion than building on what he met on the ground.
People may not be against the change the minister wants to effect but his style runs contrary to the rules. And what a comedy he made of the congress on Tuesday. Are the people he brought on board better than the past board members? It was absolute bunkum. The man lacks tact and he doesn't give a hoot about it. I am happy that the Guild of Sports Editors led by Tony Ubani has already invited Mr President to intervene and rescue our sports from the damage of Danagogo.