THE  Coordinator of Team Nigeria track and field team at the 19th African Athletics Championships, Marrakech 2014,  which began yesterday, Yussuf Alli is double sure that Nigeria will successfully defend the title it won two years ago.
Speaking at the team's hotel, Golden Tulip, Rawabi after the athletes training session,  a confident Alli  said, "after studying the entries and looking at our strength and those of our competitors, I can confidently tell you that we will win this championships with about eleven or twelve gold medals."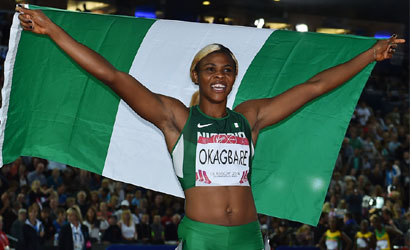 Alli dismissed fears that intense competition for medals at the just concluded Glasgow 2014 Commonwealth Games, the weather here, which is very hot compared to Glasgow cold, rainy and windy weather will affect our athletes,
'' I don't think so, the weather will not affect us, this is our weather, and our success in Glasgow will serve as morale booster for this championships. We must not forget that the African Championships is a step lower, compared to the Commonwealth Games'' said Alli winner of the Commonwealth Games gold medal in the long jump in 1990.
Alli expects Team Nigeria to dominate in the sprints, hurdles, quarter mile, relays and the jumps.
''Our athletes are highly motivated, we are ready to go, there are no injuries concern and the athletes are well behaved. With  respect to our co-competitors, I can confidently say this is our championship.
I know South Africa is here with a strong team, ditto Egypt, Algeria, Kenya, Ethiopia, and even host Morocco, since this championships also serves as qualifier for the IAAF Athletics World Cup slated for this same city next month. I am confident we will overcome all oppositions to be crowned the champion of Africa again''
Alli thanked the leadership of the National Sports Commission (NSC0 for their support for athletics.