By CHIOMA GABRIEL
Nigeria is becoming an inheritor of strange diseases by the day but the people have a way of  surviving. New ailments are developing everyday and somehow, they find their ways into our land.
Bird Flu. Lassa Fever. HIV/AIDS, etc. We have had it all. Newspaper pages on daily basis are filled with images of young people who died before their time. Kidney diseases, high blood pressure and other system debilitating diseases are on the increase. And recently, a Liberian after having contact with Ebola victim couldn't think of another country to visit but Nigeria.
When Felicia Mayford, a Nollywood star slumped and died on location several years ago while shooting a movie, many did not understand it because slumping and dying suddenly was not in our character.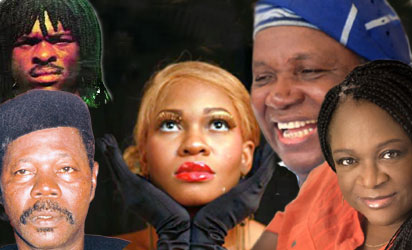 Sam Loco Efe, a top Nollywood actor also slumped on location and died.
Goldie Harvey, a top Nigerian celebrity musician slumped and died in the arms of her friend Denrele Edun after returning from an overseas trip.
Amaka Igwe, a Film producer of repute had an attack on location and died before getting to hospital. During her funeral, another reputable actress who earlier suffered kidney disease and underwent transplant, Ngozi Nwosu  slumped but survived.
And there was  Kefee, a top singer who recently slumped and later died under controversial circumstances.
Outside Nollywood and the music industry, the sports world has had its dose of casualties.
Sam Okwaraji, the former Super Eagles midfielder collapsed and died during a World Cup qualifying match against Angola at the National Stadium, Lagos, on August 12, 1989 of cardiac arrest.
He collapsed within 10 minutes left of the game with Nigeria leading 1-0.
Amir Angwe, 29, a striker with Julius Berger in 1995 collapsed just with one minute before the end of an African Cup Winners' Cup semi final match with Maxaquene of Mozambique at the Onikan Stadium in Lagos. After he slumped, Angwe waved off playmates saying he would be fine but doctors at the stadium were unable to revive him. Angwe died of a heart attack.
Endurance Idahor, a budding footballer also died after a flourishing career at home with Julius Berger of Lagos and Dolphins of Port Harcourt. The former Under-23 striker moved to Sudan where he joined El Merreikh in 2006 but was sent on loan to Saudi Arabia in 2008 and later return to his club in Sudan.
He was the club's top marksman, scoring a total of 118 goals in 176 appearances for El Merreikh. He collapsed during a league game with Al Amal in Omdurman and died on the pitch after a minor incident in the vital area of the visiting team.
Years ago, Jaiye Aboderin, son of the late publisher of Punch newspaper slumped and died after a lunch meeting and a basketball game.
In July 14, 2001, Charles Esheko, 26, died in hospital after suffering a massive cardiac arrest on the field. Charles, a strong defender for Bengal Mumbai Club in India was playing against the Income Tax team in the Harwood League. He collapsed in the first half but managed to sit in a taxi and get admitted in a Mumbai hospital. But there, he suffered a second stroke and died. The Nigerian had been playing in the Asian nation for over three years.
In 1997, a Nigerian player, Emmanuel Nwanegbo, died after only few minutes of play for SSV Reutlingen in the Regionalliga due to cardiac arrest.
In the political arena, it was the same story. Not long ago, former governor of Ondo State, Segun Agagu slumped and died.
Why people slump
Experts have revealed that for anybody to slump and die, two vital organs of the body must be involved. These are the heart and the brain. The heart is a major organ that has to function optimally, and during intense physical activities, the heart works more, pumping blood adequately to support the brain. The brain is also what keeps people alive, but if it is deprived of blood supply for more than four minutes, a person can go unconscious and this could lead to death.
The tragedy of these calamities is that most people are not aware that they have hypertension and diabetes — the two conditions that predispose people to suffer stroke or heart attack and kidney diseases.
It was therefore a shock when Funmilayo Femi, a 20-year old undergraduate fell ill and was diagnosed with hypertension. Funmilayo felt dizzy and had consistent head-ache and so had to go to hospital. Her BP was 200/120.  None of her parents has it and so it became a puzzle to the doctors. She was lucky and was treated but for her to live on BP drugs from age 20 became incredible to her and her parents.
Alhaja Safinatu recently got to her shop at Ladipo, relaxed on her chair to have lunch when she slumped on her chair.
Thinking that something was wrong with the chair, her neighbours in the market  rushed instantaneously to give a helping hand and lift her up. Then, apprehension set in when they noticed her still form. And still thinking that she might have suffered a concussion as a result of the fall, they rushed her to the General Hospital but within minutes of  her  arrival, she was pronounced dead by the doctor. Her BP was 280/150.
The recent goal is that BP should be below 120/80. These numbers were extremely high and very dangerous.
These are not  isolated cases. Sudden death syndrome  is becoming all too common. Apart from slumping and dying, strange diseases are cropping up everyday and poverty-stricken Nigerians  are falling victims.
Almost every Nigerian knows somebody who has had a stroke, or died suddenly.
There is an epidemic of both men and women 'slumping' and dying. It is bad  that someone left home in the morning seemingly healthy and did not make it back home.
It is reported that the average life expectancy in Nigeria in 2000 was 51-56 years and by 2011 had declined to 47.56 (World Bank figures). All indications are that this decline occurred even as we have become a more affluent country. The average worldwide life expectancy presently is approximately 65.5 years, while that of countries like the USA is in the 70s. A more realistic comparison would be that of a country like Rwanda, where the life expectancy is estimated to be approximately 55 years in 2011.
What appears most alarming is that people are 'slumping' from  treatable and manageable medical conditions such as Malaria, Diabetes, Heart Attacks and Strokes. All have local definitions and ascribable spiritual connections. Such illnesses are preventable and treatable through appropriate health education, change in life style and adequate treatment, despite the misguided 'spiritual' diagnosis.
People are increasingly dying of treatable diseases due to  ignorance, unholy deception and misinformation. These are preventable health issues. As the body ages, it stops functioning as it should  and naturally needs assistance. A body that was able to tolerate a high fever may be unable to do so anymore as it ages. An unintended result of 'healthy' eating is obesity which by the way leads to adult onset diabetes. It is the nature of life. What ordinarily could be treatable with 'onions' is now treated with antibiotics. It is bad enough to have incurable diseases but  it is good to at the very least deal properly with the ones that are curable and can be managed.
It is advisable to seek medical attention at the first sign of illness and routinely at least once a year. People should  understand their family medical history and respond accordingly and proactively.
Your kidney at risk
Necessity, says an adage, is the mother of invention. And in Nigeria,with the increasing stress in the lifestyle of many Nigerians and the accompanying  hypertension, heart diseases and kidney diseases,  kidney business is booming in Nigeria, And the refusal of  relatives of  kidney disease patients to donate kidneys to their diseased ones has opened a new business for voluntary donors who make millions by donating  their kidneys to patients.
Over the years, kidney donors have been making millions from their benevolence, earning between N1.7 million to N2.5 million for giving their kidneys. Donors also have the opportunity to experience life in other climes in the course of donating their life saving organs as they follow the recipient  to the country where the kidney transplant is to be done.
The patient takes responsibility for transportation to India or wherever the transplant is to be done. The trip may last between six and 18 months during which a series of tests is conducted to ensure that there would be no complications and he (donor) would survive for many years on his remaining kidney. The same duration is also required after the transplant to ensure that the patient doesn't suffer rejection after the transplant.
A new 'association' of donors was formed sometime  for the purpose of scouting for donors and their leader, Olugbemiga, (not real name), a 32-year-old young man has already donated his kidney and now helps patients who need transplant to search for potential donors with matching blood group.
Olugbemiga who donated his kidney in 2006 said: "The patient had tried all he could in search of kidney but couldn't get the match for his kidney because he has a rare blood group, O negative. His family relations were scared that if they donated their kidney, something could happen to the remaining one and they could die but it's not like that.
"I was fresh from secondary school and needed money to continue my education. My parents couldn't afford to send me to the university and I decided to take the risk. I was paid N1.5 million then and taken to India where the transplant was done.
"The patient paid for the return ticket to India and took care of everything during our nine months stay. The pay was exclusive and not part of the return ticket or feeding. The patient takes care of all that and that still prevails.
"But now, our job is to seek donors with matching blood group and healthy kidneys and once we see a potential donor, he meets with the patient and discusses the terms of payment. Nowadays, some pay as much as N2.5 million depending on who is involved and how urgent the kidney is needed."
Olugbemiga said he had no home then but when he returned from India, he built a two-bedroom apartment with the money he was paid, and used the remaining to start a business of hawking electronics on the highways. These days, when he helps patients to get donors, he takes a percentage of what is paid but that, according to him, is not the attraction.
"When I was taken to the hospital in India, the Institute of Kidney Diseases and Research Centre Civil Hospital, I noticed that the fear over donating kidneys is baseless. It is only Africans, especially Nigerians that fear over giving their kidneys.
Patients from the United States of America and Europe come with their family members and after tests are conducted on them, the potential donor with the matching kidney is picked."
According to experts, the best donor is someone that has identical features, usually, a brother or a sister but most Nigerians bring outsiders of the same blood group as donors.
A husband of a kidney disease patient currently in India, Bobby told Vanguard that getting a donor for his wife was not easy.
"Our experience was quite overwhelming. In the first place, getting a referral letter to IKDCH in India was not easy. My wife was on dialysis here in Nigeria for over two years and we kept spending money on that. Eventually, we got a referral letter to India from a doctor after parting with $1,000.
"We spent a fortune on treatment here in Nigeria but I thank God we made it to India at last. Our experience has taught us a lesson: we won't let anybody that we know spend to get a referral letter. I have come to the realisation that Nigerians need a lot of education. My wife couldn't get a donor amongst her siblings because they were all too scared.
"We eventually found a donor for N1.2 million but that is the least because when we got to India, we found several patients and their donors who charged them between N1.7 million – N2.5 million. Most of these donors are the very poor who cannot get help any other way. So, they decided to trade their kidneys for the money to start a business or solve life's problems.
"I can tell you from experience that if you see 20 people at the Indian Embassy searching for visa, more than half of them are kidney or cancer patients and their donors who have come to obtain visa to travel for treatment.
"Donors operate as a cartel and they charge whatever they like. My wife is still in India with the donor she took along and all kinds of tests are still being conducted to ensure there won't be any complications.
"We did not solicit for funds publicly because we could afford the treatment and the transplant but not every patient could afford it. In fact, most Nigerians cannot afford dialysis or transplant.
And in the Indian hospital, there are so many Nigerians and other Africans awaiting transplant. My wife went with her donor since last year and getting the transplant done is taking time because of the series of tests being conducted. It's possible she would be there till the later part of the year and that translates to more money."
Asked how helpful Nigerian Embassy has been to the patients, Bobby said "the Embassy renders help only in terms of confirming documents but woe betide you if you cannot meet up your bills. As a matter of fact, the Nigerian Embassy writes the hospitals from time to time to remind them not to involve the Embassy in any form of financial support or assistance to the patients. What the hospitals do is write to the Embassy, sending copies of the documents the patients bring for them to confirm the patients are Nigerians and that is all they do. The Embassy does not render financial help to Nigerians who come to India for treatment. They only confirm the documents they brought to India and even that is a big deal.
"There was even a case of this Nigerian girl whose donor failed one of the tests. She remained in the hospital for 18 months until an Indian offered his own kidney to her free! Getting a donor is not easy and that is why when you find one, he charges as much as N2.5 million but we didn't pay that much because it was a man who had done business with a donor that introduced us to the 'donors association".
Experts say the commonest cause of kidney failure  is hypertension, systematic chronic hypertension and about 50 per cent of people above the age of 50 years in Nigeria are probably hypertensive.
The issue of high hypertension in Nigeria is getting higher. Some patients who have hypertension are not well treated in Nigeria, they are not well-evaluated because a lot of people who are hypertensive don't go for medical check-up. Hypertension is a silent killer and it brings a lot of complications. Nigerians don't seem to care if they are hypertensive or not and even when they know they are, some hardly follow-up on the treatment.
That is deadly. Then, some of the people who have been diagnosed to have hypertension cannot afford the treatment. Hypertension requires that you take the treatment everyday, usually for life and the drugs are very expensive. The cheaper ones, according to experts have more side-effects than the expensive ones. Now, if you give the patients the expensive drugs, they cannot afford it.
But if you give them the cheap ones, they have a lot of complications and it affects the males more than the females.
According to reports, cheap hypertension drugs bring about erectile dysfunction and kills a man's libido. And when they discover this, they abandon the drugs. The other thing is that majority of drugs used for hypertension are fake. A lot of hypertension drugs are allegedly being smuggled into the country and they are fake or expired. So, these are some of the reasons people have chronic renal failure.
The other thing that increases the rate of kidney diseases is the use of bleaching cream by both women and men. These days men also bleach and use of bleaching cream can increase rise in renal failure.
The  foods eaten on daily basis can also contribute and that is why these days, we tend to control what we eat. These days, it is advisable to stay away from fried foods, packaged foods, carbohydrates and processed meals.
Nigerians who are comfortable like to be in air-conditioned places: cars, homes, bedrooms, offices and that is not too good as these can help accelerate the problems. Room temperature is the best .
The risk factors
When children have kidney diseases, it is due to other things. It has been found that children have been exposed to some form of infections.
Some throat infections are ignored and when they happen, the child may not even know about that or may ignore it.
Some people don't treat malaria in their children very well and these can bring about other diseases. It depends on how much they recover fully from these diseases or the untreated infections keep eating the inside and causing other things.
Some children are also born with abnormal genes which affect the kidney functions, that is, hereditary diseases. In such cases, you cannot change the genes but you can evaluate the children with the aim of preventing the retrogression in a more serious form.
Unfortunately,one can't quantify the number of people who suffer from these diseases annually because of lack of data. The Nigerian system has not encouraged data collection as in developed countries but everyday in newspapers, television and radio, you read, see and hear people soliciting for help to treat the ailment. In some rural places, no diagnosis are made and where they are, no treatment is given and the patients die.
It is a shame for the nation not to have done enough on this disease. If you work in the United States, you'd find that there are patients with kidney problems. Even in Europe. But 90%/95% of the patients with chronic renal failure live on dialysis for ever.
However, in these countries, the system supports them very well. They don't pay for dialysis. There are centres set up by their governments for every infirmity and chronic renal failure. So, these patients live their normal lives.
In Nigeria, the story is different. Even dialysis is expensive quite unlike overseas where  dialysis is taken up by the insurance companies. The person does not pay.
Experts also reveal that the best kidney transplant is that of an identical twin.
In the history of kidney transplants in the world, nobody has died because he donated one kidney. People have accidents and lose one kidney and are living perfectly well with one. So, it is important to understand this fact because  in Nigeria, people are very afraid to donate their kidney and that is due to ignorance.
Nigerians believe that if they give out one kidney, they will die or that if they give out one, something will happen to the remaining one and they will die but that never happens. A lot of education is needed on why they should donate kidneys to their loved ones.
In Nigeria, there are usually many brothers and sisters to choose from, not like in US or Europe where couples prefer one or two kids. So, to do a transplant in Nigeria is easier and cheaper if the equipments are here. It is easy to do a transplant and the sooner this is done, the better.
Nigerians are rugged. There is something about being Nigerian that resists the wind of diseases and who knows, the Nigerian will equally resist the Ebola disease.
Subscribe for latest Videos