By CHIOMA GABRIEL
AS Nigeria's business headquarters, the Southwest is expected to lead other regions in the quest to develop Nigeria through massive investment in infrastructure. There must be a connection within the zone and other parts of the country. There must be alternative roads to Lagos-Ibadan Expressway. Imagine a light rail that connects the South-West. This will prevent social dislocation and bring about economic prosperity.
In Lagos state, the economic capital of Nigeria, appreciable constructions are ongoing but some have been abandoned. The time line for completion of certain levels of works has since elapsed. The state government since 2009 has commenced the Rail Mass Transit (LRMT) network, a major component of the Strategic Transport Master Plan (STMP) which has been developed to guide as a compass for the development of public transport infrastructures in the State.
Public transport\ infrastructure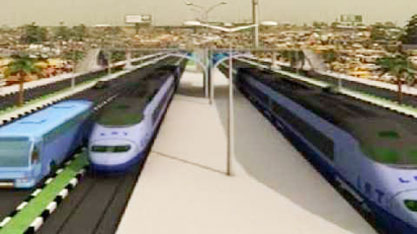 This 30 year plan was put together under series of intensive researches, studies and analyses of future transportation demands and needs of Lagos State as Nigeria's commercial and economic hub and one of the world's fastest growing mega cities.
According to records made available to Vanguard, the Lagos Urban Rail Network commenced construction of urban rail-based systems covering seven major corridors of high commuter traffic demand within and beyond the metropolitan Lagos extending to border areas with States like Ogun and Oyo.
The seven lines link the major population and activity centres in the state, as well as taking advantage, where possible, of existing transport corridors. The network is geared towards integrating with planned and existing water transport and BRT routes.
There is the Blue Line from Okokomaiko to Marina; the Red Line from Agbado to Marina via Iddo and Muritala Mohammed International Airport (MMIA); the Green Line from Marina to Lekki (Airport) ; the Yellow Line from Otta to Iddo and the Purple Line from Redeem to Ojo.
There are also the Orange Line from Redeem to Marina and the Brown Line from Mile 12 to Marina.
In this layout, there are the North-South corridor between Agbado and Iddo along the Nigerian Railway corridor; the Eastern corridor to serve the Lekki to Epe axis; and the western corridor to serve the Mile2 – Okokomaiko axis.
Others are: Marina to Lekki axis, Redeem to Ojo, Otta to Iddo, Redeem to Marina and Mile 12 to Marina route. The seven corridors will be connected by a central ring road between Victoria Island and Lagos Island.
The Blue Line, a 27 km rail road with thirteen stations from Okokomaiko to Marina is currently undergoing construction right in the middle of Lagos-Badagry Expressway which government is currently expanding and redeveloping into a ten-lane international gateway. Apart from rail, the infrastructure design also includes provision for BRT and multimode integration with Non-Motorized Transport such as pedestrian walkways and overhead bridges for safe access by passengers to rail and bus stations.
Work commenced in August 2009 for construction of the Blue Line rail infrastructure, awarded to China Civil Engineering Construction Company (CCECC) as a design and build contract. CCECC prepared the detailed plan, design and construction works for the rail infrastructure. These works includes stations, roadbed, bridges, permanent way (P-way) tracks works, pedestrian ways and other associated fixed infrastructure.
SURVEY work on the Lagos rail project was completed between August 2009 and August 2010 and the actual construction work commenced on 26th July 2010. Construction works are still ongoing for the first phase section between National Theatre and Mile 2 and was expected to be completed within the first quarter of 2014 but was abandoned half-way.
The state government said it had proposed Electric Multiple Units (EMUs) types of train which are emissions free for its Blue Line Rail Project. These EMUs do not pose problems of environmental pollution usually associated with conventional diesel locomotives. They are also proven to be more efficient and easier to maintain than diesel locomotives.
The Blue Line is also designed to carry 400,000 passengers daily with capacity increased to 700,000 passengers daily when the rail route becomes fully operational.
In an interview, the Managing Director, Lagos Metropolitan Area Transport Authority (LAMATA), Dr. Dayo Mobereola said the Lagos State Government is working towards launching the first phase of the Okokomaiko -Marina (Blue Line) Light Rail Mass Transit for operation this year.
"The first phase is between National theatre and Mile 2; that was actually awarded in 2010 and we are hoping that by 2014 that phase will be finished and then move on from Mile 12 to Okokomaiko and then come back to National Theatre to construct the infrastructure to Marina."
Construction of rail project
Dr. Mobereola said that due to the huge capital outlay, construction of the rail project was divided into three phases, the first of which is the survey, design, preparation of construction yard and the rail infrastructure between National Theatre and Mile 2.
On the quality of work done so far, he described it as good noting; "it will stand the test of time. Railway is not something that is for 5 years, 10 years. In most cases it is built to last 50 to 100 years. So we have to ensure that the quality of work is very good.
"We have a contractor who has been building new railway system for the past 50 years in their country and other places. They know how to build a very good rail way system and the quality is commendable, it is very good and we are quite happy with it.".
He pointed out that the rail project was being implemented under a public and private partnership. The state is building the infrastructure while the private sector will provide the rolling stock and management.
Dr Mobereola also pointed out that the Lagos rail will generate employment and create more housing.
"The Blue Line (Okokomaiko -Marina) Light Rail Project will boost the state economy through the creation of employment and generation of economic activities. When the 27 kilometre rail project becomes operational, several industrial parks were bound to spring up and this would lead to the creation of many industrial estates and will reduce the travel time because at the moment, it takes about 3-4 hours from Okokomaiko to Marina.
Economic development
So it will become 42-43 minutes and that is a huge improvement for the people that are living on that axis.
"Those going to work on the Island, schools, hospitals, and to other various places will benefit enormously from it. Beyond that, it is also going to generate economic development along that corridor.
It's going to open up access to all those areas that will generate employment, that will create housing , that will create industrial development, hospitals, schools everything that is needed along that corridor.
"The rail project situated in the middle of the Lagos-Badagry corridor, which leads to neighboring Benin Republic and other countries in the ECOWAS, would make it easy for people from those countries doing business in Lagos to have easy access to the commercial nerve centre of Nigeria.
It will lead to making a vibrant city, making Lagos an accessible place and making goods affordable within and outside Lagos. So again, we are increasing the economic aspect of Lagos and indeed Nigeria."