By FLORENCE AMAGIYA
That she was born into affluence didn't stop herfrom a strong drive for greater affluence. Today, she is worth billions of naira and known worldwide.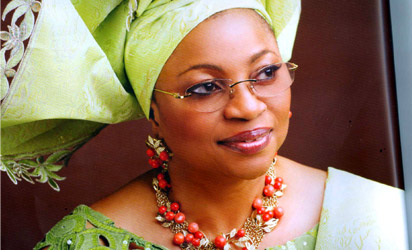 Her humanitarian gestures have been a special trade mark that has endured her in the minds of the poor.   Through her foundation, she has been able to assist widows going through crisis, young orphans and youths who have the Opportunity to work in her numerous companies. We present to you, Folorunsho Alakija; a mother, sister, icon and lover of children, who was named the richest woman in Africa by Forbes Magazine…Enjoy!
Ageless Folorunsho Alakija, no doubt, is one of the richest women in the Africa. She was said to worth about $600m in 2012 and makes about $1m daily from her oil business. She also has a real estate portfolio worth over $100 million.
Alakija is an oil magnate and a publisher. In addition to her real estate business, she is a fashion-designer and a philanthropist. She is an Executive Vice Chairman of FAMFA Oil – an indigenous Nigerian oil and gas exploration and Production Company.
She is also the group managing director of The Rose of Sharon Group which consists of the Rose of Sharon Prints & Promotions Limited and Digital Reality Prints Limited. She was ranked the richest woman in Nigeria with an estimated net worth of $2.5billion as of 2014. She is also listed as the 96th most powerful women in the world by Forbes.
She was born on July 15, 1951 into a large and famous family of 52 children to Chief L.A Ogbara from Ikorodu Lagos. Folorunsho Alakija's mum was her father's first wife. Folorunsho left for the United Kingdom to begin a four year primary school programme at the age of seven. She returned to attend an Islamic School at Sagamu, Ogun state at the age of eleven. Flo, as she was called by her friends at the primary school in Wales, also went further to study fashion designing while in London at an American College of Fashion.
Businesses
She commenced her career in 1974 as an executive Secretary at Sijuade Enterprises, Lagos. She moved up the ladder to work at the former First National Bank of Chicago, which later became FinBank, and now FCMB. She established her own clothing lines called Supreme Stitches after working with the bank for some years. Her clothe line rose to prominence and gave birth to the brand's name, Rose of Sharon House of Fashion.
She took a break from her very busy life to tie the nuptial knot; married her heart-throb, Barrister Modupe Alakija in 1976. That union is blessed with four handsome boys.
While building her name as a designer, she applied for an oil prospecting license through her company, FAMFA Oil, which was granted to her in 1993.
Although she didn't know much about the Oil and Gas business, she ventured into it knowing well that she would get better on the job like she had done in some other businesses she was doing. It paid off eventually. She has used that platform to build an empire in Oil and Gas, making her one of the biggest names in the sector. Today, she is worth at least $3.3 billion.
Properties and private Jet
Recently, she purchased a $102 million property at one Hyde Park in London as well as a private jet (Bombardier Global Express 6000 jet) which is worth $46 million.
Cars
She recently bought four SUVs worth N88m for her boys. According to report, she spent a whooping sum of N22m each for a brand new G-Wagon SUV which was quietly shipped into the country. The SUVs were customized for her sons.
Foundation
Her foundation is called the Rose of Sharon, which specializes in empowering poor orphans and widows by giving them or their children scholarships and business grants.