By Gbenga Ariyibi
Ado Ekiti—Ekiti State governor-elect, Mr. Ayo Fayose, has vowed not to recognise the 19 newly created Local Council Development Areas, LCDAs, by the outgoing Kayode Fayemi's administration.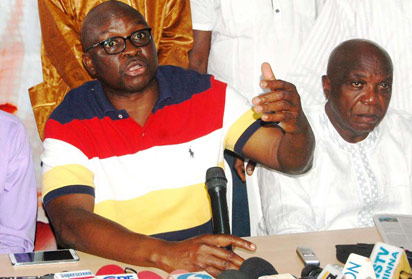 This came as he promised not to probe the Fayemi's administration when he took over the affairs of the state on October 16, despite perceived intense pressure
Fayose who spoke at a media forum in Ado-Ekiti, said as a governor, he would swear to protect the constitution of the Federal Republic of Nigeria and he would not do anything to breach same.
According to him, "since the new council areas are not known to law, it will be criminal of me to start using monthly federal allocation meant for constitutionally-recognised local governments to finance the 19 additional LCDAS newly created.
The Constitution of Nigeria currently recognises only 774 local governments and until there is a contrary development by order of National Assembly, there is no how I can be hoodwinked into using money meant for any of them to finance those not recognised by law. As far as I am concerned, I do not believe Fayemi has created any new local government. I still hold the view that his intention was misconstrued by those who think LCDA is the same as local government."
He said he was not ready to probe Fayemi's administration to avoid distraction on the developmental stride he intended to pursue.
According to him, he was being pressurised to probe Fayemi by those he claimed were stunned by alleged huge debt profile of the state, declaring however that probing the outgoing government would do no good.
He contended that his major preoccupation was to develop the state and make life better for the people who voted him into power, saying he was too much in a hurry to justify people's confidence in him than engaging in distractions.
The governor-elect said he had already started working on how to usher in massive turn-around of the state, saying deplorable roads in Ado-Ekiti, the State capital would be rehabilitated within the first 100 days in office, while construction of fly-overs would follow thereafter.
On how he intends to work with the All Progressives Congress, APC-dominated lawmakers in the House of Assembly, Fayose said he had developed strategies for a cordial working relationship with them.
The State House of Assembly is currently dominated byAPC, with 25 members against one PDP member.
Meanwhile, President of Nigeria Union of Local Government Employee, NULGE, Ekiti State chapter, Mr. Bunmi Ajimoko, has defended a recent directive to members to shun postings to the newly created councils.
Ajimoko, along with his officials were at the plenary sitting of the House in Ado-Ekiti yesterday following the invitation by the House to make certain clarification on the issue.
The House had summoned the union leader following a statement credited to him, that the Assembly had rushed the processes of the creation of the 19 LCDAs.
Ajimoko said the union's decision to stop their members from reporting at their duty posts at the councils was to  protect them.
"Our union has never play partisan politics with current issue bothering on the creation of new LCDAs in the state. The welfare and safety of our members has been our paramount agitation," Ajimoko said.