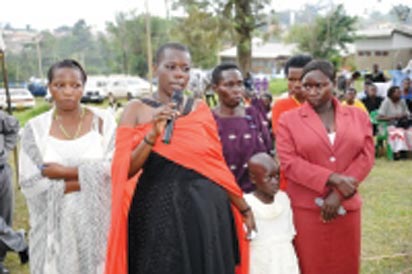 Gloria Tumwijuke (with microphone), Alice Ngonzi Isoke (folding hands in red dress), Diana Alinaitwe (behind Alice), Mrs Isoke (Alice's mother), an unidentified health worker(on Gloria's right) and a granddaughter to Mrs Isoke – all Ebola survivors narrating their ordeal at Kagaadi Hospital during the function to officially declare Uganda Ebola free. Photo courtesy WHO
By Sola Ogundipe, Victor Ahiuma-Young, Chioma Obinna, Henry Umoru, Olasunkani Akoni & Gabriel Olawale
LAGOS — Following the recovery and discharge of the first Ebola Virus Disease (EVD) patient from the isolation centre at the Mainland Hospital in Lagos, facts have emerged as to how the patients are recovering.
Meanwhile, more patients undergoing medical treatment at the centre may be discharged this week, investigations revealed.
Experts, who commented on the development, said although 60-90 per cent of people infected with the Ebola virus die, some people do recover from infection.
"Doctors don't know for certain who will survive Ebola, and there is no specific treatment or cure for the disease. But studies suggest there are some biological markers linked with a higher chance of surviving Ebola," the experts say.
In the view of Derek Gatherer, a Bioinformatics researcher at Lancaster University in the United Kingdom, who studies viral genetics and evolution, "when a person becomes infected with Ebola, the virus depletes the body's immune cells, which defend against infection.
"In particular, the Ebola virus depletes immune cells called CD4 and CD8 T lymphocytes, which are crucial to the function of the immune system", Gatherer noted, arguing that "if a person's immune system can stand up to this initial attack — meaning their immune cells are not as depleted in the first stages of infection — then they are more likely to survive the disease.
"The patients that survive it best are the ones who don't get such a bad immune deficiency. But if the body is not able to fend off this attack, then the immune system becomes less able to regulate itself", Gatherer said.
Markers
Another marker linked with people's ability to survive Ebola is a gene called human leukocyte antigen-B, which makes a protein that is important in the immune system. A 2007 study found that people with certain versions of this gene, called B*07 and B*14, were more likely to survive Ebola, while people with other versions, called B*67 and B*15, were more likely to die.
Some people may be resistant to Ebola infection entirely, if they have a mutation in a gene called NPC1. Studies show that, when researchers take cells from people with the NPC1 mutation and try to infect them with Ebola in a laboratory dish, these cells are resistant to the virus.
Gatherer said in European populations, about 1 in 300 to 1 in 400 people has this mutation.
"But in some populations, this mutation is more common: in Nova Scotia, between 10 and 26 per cent of people have this mutation. But the frequency of this mutation in African populations is not known," he said.
Also giving an insight, Lagos state Governor Babatunde Fashola remarked: "This is a virus that will run a maximum of 21 days. What we must do is people who show some signs of illness should come in very early so that we can continue to hydrate them, give electrolyte balance so that their nervous system do not go into shock and wherever it is necessary to provide antibiotics for patients; and their body can fight the virus which in the event last no longer than 21 days."
More to be discharged this week — Fashola
Fashola, who spoke at a media briefing where he indicated that more patients were likely to be discharged this week, noted: "There is silver lining in all of this, as report reaching me shows that many of the critical patients are responding positively to treatment and are likely to be discharged next week, (this week).
"At the moment, 61 people have been certified negative and they have been freed.
"Aside the treatment for those who have full grown cases, the more important work is tracking all those who have had contact with them in order to know how far the virus has spread. It is when we have finally reach everyone that we can say that we have control over the virus. From that place we can go back to sleep."
Nasidi speaks
Also speaking at a different forum, Director, Nigeria Centre for Diseases Control, NCDC, Prof. Abdulsalim Nasidi said the likelihood of more patients being discharged arose from medical reports indicating that they are showing signs of full recovery from the disease.
Nasidi, who spoke on the probability of more patients being discharged, had earlier affirmed that there were chances of surviving the deadly disease if treated early.
"Yes, we have some of the patients who have fully recovered from the disease after intensive medical treatment and they are likely to go home and reunite with their family members soon," he affirmed.
On the downing of tools by the health workers attending to quarantined patients at the Control Centre in Lagos, last Friday, he said the workers had resumed work after appeals and meeting held with some of the aggrieved workers.
Their decision to stop work followed allegations of negligence by family members of one of the patients' nurses that died of EVD last week.
It was also gathered that more essential medical kits have been made available for distribution to hospitals in anticipation of more health workers and volunteers that will be joining the joint medical team already on ground.
Death toll rises to 1,145 globally — WHO
Meanwhile, death toll from the worst ever outbreak of Ebola has risen to 1,145, the World Health Organisation, WHO, has said, even as 76 new deaths were reported in two in the four West African nations affected by the epidemic.
The WHO said that a total of 152 confirmed, probable and suspected new cases of the deadly hemorrhagic fever were reported in the two day period in Guinea, Liberia, Nigeria and Sierra Leone, bringing the total for the outbreak to 2,127.
  Chukwu addresses concerns of Ebola relatives
Minister for Health, Onyebuchi Chukwu who met with the concerned friends and families of the Ebola afflicted victims following their complaints about the welfare of their wards said: "As you know, we have a serious situation and anyone that has a relative is bound to be anxious, and when relatives complain, we must listen."
Chukwu admitted that all the complaints were being investigated, adding that he had been briefed  on the development and recommendations were being put in place.
"I'm a doctor myself and I'm behaving now more as a doctor than as a Minister. Normally, when relatives of patients complain, I want to see them, working together, sometimes they do not have the full information, and who knows, sometimes they themselves can add valued to what we are doing."
He said the Federal Government was open to suggestions and contributions.
"We knew the former place was only temporary and we knew we could do better and that was why the Lagos State government made every effort to get the new isolation unit ready. Penultimate Friday, I visited the Lagos State Governor and he personally assured me the new facility will be ready this week. He kept to his word. Of course as soon as it was ready it was made available and the patients have been moved to the new facility, which is better than where they were before."
Pointing out that no stone was being left unturned, he said hopefully all shortcomings they may have observed were actually being addressed by the new place.
"I had to personally discuss with the Chief Medical Director of LUTH, Prof Akin Oshibogun, when I was told they were not satisfied with facilities for critical care. That is why we have reinforced what is available. New equipment has been put in to reassure the patients that we would do everything humanly possible to keep them alive and to return them to their families and work," the Minister explained.