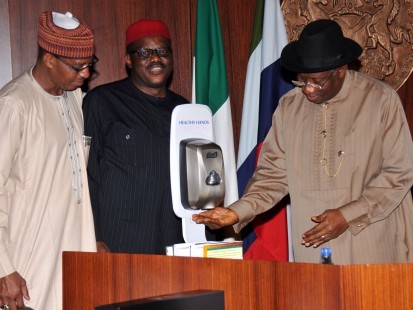 By  Sola Ogundipe, Health Editor, Ben Agande,  Kinsgley Omonobi,Tony Edike, Chioma Obinna & Gabriel Olawale
ABUJA —One of the primary contacts of the late American-Liberian, Patrick Sawyer, who escaped quarantine on suspicion of having the dreaded Ebola Virus Disease, EVD, in Lagos, has been tracked to Enugu.
The suspect, identified as a nurse, said to have travelled to her home town to visit her family, is now under surveillance with 20 others she came into contact with in the city.
With the development, the total number of Nigerians under monitoring for the dreaded virus is now 198.
Revealing these facts yesterday after the Federal Executive Council meeting in Abuja, Information Minister, Labaran Maku, explained that Nigeria currently has 10 confirmed cases of Ebola, all stemming from the visit of the late Sawyer.
Maku explained that of the 198 persons under surveillance, 177 of them are in Lagos while 21 are in Enugu.
He said: "All those who had primary contact have been quarantined. Secondary contacts have also been traced. So far, the number of people that have been traced is 198.
"Of this number, 177 are in Lagos and are being traced. Some are in quarantine, some are being monitored by health specialists."
Meanwhile, the death toll world wide from the outbreak stands at 1,069 and total number of infections 1,975, according to the World Health Organisation.
Liberia was hit extremely hard this week, with 71 cases and 32 deaths from Sunday to Monday. Fifty-six deaths and 128 new cases were reported in that same period across all four West African countries affected by the virus.
21 Ebola suspects in Enugu under watch
Giving details on the escapee, Maku revealed that she travelled to Enugu from Lagos against instruction not to leave Lagos State.
He said: "The 21 persons in Enugu under watch now is as a result of their involvement with the nurse who disobeyed medical instructions and somehow travelled to Enugu. All those who she was in contact with, including her husband, are under quarantine. The medical team has been able to trace all those who made contact with her."
While warning that government would prosecute anybody found spreading false rumours or unverified reports over the Ebola epidemic, Maku said government was expanding presence of health officers to strategic entry points in the country.
"Health workers are now in all our border units. At all the entry points into this country and exit points, we have port health workers that are working in our airports and seaports.
"We are calling on citizens, specifically, to co-operate. If health workers say you have had contact with A, B, C, don't move to anywhere, respect that judgment. It is very important. In one or two cases where we have had disobedience, we lost one of them and this one now moved with it to another place (Enugu).
"So we are urging Nigerians, please to help us in making sure that all these messages and appeals we are making, we implement them."
He noted that the Ministry of Health had set up a special committee specifically to take claims from Nigerians who believe they could help and so far "we have had a lot of reports from Nigerians at home and abroad who come forward to say they have possibility of developing therapies that could help in fighting the virus.
"There is no cure so far, anywhere in the world. Even the trial drug in the US is still a trial drug; it has not been established.
"One of the doctors and research experts that came forward was Dr. Simon Agwale, who has been one of the frontline global researchers on developing vaccines for HIV and other viral diseases.
"He also came forward and said he could help, both in terms of working to develop a vaccine, which he said he has started work on between himself and his fellow experts in the US and he said this is ongoing."
Maku stated that the Minister of Health had given support and directed him to the committee. He also discussed the possibility of certain therapy which could be applied and again that is being discussed. Once it is approved, it could be used."
Escapee nurse, husband arrested, returned to Lagos
There was anxiety among residents of Enugu, yesterday following reports that 21 persons have been quarantined in the city for having direct contact with a suspected Ebola patient who escaped from Lagos.
Officials of Enugu State Government claimed ignorance of the development but there were fears that the government might be keeping the information secret to prevent panic among residents.
The telephone line of the state Commissioner for Health, Dr. George Eze, remained switched off yesterday while another commissioner who was contacted said he was not aware of anybody being quarantined in Enugu.
But a medical consultant with the University of Nigeria Teaching Hospital, UNTH, Enugu, told Vanguard that some officials of the National Centre for Disease Control, NCDC, in Lagos were in Enugu last week to pick the suspected female Ebola victim who escaped from a quarantine centre in Lagos.
The woman and her husband were picked up from their residence at Trans-Ekulu and were immediately taken to Lagos where they have been kept under surveillance.
The consultant said about 21 people believed to have had direct contact were being quarantined for close monitoring by officials of the state Ministry of Health, but he was not aware of the hospital.
FG deploys mobile lab in Enugu, others
The Federal Government is to deploy a mobile laboratory to Enugu as well as establish laboratories with capacities to diagnose Ebola Virus disease in Jos and Kano State within the next few days.
Addressing State House correspondents after a meeting between President Jonathan, governors of the 36 states of the federation and their health commissioners, Minister of Health, Professor Onyebuchi Chukwu said the measures were meant to increase the capacity for early detection of possible infection and early action.
According to the minister, laboratories that can test for Ebola Virus Disease in the country include the Centre for Disease Control laboratories in the Lagos University Teaching Hospital and Abuja, and Redeemer's University laboratory in Ogun State.
He explained that as at yesterday, Nigeria has had 10 confirmed cases of Ebola and they are all those who had contacts with the Liberian.
His words: "There are no cases of secondary contacts. We have had three deaths. The Liberian, the nurse who attended to the Liberian and a protocol official who worked with Ecowas. Seven are alive and are making progress."
Chukwu said waivers had been granted to two corpses to be brought back to the country; one from Kenya and another from India because the cause of death was not from Ebola virus.
In his remarks, Governor Babatunde Fashola of Lagos State said there was a collaborative effort between the tiers of government and called for cooperation as "government alone will not be able to solve this problem.
"We are working with the Federal Government. We are also working with private hospitals.
"This is not something you should keep in religious houses. It is important to come out to disclose any case. There should be no pretension about it."
Sawyer, a terrorist — Presidency
Meanwhile, the Presidency has tagged Sawyer a terrorist for importing the virus into Nigeria.
Senior Special Assistant to President Goodluck Jonathan on Youths and Students , Mr Jude Imagwe said this in Abuja during the dinner lecture and awards nights organised by Peoples Democratic Party, PDP, Youth Vanguard to honour prominent members of the party in the country.
He said Sawyer's misguided action had brought pains and hardship upon Nigerians who have been going about their daily duties. He said such a man deserved to rot in hell.
He said: "Patrick Sawyer has brought pain and hardship to Nigerians. So many things have now changed because he brought this upon us. Even in churches, we are not free anymore.
"The woman who wanted to assist the terrorist from Liberia is dead now. This is bad. This virus is not an infection for the rich or the poor. It can affect anybody. We need to be careful."
Speaking on the Federal Government's efforts at minimising the spread of the virus, the SSA said: "One of the surest means of prevention is constant washing of your hand by soap. Everyone of us must not say that because this virus is in Lagos, we should then neglect taking care of ourselves.
"Mr President has taken the initiative to close down primary schools. This shows that our President means well for Nigerians. The Lagos State Government has also done a good job. As Nigerians, we need to assist government in assisting these people."
The presidential aide equally spoke on the plight of handicapped youths in the country, promising that the government will never abandon them in their time of need.
He said: "One assurance I want to give to our brothers is that Nigerian youths who are handicapped are not alone. We know that they suffer some degree of isolation and rejection. We
are with them and we will never abandon them. My heart bleeds over things that are happening in our happening. Enough is enough. An attack on any part of the country is an attack on all Nigerians. Our people in the North cannot sleep anymore. This has to stop. The earlier we realise that it is not a Northern war or Borno war, the better for us. We must avoid use of unguided utterances. These things cannot help us. We need to change the way we do things."
FG okays use of trial drug
The National Health Research Ethics Committee of Nigeria has approved the use of an experimental Ebola drug, Zmapp, for treatment of patients infected with the virus. The committee, which comprises research scientists, is a national body under the Federal Ministry of Health. The endorsement is contained in a statement made available to journalists and signed by Dr. Clement Adebamowo, chairman of the committee. "It is ethical to use these treatments in the current situation without first submitting an application to National, State or Institutional Health Research Ethics Committee for prior review and approval. In addition, the committee waives the current requirement that international shipment of any biological samples out of Nigeria should be preceded by the establishment of a Materials Transfer Agreement. This waiver is to promote rapid international response to this global emergency," the statement said.
In the statement, the Nigerian National Code for Health Research Ethics emphasised that all innovative and non-validated treatments should be carefully and adequately documented. It said the documentation can form the basis for clinical trials of the efficacy and side effects of the treatment according to established scientific principles. It added that the ethics committee enjoins all agencies, development partners and research scientists to follow the guidelines for rapid resolution of the current emergency.
"The guideline will contribute to preparedness in case of future occurrences and contribution to scientific knowledge. It must be noted that all Phase O and Phase I Clinical Trials that may subsequently be designed for treatment of this infection can be approved only by the National Health Research Ethics Committee," it said.The decision by the committee is coming on the heels of Tuesday's approval by the World Health Organisation, WHO, on the use of experimental drug, ZMapp, for treatment of Ebola patients.
Governors avoid handshakes, adopt knuckles greeting
Governors and health commissioners from the 36 states of the Federation who converged in Abuja for an emergency meeting with President Goodluck Jonathan to discuss possible ways of containing the spread of the dreaded Ebola virus, avoided handshakes, opting to greet one another with knuckles.
Why Patrick Sawyer travelled to Nigeria – Wife
Meanwhile, widow of late Patrick Sawyer, Decontee, has said her deceased husband travelled to Nigeria in a desperate search for possible cure. Disclosing this in an article published in the TMZ Liberia magazine, she explained that Sawyer had no trust in the healthcare system in Liberia and had possibly headed to Nigeria with the hope of receiving better treatment for his ailment. Her thoughts shared on her Facebook profile from which TMZ Liberia sourced it for publication, is reproduced below:
"I've read other reports in other papers (not the New York Times) about Patrick's "recklessness." I get where they're coming from, and they certainly have the right to feel the way they do. However, as Patrick's widow, I would like to shed some light on this from another perspective. One that only I, his wife, would know. I knew Patrick better than anybody else (including himself). He had told me many times in the past how much he didn't trust the Liberian healthcare system. He would tell me about how a person would get checked in for one thing, and get misdiagnosed and get the wrong treatment as a result. On top of that, Patrick was a clean freak, and told me how filthy a lot of the hospitals were.
"He didn't tell me this, but I know in my heart of hearts that Patrick was determined to get to Nigeria by all means because he felt that Nigeria would be a place of refuge. He has expressed to me many times in the past that he felt passionately about helping to be a part of strengthening Liberia's healthcare system, but he knew it wasn't there yet, and he wouldn't want to take a chance with his life because a lot of people depended on him… Patrick had a passion for life, and he wouldn't have wanted his to end. So, I bet anything that he was thinking, if I could only get to Nigeria, more developed country than Liberia, I would be able to get some help. How ironic."
Scare at Lagos hospital over suspected patients
In a related development, activities at the Orile-Agege General Hospital, Agege Local Government, Lagos were disrupted for hours, yesterday, when a patient suspected to have contracted the Ebola Virus Disease was taken to the hospital. Health officials in the hospital absconded as the patient, who was brought into the hospital in the early hours of the day, was seen bleeding from some parts of his body. Our correspondent gathered that patients in the hospital scampered for safety leaving the hospital deserted.
Sources said that the reason for their action was to avoid contacting the deadly virus.  A health official, who craved anonymity, said that such a case was reported at the hospital on Tuesday, in a case suspected to be Ebola. Vanguard learnt that authorities of the Orile-Agege General Hospital called the Ifako-Ijaiye General Hospital that they have a patient to refer to it as they did not have the wherewithal to handle the case. It was learnt that the Ifako-Ijaiye General Hospital declined and called the State Ministry of Health which ordered that nobody should touch the patient as government was coming to pick him up.
Officials of the Lagos State Government, our correspondent learnt, picked up the patient and the man who brought him to the hospital and took them away to be tested if the case was actually an Ebola one. Efforts to get the state Commissioner for Health, Dr. Jide Idris, to confirm the story proved abortive as he was said to have gone to Abuja with the state governor, Babatunde Fashola, to meet with President Goodluck Jonathan.