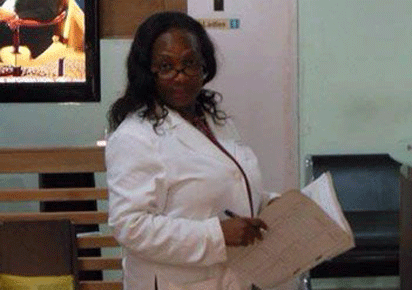 Dr. Ameyo Adadevoh
BY NWABUEZE OKONKWO
ONITSHA – The Owelle of Onitsha and son of Dr. Nnamdi Azikiwe, Nigeria's first President, Chief Chukwuma Bamidele Azikiwe has urged the government to immortalise late Dr. Stella Ameyo Adadevoh. 
Azikiwe, also advised Nigerians to imbibe the positive aspects  of the character and life of the late doctor which according to him deserves the highest national honour for putting her life on the line in service to our fatherland. 
In a tribute made available to newsmen in Onitsha, Azikiwe described Dr. Adadevoh as a compassionate, selfless but disciplined person said he was not surprised she restrained the Liberian-American,  Patrick Sawyer from leaving the hospital after he was suspected of having the deadly Ebola Virus Disease.
" Ameyo was both my relation and friend. She was a very kind, caring, and selfless person. She also had discipline and steely determination.I am not suprised that her selfless compassion and steely discipline will make her restrain Patrick Sawyer from leaving the hospital to probably spread the Ebola virus to epidemic proportions.This she did at  risk to her life.
"Inspite of her upper class background, Ameyo was very down to earth and  full of compassionate empathy for the disadvantaged and poor. Even when she was a medical student at  LUTH she used to tell me and my friends about the plight of some of her brilliant but very poor schoolmates.She was one of my favourites among the younger generation of our cousins."
Family inconsolable
"I have reached the mother, Deborah, who is somewhat managing under this tragic circumstances.I spoke to Mrs Kate Aniadi, nee MacIntosh, Deborah's sister  and Ameyo's aunt who had not stopped wailing and screaming up to the time I put off my phone. I am in regular contact with Dr Andrew MacIntosh, Deborah's brother and Ameyo's uncle."
Family relationship
 "Her mother, Mrs Deborah Adadevoh, is my cousin. Deborah's grandmother, Okwuegbunam (nee  Azikiwe) is the immediate senior sister, same father same mother, of Obed Azikiwe, Zik's father".
Ameyo's father,  late Professor Kwakwu Adedavoh, was the grandson of Herbert Macauley. Kwakwu's mother was Herbert Macauley's daughter. That made Ameyo Herbert Macauley's great grand daughter. Professor Adedavoh was a medical doctor who taught at  University College Hospital, Ibadan, Lagos University and was Director-General Nigerin Institute for Medical Research Yaba.
How will you like Dr Adedavoh remembered?
First imbibing and disseminating positive aspects  of her character and life. Second she should be given the highest national honours possible for risking her life to save many. She paid the ultimate terrible price.Third, a permanent memorial should be established in her honour.