Bayelsa State Governor, Hon. Henry Seriake Dickson, speaks on the gains of his state's recent investment and economic forum, the state airport project, dwindling financial returns from FAAC, SME development and many more.
Excerpts: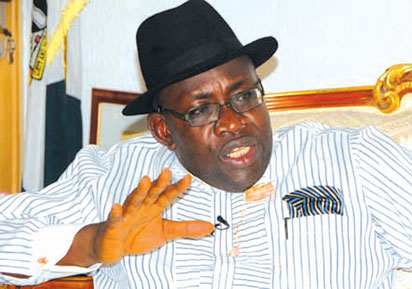 Bayelsa State recently hosted its first Investment and Economic Forum which was adjudged to be a huge success in terms of participation. What positive feedbacks have you received so far from it?
Thefeedback we have received has been inundating to say the least, positively I must say. It has been one of commendation, appreciation and greater understanding in terms of what we are doing as a government, the potentials of our state and what people can do here, which was the main focus of the forum.
The reason for the hosting of the economic forum was to bring the world to Bayelsa and take the Bayelsa story to the world. We have put in place a lot of initiatives, opening offices outside Bayelsa and in very strategic economic capitals of the world to sell the Bayelsa story and it is sinking.
I receive letters, calls, text messages, e-mails and invitations to top investment conferences. Judging by what we all saw and the feedback that my team and I have been receiving till date, I would say the forum was very successful.
Still on the economic forum, you announced 50% tax waiver for ICT related investments in the state. Has the government had talks with any of the communications companies in this regard?
I made that announcement because of the role ICT plays in terms of the future and the industrialization plans that we have drawn up for our state. As a matter of fact, we signed an agreement that day with the Federal Ministry of Communication Technology and telecommunication network providers.
The situation is that Bayelsa has been more or less treated before now as a backward place, where people don't need to bother themselves to go, as a place that is known for underdevelopment. Although, we have oil, nobody took Bayelsa seriously.
The stories they were hearing about Bayelsa are negative stories, bordering on violence and political instability. Adding all these up and with the fact that, you can't drive to many communities in the state, many people still think, we are living in a forest. These are the things that are firing members of my team and I, that make us appear to be in a hurry to see development.
Therefore, knowing the role ICT plays, we had to announce that waiver to enable them come, so they can lay their fibre optic cables, make the necessary investments and build the infrastructure that will enable us to be a "smart state".
Good access to the Internet in the state will encourage companies to go far and set up in places, which will also assist our drive to popularize computer literacy, because in the nearest future, we want a situation, where every Bayelsan child from primary to junior secondary school should acquire basic computer knowledge, which also means that we will send even the teachers to the training academy to have basic computer knowledge.
Bayelsans are excited that jobs will be created for the teeming youths in the state as a result of the investment forum. How soon will they begin to see the real benefits of these efforts?
I just talked about the agreement that was signed with the Federal Ministry of Communications Technology and the telecommunications providers and we are waiting for them to meet with our team, undertake the surveys around the state to enable them lay the pipes and cables that will provide internet connectivity in the state and that is one, because there are several others.
To me, the most important ones have to do with establishing the right institutions that will enable us create wealth; it is the major focus of the government now.
We also signed an MoU on the provision of 20 to 25 billion naira SME development fund; some banks were there; the Bank of Agriculture pledged N1.5 billion, the Bank of Industry (BOI) pledged N1billion, Mainstreet Bank signed on and I will be having a meeting with the First Bank where we will fine tune their own contribution to that fund.
Once we conclude the SME fund, it will be a direct impact on the lives of our people; it will enable us to activate our policy of creating a fund that Bayelsan business people will be able to access to set up small-scale businesses.
I will meet with the NUJ, professional bodies, churches and community leaders to ensure that we talk to our people to see how they can take advantage of our liberalized title verification system and, within 60 days, they can get their C of Os. With that fund being set up, we hope to be able to get our people trained on basic areas where they want to do businesses to enable them access that fund.
We are aware that Nigeria is going through a phase where finance is becoming very difficult; some people in the state are yet to come to terms with the situation. So we begin to wonder: with the very much you are doing, when enough money is not coming from FAAC, how much can the 'restoration government' keep up with the momentum of infrastructural development, the scholarship programmes, the investment initiatives and so many others? Do you intend to cut down on some of these areas?
We are also very concerned. There is no state government in Nigeria that is not concerned: Very sharp decline in state revenues. We are actually receiving about 40% less. As I speak, there are so many state governments that have not been able to pay the salary of their civil servants.
And, this is a lesson to us here in Bayelsa. I want Bayelsans, particularly people in the public service, to borrow a leaf that I have also told them that, they are the main stakeholders in government.
Politicians come and go, they may leave their marks for good or bad, but the main stakeholders are the civil servants, so when people have to make decisions like it has happened in some of those states, civil servants understand and they are making sacrifice. In Bayelsa, we are not yet there.
And, it is our expectation that we will not get to that point because we place priority on the welfare and well-being of our civil servants. Unfortunately, because we said they should pay their fair share of tax liabilities as prescribed by the federal law, which all other workers subscribe to, sometimes the good things we are doing for our public service are not appreciated, or we are misunderstood.
So, in Bayelsa, the salaries and allowances and entitlements of our civil servants are a priority to us. We have even started paying the 18% arrears of minimum wage which accrued long before I came. We continue to pay the pension liabilities that accrued several years before we came.
We meet our obligations to civil servants, which is over N4 billion every month, and we also take care of the salaries of the political appointees, and civil servants also have their running and overhead costs, since I took over, there is no month that, I have not paid running cost.
All that we have done is to meet all the legitimate obligations that we owe them. There are areas we need to do more, like housing, like transportation and the health insurance policy that will kick off very soon.
You secured the legislative support of the House of Assembly to obtain N40 billion naira loan for the state airport project which is good to some of us as it will speed up the work. But some persons are disturbed knowing it is a partnership project with the Federal Government. I don't know how you look at that?
There is nothing unusual about doing a project with the Federal Government. Where the Federal Government is undertaking a major project in Bayelsa, we will be very happy to encourage them and even invite them to do so. For instance, the Nembe-Brass road is not a project that a state government can do, because it is almost ninety something to a hundred billion naira.
The same for the Ekeremor-Agge road; the road from Sagbama to Ekeremor is thirty-one billion. These roads are costly, because of our terrain and the number of bridges in-between. To do one small road from one community to another, you will pass two, three, four canals and each of them requires a bridge. So, it makes construction very, very expensive.
Now, our partnership with the Federal Government is that the Federal Government is building the terminal building. Of course, when my predecessor was there, they went to put one signboard and they called it Musa Yar' Adua Airport.
This state urgently needs an airport. This state needs a gateway to the world. Right now the Ijaw nation has no access to the world. No airport, no seaport; I find that so offensive, I find that to be wrong and unacceptable; we must take steps to fast-track that contract to open up Bayelsa urgently.
So, the Federal Government is building the terminal building and all the most important components in the airport, acquisition of land, clearing of land and compensation and finally the most important thing that makes an airport, the runway, I decided should be driven by the state.
You have keen interest in wealth creation and employment. You kick- started rice farms at Sagbama and Ogbia. Can you tell us something about the progress so far?
There are so many farms going on; rice production is one area we have comparative advantage. We are talking to a lot of people to come and invest in Peremabiri, Isampou, Ogbia and Obama. Right now, we are actually doing some. The Ministry of Agriculture is doing some of these rice projects and they are doing very well.
We are now selling some of our rice, called "Bayelsa Orosi".That is a pilot scheme that has proved to be very successful but the type of investments we are looking for have actually been concluded with some of the investors, who will be coming very soon.
We want them to come, so that we can put like 1,000 young people and do big time plantation. That is the direction we are going, not these small ones; it's got to be massive, whatever we do in agriculture, we need the airport, because we want to be in a position to evacuate our farm produce and the arrangement, when we are set, is that a lot of Bayelsans should do farming, whether in your backyard, you should do farming or fishery. We don't want you to worry about the selling
That is why I have told them to set up Bayelsa Agriculture Development Company. In the SME Summit, I was asking those financial institutions; can you give loans for this, so our plan for our state owned company is to buy up these products? I don't care if everybody in Bayelsa is producing fish; tilapia or catfish. That's exactly   what we want. Even if it is one million naira loan, I'm going to give to you, give you the skills and it is not the money you will live on, but the profit.
Have the Songhai trainees been dumped or why are they not employed or given money to pursue their acquired professions?
Theyhave not been abandoned. We have a plan we are following, we thought the plan would have worked out by now. However, the plan has not worked out according to our desires. Now, we thought by the time the Songhai trainees were returning, our SMEs policies would have been firmed up, so that we could assist them to start their own businesses.
These are young men and women we are proud of they went through that training and, most of them I have interacted with told me, 'governor, just give us money, we want to start our businesses'. I'm happy that young men of Bayelsa have that mindset.
So, I am eager to set them up for their own businesses. I asked one of them, 'what can you do if I were to give you three million?' He said he will set up a poultry and that is what he learnt how to do. We paid for his training, sent him to Songhai and that is how others are still being trained now.
But, I want our SME development policies to be firmed up first, because you need to understand that, when we say we would give them money to start up, we are not talking about giving them our derivation allocation to go and start up. It is a policy we are putting together with banks, we can put our counterpart funding, because it has to be treated as a commercially viable project.
I brought the Bank of Industry to make a commitment of one billion naira and they made it N1.5 billion and I'm putting one billion. So, from the Bank of Industry alone, we have 2.5 billion. So, from that money, we will select Bayelsans, men and women. We will start the ones for the young people, then men and boys. This is the fund we want to concretize, so in the next one of two months, we will be through with them.
When are you going to pay the bursaries for Bayelsa students in higher institutions of learning?
I have released N200 million already.
I will add more to ensure that bursaries are paid up and I count on our students to be good students too.
When will you lift the embargo on employment, because there are so many unemployed graduates in the state?
We are concerned about the high rate of unemployment of our youths; graduates and non-graduates. But this is not just a Bayelsa problem but national problem. Government cannot create employment for everybody.
If you were the governor, you will not be able to open the gate of employment, especially in the face of the over- bloated wage bills and dwindling resources, to become a youth-friendly government.
That is not what you elected me to be. But, let me assure you that we are concerned about them. There is the employment we have authorized and, let me assure you that we have employed more youths than a lot of governments have done. We have employed over 200 young people to be forest guards already on the basis of equality of local governments?
Do you also know we have also authorized the employment of science teachers? Do you know also that 100 graduates have been included in the state volunteer scheme?
Do you know that the number of young people, youths at your level, who have been appointed into one office or the other to reduce unemployment issues; my youth development committees already have 200 young people and we want to re-organize it now that we have the state volunteer scheme. Besides that, we want to involve youths massively in fighting poverty and creating wealth. That is what we are discussing, using agriculture and other schemes that we want to develop.
Subscribe for latest Videos