By Jide Ajani
They were 35 pick up trucks in all – 35. The vehicles had no number plates; therefore, there was no way on earth you could identify the owners in the event of a road mishap – even for the good of the occupants.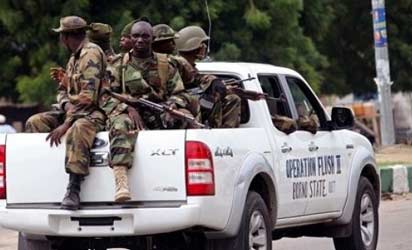 In each of the trucks were at least eight fierce-looking, heavily armed men. They brandished what someone called General Purpose Machine Guns (GPMGs). Some of them wore masks – what that could also mean is that if one of them did anything untoward, no one would identify him.
And the men were dressed in black – black T-shirt, black trousers, some in black masks; a few wearing face-caps. The only form of commonality is that there was 'DSS' inscribed on the back of their T-shirts.  This could be a very good move; good if the men were heading to Sambisa Forest to rescue the abducted girls of Chibok. But no! They were not in the North-East, nor were they in Borno State, Maiduguri or even Chibok.
They were in Oshogbo, the Osun State capital, on Wednesday, July 30, 2014. Worse, still the men in black shot in the air that Wednesday!  Whatever that was intended to achieve was not immediately understood.   Some issues need clearing here. Why would officers of the state who are not in a war zone be in masks? Why would officers of the state who are paid by tax payers drive in unmarked cars? Why would officers of the state shoot indiscriminately into the air like Hamas or Hezbollah fighters? Why?  Why?? Why???
The danger that is gradually creeping into the polity is yet unknown. This is not about the All Progressive Congress, APC, or about the Peoples Democratic Party, PDP.
It is about decorum, national security and good sense. Because Nigeria is a sophisticated nation where criminals easily ape security operatives, let us bring the danger home.
Imagine you are driving late in the evening on Benin/Ore Road, or Ilesha/Akure Road, or Enugu/Awka Road or Kaduna/Abuja Road.
Then imagine you see a group of men, 10 in number, wearing black T-shirts, with the DSS inscription on them, gun-wielding, and stopping vehicles at will for a supposedly stop-and-search operations. With the excuse of keeping national security, who would dare challenge this group of 10 men? Who would dare ask them for their ID cards?
Who would dare want to know the purpose of their action? To complicate matters, if these men were armed robbers, how would anyone know?
Even if officers and men of the Nigeria Police Force, NPF, were driving along the same road, their warped form of comradeship or camaraderie would just be a hollering sound of 'ALL CORRECT SIR', or 'OFFICERS ON DUTY', or some other such slogans. Still imagine some Boko Haram members dressed in black T-shirt and wielding guns in a convoy invading any of the presumably safe states of South-East, South-South and South-West and unleashing terror.  How would the DSS be absolved?  Add the angle of the masks!  So, who do we arrest? Who would carry out the arrests?   Just imagine men in black with the DSS inscription attempting to arrest another group of men in black with the same DSS inscription!
Why is this inquisition necessary? This call to attention is necessary because the job of national security requires decorum and good sense. Granted, the Department of State Services, DSS, needs the support of all Nigerians to succeed in keeping everyone safe. Granted, there should be no interference in the activities of the men of the DSS.
Yes, granted, Nigerians should support and be seen to be supporting all security measures being put in place for their safety. However, when the selfsame Nigerians meant to be protected become victims of psychological terror by the institution they fund, there is need for introspection.
The stories are well known of how members of the Jama'atu Ahlis Sunna Lidda'awati wal-Jihad, which in English translates to, "People Committed to the Propagation of the Prophet's Teachings and Jihad", and otherwise known as Boko Haram, invade villages and towns wearing military uniforms, driving in a convoy of 10, 12 or 15 Hilux pick up trucks; and, thereafter, disappearing into Sambisa Forest.
Now, if 35 pick up trucks can be sighted in Oshogbo, why can't the same number of trucks with the mean men be deployed to Sambisa Forest?
That is a question for the DSS to answer. Perhaps his attention has not been drawn to it, so by this very piece he is being informed.
Ekpeyong Ita, the Director General of the DSS, is known to be a man of peace.  He is credited with reforming and transforming the department.  A knack operative in his days, Ita has done more good to the DSS than most of his predecessors. Unassuming, always wearing a calm look, it is time for this gentleman operative to ensure that his department and all he has worked for all these years are not made a mockery of on account of the actions of some overzealous men in black.
God forbid that day. But it is already happening in Borno State, where some men wear military uniforms and kill innocent Nigerians. The DSS should not open itself to the collateral damage of Nigerians seeing it as an Enemy of the State because of the conduct of a few, very few, unscrupulous elements.
For President Goodluck Jonathn and his PDP, there is nothing in the camp of the APC that can shake his return next year as President and Commander-in-Chief.  Yes, the APC may still poke fun with its episodic flashes of relevance in the polity.  But with its refusal to wash itself clean of a possible Muslim/Muslim presidential ticket till date, it would require something of cataclysmic error on the part of Mr. President to lose that election.
Therefore, allowing some officers of state to  overheat another part of the country, is unnecessary.
Osun State, which holds a governorship election on Saturday, is not Sambisa Forest, where this show of force is needed. Let the person the electorate want win in an atmosphere free of the excesses of some servants of the tax payers dressed in black.