Special Assistant on Media to Ogun State governor, Soyombo Opeyemi, in a session with newsmen narrates the achievements of Governor Ibikunle Amosun in office saying the governor has launched the state into what he defined as the golden era of the state. Excerpts:
BY Daud Olatunji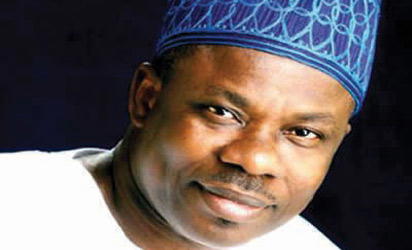 What will you say is the greatest achievement of the Amosun administration in the last three years?
That's quite interesting. If you ask the opposition, they will tell you it is road construction and bridges. Yes, they acknowledge that much that Amosun is the first governor since the creation of Ogun in 1976 to build overhead bridges all over our major cities, construct the first international standard six-lane road across the state, and the first also to construct a 107km modern road cutting across four local councils, many villages and towns.
They, of course, add a mischief to this acknowledgment. They claim our roads cost more than the previous government. That, we all know, is politics, but self-indicting as well. How can you compare an orange with apple?
They built a few roads, which collapsed within two years. Their best is the 1 km semi-modern road in Abeokuta,  while Amosun's roads are of 21st century, wide and complete with modern features like clearly-defined pedestrian walkways, storm drains, greens, well-defined medians, speed breakers, etc.
But if you ask some of our people in the rural areas, they will tell you that they are happy with the new roads but they are much more grateful to the governor for the free education because they no longer pay school fees or buy textbooks, which are expensive these days anyway. They consider the free education policy as the greatest achievement. Again, the extremely poor women who receive free antenatal care, get transport money and, after birth, receive  'mama kit' with more material gifts for mother and baby may argue it is health care, even though their children also enjoy free education.
Land clearing equipment
Or the farmers who are beneficiary of the N1bn credit scheme and now use modern land-clearing equipment instead of cutlasses and hoes with the attendant toll on their health and productivity, will they not consider agriculture as the greatest achievement?
You said your government was the first to construct bridges, but the immediate past governor said at a recent rally in Abeokuta that he built bridges.
It may be necessary to ask for the locations of the bridges. You probably did not understand what he said or he was misquoted because I don't think anyone will lie about physical structures like bridges. The fact remains that the immediate past government did not build a single bridge, not one.
I think the lesson we should all take away from this is that once you have the opportunity to serve your people, do it with all your might. But much more than that, there is need for vision. A leader should also have consuming passion for the welfare of his people. These are the things that set Amosun apart from the previous government.
The immediate past governor also said he constructed a six-lane road.
I must give him the benefit of the doubt. He probably never meant what you said. If you check the 1km Lalubu road, the best constructed by the last government, it is effectively a 4-lane road because the last two are service lanes. You cannot compare it with our 2.4 km Ibara-Totoro road, which is a standard six-lane highway, with two additional service lanes. Besides, unlike the Ibara-Totoro road, the Lalubu road has no greens,  well-defined pedestrian walkways, modern bus-stop and speed breakers. The median of the Lalubu road is narrow, just as its drains. The street lights used for the road, which is actually not up to 1km, were obsolete as at the time it was constructed.
The Amosun road has 200mm or 8 inches thick stone base whereas Lalubu road does not have. Lalubu is a single-layer asphalt road whereas Ibara-Totoro is a double-layer asphalt road. Please, go and check the two roads and see the difference we are talking about.  The era of 'newspaper development' or 'development by billboards and propaganda' is over in Ogun State.
But why should the last government take pride in constructing less than 1km semi-modern Lalubu road in 8 years (not replicated anywhere outside Abeokuta) while the current government has constructed close to 100km roads of international standard across the state.(Abeokuta, Sagamu, Ijebu Ode, Ilisha/Ago Iwoye, Ilara/Ijoun, Aiyetoro, Ota, Ibafo/Magboro) in just three years? And work is still ongoing in many kilometers of such modern roads.