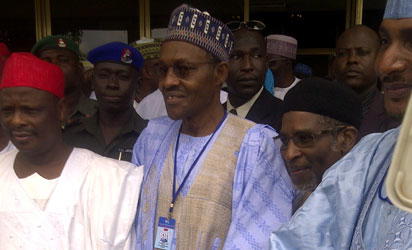 Governor Rabiu Musa Kwankwaso of Kano State, Gen Muhammadu Buhari (rtd) and Prince Tony Momoh at African House , Government House Kano. Photo by A S Muhammad, Kano
By Abdusalam Muhammad, Kano
The battle for the presidential ticket of the All Progressive Congress (APC) is creating tension in Kano State where the supporters of Governor Rabiu Kwankwaso and those of former Head of State, Major General Muhammadu Buhari, have clashed.
The state House of Assembly, dominated by the APC, has broken into two camps, each supporting Kwankwaso and Buhari.
The governor and former Head of  State are leading contenders for the APC presidential ticket.
Some members of the assembly, under the aegis of G34, had, late last week, endorsed Kwankwaso for the APC presidential ticket.
But signs that all was not well in the parliament emerged, yesterday, when a member of the group, Yusuf  Abdullahi Atta, dissociated himself and some of his other colleagues from the endorsement, declaring support for Buhari.
Kano State Deputy Majority leader, Yusuf Suleiman Babangida, who disclosed the G 34 endorsement of the state governor, on Thursday, declared that the current security situation in the country requires a man with courageous disposition of Kwankwaso to handle. ''The security of state and it's citizens which is the first obligation that the law of the land places  upon leadership is deteriorating at all levels due to the collapse of the centre", the lawmaker said.
Babangida, who played a prominent role in the election that brought Kwankwaso to power in 2011, stated,  "We the lawmakers in Kano House of Assembly, 34 of us precisely, hereby propose our leader, Dr. Rabiu Musa Kwankwaso, for the office of the President of the Federal Republic of Nigeria".
Babangida noted that his group's  conviction emanated from the fact that "Kwankwaso is eligible to occupy the office of the President,'' saying, ''We therefore consider this aspiration as the taste of every progressive mind who has concerns over the state of the nation. "
In a sudden twist, yesterday, Atta, representing Fagge local government in the assembly, distanced  himself and some of  Buhari's loyalists during a popular radio political programme "Kowane Gauta".
The lawmaker, during the political programme aired by a private station declared that Babangida's statement did not enjoy his support and urged  Buhari loyalists to remain calm.
''For now, Kano has no candidate other than Gen. Buhari for presidency by 2015; anything short of this popular arrangements remain a deceit", he said.
Atta, during the pay per second radio political programme, whose listeners cut across seven states in the North-west, affirmed that Kano would only consider any other option outside  Buhari except he stepped down his ambition.
Buhari and Kwankwaso have large but disciplined  and fanatical supporters in the state who are emotional about the 2015 presidential dream of their principals.