By Sam Eyoboka & Olayinka Latona
PASTOR Adeboye then mounted the pulpit to pronounce the final blessing on the mammoth crowd of worshippers who had waited patiently for that moment but instead began by commending every department that had contributed to the huge success of the convention.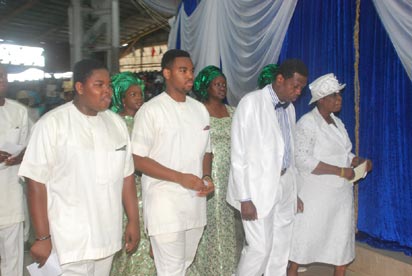 According to him, as at 6.45 a.m. on that Sunday morning, a total of 111 children had been delivered at the Redeemer's Maternity in the Redemption Camp, during the seven day period of the convention. Saying that the boys were the clear winners this year, he said 63 of the children were boys while the other 48 turned out to be girls.
Adeboye confirmed that this year's convention of the church which provided a platform for thousands of worshippers to pray for the safe release of the Chibok schoolgirls, end to terrorism in Nigeria in particular and the world over as well as the destruction of the Ebola Virus Disease, was the very best. He maintained that the church is growing, hoping that apart from the Cambodian choristers, made up of two men and five ladies, who ministered at the event, more from other parts of the world would feature next year.
He also announced that the December Holy Ghost Congress which, he said, would have as theme "The great shepherd," would be a time of tremendous refreshing.
Several eminent personalities from different parts of the globe, including Pastor Stephen Rathod who taught during some of the special seminars, founder of Gethsamane Prayer Ministries and national coordinator of Nigeria Prays, Dr. Moses Aransiola, immediate past Vice President of Pentecostal Fellowship of Nigeria, PFN, Rev. (Mrs.) Mercy Ezekiel, Rev. Joe Olaiya, Rev. Achonwa, erstwhile Minister of Education, Mrs. Obi Ezekwesili, retired deputy inspector-general of Police, Mr. Marvel Akpoyibo and several traditional rulers from different parts of the country attended the convention.