By Jide Ajani
Why has this scourge been visited on Nigeria?  The Boko Haram scourge, that is.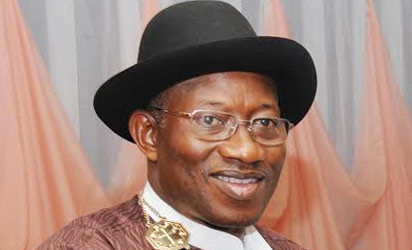 Before we deal with the poser, let it be said up-front, that those who are hoping to force President Goodluck Ebele Jonathan out of power through subterfuge should perish the thought.
Except a cataclysmic event of gargantuan opprobrious proportions occurs, as far as the eyes can see, Jonathan's Peoples Democratic Party, PDP, would win the 2015 presidential election.
But that is simply as far as any endorsement on this page would go.
However, before the endorsement is misinterpreted, this piece would go ahead to show that whatever has caused President Jonathan to be inflicted on Nigeria, the number one citizen would help himself and posterity by acting as a capable President and Commander-in-Chief.
As was noted last week, what shall it profit a President not to want to annoy or offend some people and end up annoying and offending everyone?  That is the clearest way to describe the paradigmatic modus operandi of the Jonathan administration.
Let us start with the Chibok abduction.
Some security experts had said that the condescension by members of the Jamaatu Ahlil Sunna Lidawati wal Jihad, otherwise known as Boko Haram, especially its leader, Abubakar Shekau, to exchange the over 200 abducted girls for his detained members, was a sign of weakness on the part of the sect.  Between fumbling and wumbling, the Jonathan presidency let that offer pass – worse still, this was at a time when the United States (US) was exchanging a soldier for five Taliban members from Guantanamo Bay.
The story of how President Jonathan and his aides did not believe there was any abduction, or that the opposition was playing politics by claiming the girls had been kidnapped, is too ridiculous to be retold here.
But what can be stated here is that – and this is with prejudice to the lives of the abducted school girls – Borno State alone, specifically, southern Borno, lost a documented 562 people in just four weeks between May and June.  The number of the dead in Maiduguri is not added.  And if these deaths occurred in a bid to rescue the school girls, it may have made some sense.
Therefore, the question to ask Mr. President is:  What more collateral damage can the Federal Government suffer in an attempt to rescue the girls that could be more than the number of lives that are daily lost to a rampaging group of criminals masquerading as Islamists?
And this brings us to the issue of the systematic killings of Christians in the North but specifically Borno State.
Last Tuesday, members of Northern States Christian Elders Forum, NOSCEF, stormed the Federal Capital Territory, FCT, Abuja to let the world know the true state of affairs regarding Boko Haram's campaign against Christians and Christian sypathisers. (Read their pathetic story SPECIAL REPORT)
But before the leaders stormed Abuja, Sunday Vanguard got a position paper by the trio of Dr. Pogu Bitrus (of Chibok), Rev. Ibrahim Dauwa (of Gwoza) and Rev. James Yaga, JP (of Gwoza) from Borno South Senatorial District.
In graphic presentation, they detailed a series of documented killings that occurred in just four weeks.  Mind you, there were more killings that could not be documented; which means that many more deaths occurred.
The most intriguing and that which suggests that there is some form of complicity was recounted thus:  "In Ataggara, Southern Senatorial Zone of Borno State, Boko Haram attacked and were repelled by the community. Community leaders went to Pulka, where a military formation exists, to report the attack and were assured that a unit would be drafted to the town to protect the people.
The following day some people appeared in nine armoured personnel carriers (APC) bearing the colours and insignia of the Nigerian Army.
They announced to the villagers that they had come to assess the security situation. When the people gathered to hear them, the men that came in armoured personnel carriers, and in Army uniform, opened fire and killed over two hundred and fifty men, women and children.
Those who were able to take to their heels were pursued by the marauders into the bush and when they were caught up with, were either butchered with knives or shot to death. The survivors have taken refuge in Cameroun, or in friendly communities".
Although this has not been independently confirmed by Sunday Vanguard, such stories are not new about the way Boko Haram conducts its war. (Read four weeks of horror)
Collateral Damage
Men in Nigeria Army uniform suggests that some people may be complicit.
For a country like the US where prosperity and thoroughness are not alien, check out what happened in 2001.  John Ashcroft, the US Attorney General, on February 19, 2001, announced that the Federal Bureau of Investigation, FBI, had concluded investigation to end a serious breach in the security of the US. A certain Robert Hanssen was arrested for espionage.
He then went on to say that the arrest should remind all that "our nation, our free society, is an international target in a dangerous world".
That is the message – this administration has been and is a target in a nation of clashing socio-economic and ethno religious interests – this column has been trying to pass across to a seemingly disinterested presidency.  Hansen, a very senior CIA officer of directorship cadre, was passing very sensitive information to the Russians for a fee. He was a former head of Soviet Analytical Unit, SAU.  He has since been jailed.
Now, Nigeria's Christian President Jonathan has ring-fenced himself with a crowd of Boko Haram sympathisers per executive appointment; yet some people in government may be hallucinating that they would win the war on terror in Nigeria with the security architecture of this presidency.
Because of our proclivity for the spiritual and godly in Africa, especially the belief in the Almighty Supreme Being, does it not verge on insanity for a group of people to claim to want to assist God?  Is there any need to attempt to reason with a group of misfits whose agenda is to steal, kill, maim and destroy?
Clueless
What this government must
realize is that for every attack that succeeds, the insurgents gain more ground and believes that the Jonathan administration is lily-livered. If the government is thinking of collateral damage, there has been more than enough since April 14, 2014, when the girls were abducted.  If it is the thinking of human rights challenge that may be occasioned by a full-scale attack on the insurgents, these states of Borno, Yobe and Adamawa are already under emergency rule.  Mind you, the almost daily killings in Nigeria by terrorists have been the highest in the world in recent times.  It may still get worse.
It should, finally, be pointed out here that the statement by the All Progressives Congress, APC, condemning Jonathan's re-election moves is nothing but a silly move. Whereas some of the adverts being run and heralding Mr President's goodness appear uninventive, uncreative and even sillier; the silliest thing was for the APC to insinuate that Jonathan has no right to prepare for re-election.   After all, it was in the heat of the Chibok affair that APC held its national convention in Abuja, to elect its officers.
No matter, President Goodluck Jonathan should act like a serious Commander-in-Chief and spare himself the ridicule and embarrassment of perpetually being seen as someone who is clueless.