Residents shun markets; traders lament
By Favour Nnabugwu, Fatimah Kareem & Retna Tohomdet
Ahead Eid-El-Fitri celebrations and amid terror alert, security was, at the weekend, tightened in Abuja, the FCT.
Sunday Vanguard investigations revealed that the water-tight security was provided by the anti-bomb squad from  the army, the police, the Nigerian Security and Civil Defence Corps, NSCDC, Federal Road Safety Corps, FRSC, Vehicle Inspection Officers, VIO, the State Security Services, SSS, and the  Join Task Force, JTF.  The officers were deployed on Monday and are to remain in strategic places during and after the Sallah.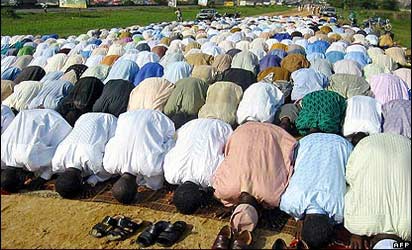 The move was  an indication of how badly security has deteriorated in the northern and central Nigeria, where Boko Haram has been blamed for more than 12,000 deaths since 2010.
Already, the Federal Government has declared tomorrow and Tuesday as public holidays to mark the Sallah.
Movements within the city are also being strictly monitored by  security forces  whilst the army has directed some hot spots markets, recreation centres and worship places and hotels in Abuja to comply with counter-improvised explosive devices, IEDs, measures or be shut down.
In the aftermath of the Banex Plaza bombing, which claimed scores of lives and damaged property, security agencies in the FCT had directed business concerns, plazas, markets and shopping centres to put in place counter terror measures.
Director of Army Public Relations, Brigadier-General Olajide Laleye, said: "The Nigerian Army conducted a vulnerability survey of the Federal Capital Territory and asked certain high risk spots to emplace a series of counter-IED measures.
"They are to comply and if they refused, they will be shut until they comply. You will notice that Banex and Emab Plazas have complied and are opened".
Security agencies, penultimate week,  uncovered plans by insurgents to attack busy spots in Abuja, the Federal Capital Territory (FCT). According to security sources, the terror targets were Utako Market, Area 1 Shopping Centre, DeiDei Market, Garki Market, Wuse Market, Farmers Market, Maitama, Area 3 Motor and Kubwa Market, among others.
Intelligence also revealed that some insurgents planned to infiltrate major markets in Abuja disguising as petty traders, wheel barrow pushers, butchers, and cab drivers. Sunday Vanguard went to some of those major markets and indeed there was red-alert and apprehension as the main gates were shut while only the gates to the car parks were left open and those going in scanned.
The chairman of Igbo traders at Utako Market, Nelson Ewemodu, said the usual festivity mood associated with Sallah was absent as people were afraid of trooping to markets for shopping.
He said, "We don't know that there is Sallah. The only thing now is that God should intervene on the issue of Boko Haram..
"Our prayers  is for customers to come because everybody is running away from the markets due to fear of Boko Haram. As things are now, rather for prices of goods to go up, they are coming down because we need to sell our goods.
"There are threats of Boko Haram everywhere in the markets and everyone is vigilant".
Also, a woman fish seller in the same market, Hajia Salamotu, said traders do not have rest of mind because of the fear of Bomo Haram. "We are scared of bomb. You can see security people everywhere in this market, yet traders and customers are afraid"
In Garki International Market, the story is not different. Suleiman, a legal officer in the market, said the market is tightly secured with security officers all and around the market.
"The fear of bombing markets caused   so much anxiety amongst Abuja residents and since no one knows when and where the terrorists would strike next, the best option is to tread with caution", she said.
"As you can see, if you are entering the market, we have converted the joint entrance and exit gates into separate entrance and exits.  It is one of the security measures taken by the management.
"We have rules on ground.  The market opens by 7 am and closes by 6 pm; so the issue on ground that once it is the market closing time,   no one is allowed in.  If you are in the market, you can leave, but no one is allowed to go in after 6pm".
In the old Garki Market, Baba Aminu, an IT consultant, said  security equipment was in place for the checking of  traders and customers.
Meanwhile, the Inspector General of Police, IGP, Mohammed Abubakar, has directed all Zonal Assistant Inspectors-General of Police and Command Commissioners of Police to ensure increased security surveillance, patrols and tactical police presence on major highways, places of worship, recreation parks and other sensitive, strategic and vulnerable places within their areas of responsibility during Sallah.
He directed commissioners of Police in the state to adequately deploy their personnel to guarantee free-flow of traffic and safe passage for travelers and other road users. Highway patrol teams, working in conjunction with other law enforcement agencies, were directed to take adequate measures in preventing road accidents and rendering assistance to travelers particularly those in distress.