BY DAPO AKINREFON
All Progressives Congress, APC, and the Peoples Democratic Party, PDP, in Osun State, yesterday, accused each other of plans to distribute rice to  voters ahead of the August 9 governorship election in the state.
The APC, in a statement by its Director of Publicity, Research and Strategy, Mr Kunle Oyatomi, warned the people of the state to be wary of the goods, alleging that they were confiscated expired rice.
"The citizens of Osun have been warned by the All Progressives Congress that the PDP, in collaboration with the Nigerian Customs warehouse in Ikeja, have loaded trailers filled with thousands of bags of expired rice, confiscated several months ago from smugglers, and are being brought to Osun for distribution to voters,"the statement said.
According to the statement, "competent sources from the Customs have also revealed that consignment the rice is unsuitable for human consumption."
Calling on the people of the state to be vigilant, the party said: "Osun citizens should therefore be warned that their lives are at risk from the poisoned rice."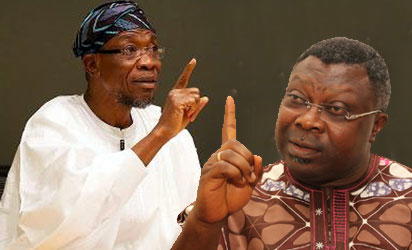 The party recalled that it had warned citizens earlier of the PDP's boast that they will win the election with a bag of rice and at least N10,000 to each voter."
On its part, the Omisore Campaign Organisation accused the APC of attempts to distribute bags of rice in order to hoodwink the Osun electorate.
A statement by its Director, Media and Strategy, Prince Diran Odeyemi, said: "Our attention has been drawn to 70 trailers containing the All Progressives Congress, APC, branded rice slated for distribution to woo voters to vote APC in the forthcoming gubernatorial election.
"It is preposterous for the APC who described the defeat it suffered in the June 21 gubernatorial election in Ekiti as politics of 'stomach infrastructure' to now embark on sharing rice, noodles and other edibles to lure the good people of Osun who they have impoverished in the last three and a half years to cast their vote for APC again."
The Omisore Campaign expressed surprise that the "APC which prides itself as progressives could stoop so low when it was obvious that people have rejected the party". It added: "Those whose means of livelihood have been willfully destroyed by the Ogbeni Rauf Aregbesola-led administration should be wary of these Greek gift at the twilight of the APC misrule in Osun lest they are hoodwinked. In the last four weeks, it is an open secret that the APC has suddenly begun to distribute rice to appease people as published on page 9 of Thisday newspaper of July 12, 2014."