By Emmanuel Edukugho, Ishola Balogun, Ebun Sessou, Olayi
Bako, 15, was caught between two articulated vehicles, running barefoot on the cracked highway along Ibadan expressway, as he tried to receive money for the snacks he sold to a moving motorist. Luck ran out on him as he got stuck between two vehicles, knocked down, lifeless. Help came from his co-hawkers and a Samaritan.
Although he was able to tell his story but not without his two legs again. He has since returned to the streets begging for liveliood.
Similarly, Tola, despite being a teenager, worked long hours as a domestic servant, cooking, cleaning and doing laundry and other household chores. She was made to sleep on the floor, was only given leftovers to eat and was not paid for her labour. Her monthly stipends were given to a third party for onward delivery to Tola's mother at home. Even though she was not contemplating escape, her situation might not change so soon.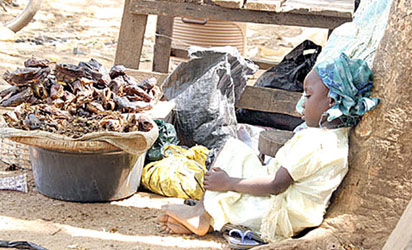 The unpleasant situation of several teenagers as street hawkers, domestic servants, beggars, jeopardizes their health, their normal development, physical, mental or moral well-being and even their lives. Many of these children work under appalling conditions and are denied their basic right to education. The horror of girls and boys toiling in dangerous areas, being fostered as domestic workers where they work long hours has propelled the issue of child labour as a cover for this week. Saturday Vanguard spoke with a number of teenagers in different forms of child labour, revealing horrible stories of their lives.
"I lost my legs on the street while selling Gala to motorists. I was trapped in between two big lorries and before I knew what was happening, I landed in the hospital. I was unconscious for several days.
"My guardian tried to locate my family but to no avail. My ankle was twisted and broken, they had to amputate it. There was a major fracture in the other leg which I managed to carry for some months before it was also amputated. My guardian cried and all hope to take me back to my people failed because we couldn't locate my mother. One of the motorists who hit me paid the bills," said Bako.
But two years after the ugly incidence, Bako went back to the street again as a beggar.
"I cannot locate my family, I know I came from Otukpo in Benue State but my mother and I were formerly in Sagamu before I was brought to Lagos by one Seriki, a few years back. But on the death of Seriki, Mallam Sanni took me and gave me some money with which I started the Gala street hawking. I don't even know where my mother is, and whether she is dead or alive. I live on the streets and earn my livelihood here. I move from one place to another. Since the accident, there was nothing I could do to live other than to beg with other senior beggars," he stated.
Bako is only one of the teenagers under this appalling condition though under different forms of child labour.
Ogueh was 13 when she took up a domestic job at Asolo, Ikorodu, Lagos. She was fostered on her employer with the arrangement to take responsibility of her secondary education. Her employer (Mumy D) who also runs a restaurant in the neighbourhood uses her as domestic worker at home and menial worker in the restaurant.
Tola who spoke to Saturday Vanguard in her native language stated that her secondary education hit a brick wall when her fathered died in a motor accident a couple of years ago. Her mother thereafter foisted her on MumyD to help her in domestic activities as well as continue her education.
According to her, "I will still go to school soon. Mumy D asked me to wait till next session. I did an entrance examination last year but they did not admit me. I hope to go into Junior Secondary School next session."
Narrating what she does at the restaurant and at home, Tola said: "it is always long and tiring working hours all through in the restaurant; washing plates, serving customers; helping in cooking; even carrying heavy loads, especially when we have to go to fetch water for washing dishes. At home, I sweep the compound, collect water, wash dishes, do laundry, help in food preparation or take charge of the cooking among other things before I go to restaurant.
According to her, she carries out all these jobs with humiliating or degrading treatment including physical and verbal abuse.
In the same vein, Lateefah another employed child in Ikorodu, whose only parent lives in Badagry, Lagos State suffers no less as she would have to work about 10 hours daily vending fish and tomatoes at the market in Ikorodu. She said that sometimes, when revenues from sales were less than what she should remit, the balance would be deducted from her monthly stipends which are sent to her Mother at home after which she must have been battered by her employer.
The denial of fundamental rights of the child, such as, for example, access to education and healthcare, the right to rest, leisure, recreation, and the right to be cared for and to have regular contact with their parents and peers. These factors can have an irreversible physical, psychological and moral impact on the development, health and well-being of a child.
"I cry why my mother had to dump me here to be punished for not doing work quickly enough, or for breaking dishes, for failing to account for the revenues from vending and for not waking up early."
Asked whether she had ever contemplated escape someday, she said she would wait till the time she would have the opportunity to visit her mother in Badagry and she would never return to her employer again.
She said she made an average of N7000 per day from her daily business.
Ojo, 15, acts big and strong for livelihood. He had to work to earn money for school fees, materials and other essentials. He has potential to do well in school. He works long hours in a car mechanics shop in Lagos to contribute his staggering earnings to his family. He attends a public school and uses the after-school-period to fend for himself. For him, his most precious right is the basic education that will equip him to build a better future for himself and cannot be wished away for anything
Experiences of teenage hawkers
Taiye Joseph, who hawks at Iyana-Iba, along the Lagos/Badagry Expressways lamented that since he lost his father, he had no where to go as nobody was willing to help him in his educational pursuit.
Taiye who hailed from Agenebode in Edo resorted to selling sachet and table water on the streets to passengers in moving vehicles.
A sausage seller, Chima Ezinwa, in his narration, lamented that the non-availability of money truncated his quest for education. "I came from a poor family and was stubborn while living with my parents," adding, "my father cautioned me to avoid street fighting so that he could sponsor my education, but I did not listen to his advice as I immediately left Ebonyi State for Lagos.
Another teenager, Mustau Ayinde, 13, told Saturday Vanguard he was asked to withdraw from JSS2 due to his mother's illness which confined her to bed. As a result, he joined the street hawking business selling foot wears at Agbara along the busy highway, though he did not disclose his future ambition.
I'll re-unite with my mother someday—Yosuph
Yosuph, who hails from the Kwanga-Kusar local government area of Borno state was brought to Lagos in 2010 by a distant relation after the death of his father in 2009.
"I left my mother and eight siblings in order to help the family financially to pave the way for my formal education in Lagos. I was taken to a family where I worked as a domestic worker."
"While at this house, I did not go to school as was promised. I was made to fetch food for their dogs and engage in other house chores. I would work from morning till night and was only allowed to eat once a day. One day, when my madam sent me to the market, some boys in the neighborhood collected the money and I ran back to the house to inform my madam but I got the beaten of my life, I was chained for hours and accused of spending the money," he explained.
"The situation was unbearable. So, I looked for the man who took me to the house. I told him I wanted to go back to my mother or I would simply die. He refused saying I was a lazy boy. So, I left the house and took to street begging."
I realized the man was paid some mount of money monthly but the money never got to my mother.
Relating his experience as street beggar, he said, "as it is, street begging is the only source of living I have and know. There are times I make close to one N1000 and save some of it so that I can start a trade. I do not have anybody to turn to but life must go on, my friends here (pointing to his co-beggars who were doing their business) are the only ones I have".
Yoosuph was rather optimistic believing he would find help one day and realise his ambition to become an engineer and reunite with his family. "I will overcome this some day and I know my mother would have done everything within her power to look for me and she might have cried a lot but I know Almighty Allah would spare her life to see her Yoosuph again. Then, I will be a man and take care of her".
Teenagers as artisans
In the same vein, Abdulai Sani a young shoe cobbler who hails from northern Nigeria did not find artisanship bad. He however narrated the ordeal that spured him into shoe making. His words; "I am aware that my mates are in senior secondary schools but I had no better choice than to be a shoe cobbler. While in primary school, I repeated several times, so in order to save myself from shame, I had to quit to be shoe repairer".
These hazards could have been exacerbated by the denial of fundamental rights of the child, such as, for example, access to education and health care, the right to rest, leisure, play and recreation, and the right to be cared for and to have regular contact with their parents and peers. These factors could have an irreversible physical, psychological and moral impact on the development, health and wellbeing of a child.
We'll not allow under-aged hawkers on Lagos streets —LASG
Director, Child Development, Lagos State Ministry of Women Affairs and Poverty Alleviation, WAPA, Mrs. Alaba Fadairo
The Lagos State Ministry of Women Affairs and Poverty Alleviation WAPA, is working hard to ensure school children are not engaged as streets hawkers, especially during school hours.
The Director of Child Development Unit of the Ministry, Mrs. Alaba Fadairo, who disclosed this during an interview, added that officials of the ministry go to places where they discover that school children and under-aged people are hawking on the streets.
According to her; "we want to make sure that all children of school age are in schools. We have a committee that is in-charge of this. We have a yellow card through which we educate the people about this and it gives them information on how they can get to the government on the matter. We have been able to give these children to their biological parents with undertakings that they would not go back to the streets. Most times, these children hawkers live with their relations and they end up becoming hawkers. We come together bi-monthly in the ministry to review the cases of child trafficking and child labour. In cases where people using them are on the run, we have a home, where we keep the children. We later get their parents to come and pick them, and we make sure we get the children back to school," she said.
Mrs. Alaba explained that there was a time some parents were jailed for six months for allowing their children to hawk during school hours, and that it was discovered that most of the children, who hawk on the streets are not staying with their biological parents.
"From what we have done, I think everybody is being mindful now, we are even working with NAPTIP on the issue, and most people have realized that they are not permitted to employ people that are under 18 years of age.
"We create awareness with the yellow cards, we go to the garages and markets to talk to the people about the hazard of child labour, and we also go through associations and talk to them about child labour, particularly the parents. We organize programmes on the issue and other people and organizations are also doing so, we go to schools during PTA meetings to talk to the parents, we have done this in about three districts," she said.
She stressed that taking the children away from the streets is just one stage, and that it is not easy to get information from them when they are newly taken, but that the officials of the ministry keep asking them about their families.
"Later, they would tell you where they come from. But when we are still keeping them to get information, we don't keep them idle, we take them to public schools, we have buses that take them there and bring them back to the home everyday," she said.