By Mark Elayo
This year is remarkable for our group of boys who hail from Keana, in Nassarawa State. Some of our boys are reaching the age of 50, the point many of us will take time to reflect on our lives in the past five decades. On Monday, it will be the turn of Mike Omeri, Director General of the National Orientation Agency (NOA) to seize the spotlight to tell the story of our struggles at the glorious dawn of post- civil war Nigeria,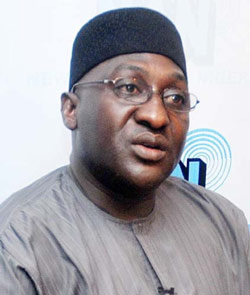 Though he has chosen to make it a completely quiet one, for very good reasons, life for many us has been really interesting, The reason for the quiet day is reflective of the mindset of many of our people in that generation.  It is the Ramadan period of fasting when true Muslims seek Allah's forgiveness through prayers and long fasting. Therefore, throwing any party at this time does not fit into the mould cast several years ago in Maiduguri, where he grew up and went to school.
Secondly, Omeri, as the spokesman of government on the insurgency in some parts of the country,  should not be seen to be celebrating when the Chibok girls are still out there in the cold grip of a ruthless sect, that is busy setting back the advances of our civilization. Like his birthday mates, Miss Malala of Pakistan and the late amazon, Dora Akunyili, would want, this is the occasion to put more pressure on the ruthless group to listen to the world call and release the girls.
Omeri story is fairly simple to tell. But it reflects the opportunities of those days, the limitations of Nigeria and aspirations of our generation. The story starts in Mubi, in today's Adamawa State where he was born and named Michael Omeri Agbo-Omeri, though a native of Keana, Nasarawa State.
Son of a former police officer, he had his education in various parts of the North-east, completing his primary education at St. Patrick's Primary School, Maiduguri from 1970 to 1977. Between 1977 and 1982, he was at Government Technical College, Gindiri and Government Teacher's College, Zawan before proceeding to the University of Maiduguri, graduating with a Bachelor's of Arts Degree in Mass Communication with Second Class (Honours), Upper Division in 1988.
In his quest for further education, he went to Kenya in 1990 and obtained a Certificate in Information, Education and Communication (IEC) from the Centre for African Family Studies. In 1992, he obtained a Master's of Arts Degree in Law and Diplomacy from the Faculty of Law, University of Jos.
Omeri has served the nation in several capacities. From being a class teacher at Keana South Primary School  to being an industrial relations officer at Jos Steel Rolling Company, he rose through the ranks of the Parenthood Federation of Nigeria to become the State Manager of the organization in Plateau State.
He was Director of Press Affairs of old Plateau State. He was appointed Commissioner, Ministry of Social Development, Youths and Sports, Nasarawa State from 1996 to 1997 and later Commissioner, Ministry of Information, Youths and Culture, Nasarawa State in November 1997. In February 1998, he was appointed Nasarawa State Commissioner of Works, Housing and Transport. Between 1999 and 2003, he worked for the Federal Mortgage Bank of Nigeria as Public Relations Manager; Nasarawa State Controller; and Secretariat Manager at the Head Office in Abuja.
He worked as a Partner Consultant, Poly/Investment with Gulf of Guinea Consulting Ltd, Abuja from 2005 to 2008 before he was appointed Special Adviser to the Senate President on Political and Governmental Matters in 2008, a position he held till 2011. It was in recognition of his meritorious service to the nation and his wealth of experience that President Goodluck Jonathan, on the 16th of January, 2012 appointed him Director-General, National Orientation Agency (NOA).
A holder of the traditional chieftaincy titles of Obowu of Keana and Egben Weda of Ogori Land,  Omeri has left nothing to chance in repositioning the NOA for the full actualization of the agency's mandate.
What will be story of the future as Omeri starts the journey of another 50 years in service to our fatherland? My projection is that because of him and others like him, the story of our nation in the next generation will that of transformation. Happy birthday, the Obowu.
* Elayo is a prince of the Keana.