Glasgow (Scotland) – The Minister of Sports, Mr Tammy Danagogo on Saturday in Glasgow, Scotland, expressed satisfaction with the performance of Team Nigeria athletes at ongoing Commonwealth Games.
The Nigerian weightlifter Nkechi Opara won bronze on the first day of events in the Women's 48kg category, while Chika Amalaha won gold in the Women's 53kg.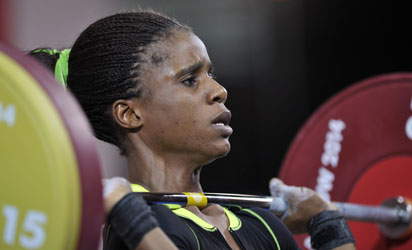 The table tennis and boxing athletes also recorded three and two vital wins in their games on Thursday and Friday, respectively.
The victory has catapulted them into the next round of the competition.
Danagogo said that the different performances of the athletes had rekindled the hope of Nigerians that the country would soon be among the leaders on the medals tables.
"I feel happy and hopeful; what is happening here has rekindled our hope that very soon we will be among the leaders on the medals table.
"With these achievements so far we are number eight on the medals table and our hope and expectation is to maintain the tempo and keep harvesting gold, silver and bronze medals.
"Because when our players are qualifying for the next stages of the Games, it means that we are going to get more medals and we are very expectant,'' Danagogo said.
Sani Ndanusa, President of the Nigeria Olympic Committee (NOC) said that to be on the medals table on the first day of events was a good omen for Nigeria.
He described the bronze and gold medals won in the weightlifting events as a bright start for the country.
He said that the performance of the athletes would get better.
"To be on the medals table on the first day of the games is something that shows that good things will definitely come but of course we are not resting on our oars to make sure we keep winning.
"Thank God we have our first gold in weightlifting which Chika Amalaha won against all odds.
"It was a narrow escape for the Indians who won gold at the expense of our first and bronze medalist Nkechi; we are waiting for other weights to come in, which we definitely have confidence.
"I was at the boxing arena to watch our boxers fight; they are already in the quarterfinals and very soon we will hear something good from boxing.
" It's a good start and we are happy that we are starting this way and we look forward to more glory,'' Ndanusa said.
Nigeria is participating in seven sports, including boxing, athletics, wrestling, weightlifting, shooting, table tennis and para-powerlifting at the Games.
The games, which started on July 3, will end on Aug. 3. (NAN)