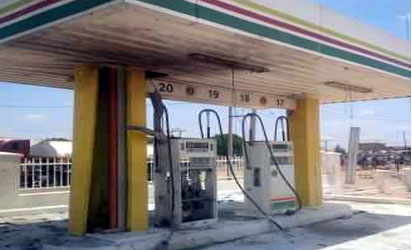 By Abdulsalam Muhammad
KANO—Panic gripped residents of the ancient city of Kano, yesterday, as two female suicide bombers struck the city within five hours of each other, killing five persons less than 24 hours after another set of bombers blasted the city, killing six persons.
On Sunday, an Improvised Explosive Device, IED, was thrown at a crowd of worshipers coming out of St Charles Catholic Church, Sabon Gari, killing five persons, while another female suicide bomber blew up herself at a police check point at Gidan Murtala, by Kofar Nassarawa overhead bridge.
Yesterday's attack took place at NNPC Mega station located along Eastern Bye-pass where kerosene was being sold to customers in Kano metropolis.
According to the Commissioner of Police in Kano, Mr. Adenrele Shinaba, the female suicide bomber got to the filling station around 10.00am and pretended to be one of the customers before sneaking into a long queue of potential kerosene buyers.
She later blew up herself. The police boss explained that doctors at Murtala Muhammad Hospital confirmed three dead out of the 10 persons who were evacuated to the facility.
Although the commissioner refused to confirm the gender of those who died alongside the suicide bomber, he however disclosed that the seven injured persons were being treated for various degrees of injury at the government hospital.
Commissioner Shinaba further stated that the impact of the blast caused partial damage to the canopy of the kerosene section of the mega station.
The Police Commissioner then tasked the citizens to report suspicious movements to security agents to enable them checkmate "terrorist" activities.
A second bomb attack involving a 19 year-old female suicide bomber occurred around 2 pm at the entrance gate of Kano Trade Fair Complex, in which six persons including two policemen were injured. The suicide bomber died in the process.
Vanguard learnt that the attack at the multi-purpose complex triggered pandemonium at the adjouining malls, forcing operators to suspend business activities.
Police image maker in Kano, ASP Magaji Musa Majiya told newsmen that the female suicide bomber blew up herself as she was about to be screened before entering the complex.
According to Majiya, "because of the high security alert in town, everyone going into the complex is thoroughly searched. When she approached the security men carrying out the search, she detonated the explosive device which she hid under her hijab."
ASP Majiya disclosed that six persons including two policemen were injured in the attack and that two have been treated and discharged, while the remaining four are still in the hospital.
He disclosed that the mangled body of the female suicide bomber had been recovered and deposited at an undisclosed government hospital.
The police image maker therefore called on the citizens to remain calm, adding that the police were doing their best to arrest the situation.