By Olasunkanmi Akoni
In recent times, the fear of Boko Haram activities which had left several people dead and some abducted, is beginning to manifest among Lagos residents following series of bomb scares and a blast at Apapa area of the state last week.
The was the Sheraton Hotels terror alert by the US Consul in Lagos. Residents panicked.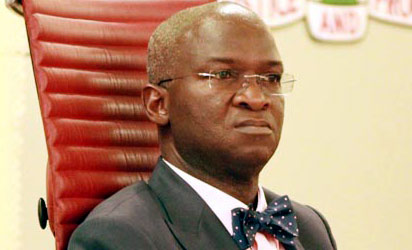 Senior hierarchies of the Nigerian military, Police, State Security Service, Neighbourhood-watchers, community leaders, health personnel as well as religious leaders, among other stakeholders in the security business have been drilled and put on the alert to nip in the bud any suspicious movement inimical to the security of lives and property in the state.
This, according to sources,  became necessary following suspected infiltration of an unidentified group to the South-East of the country, suspected to be members of the dreaded Boko Hraram who have claimed responsibilities for various bomb blasts in some states in the northern parts of the country.
Also, the June 25, 2014 blast in Apapa area of the state in which three people died in the process had geared Governor Babatunde Fashola led administration into taking pro-active steps against any incursion or avoidable security threat.
Governor Babatunde Fashola of Lagos State, late on Tuesday, met with operators of tank farms in Apapa and charged them to be more vigilant around their operational bases.
He also urged them to also promptly report vehicles that cannot be accounted for in their areas of operation to the police and security agencies.
In attendance at the meeting were; representatives all the major Tank Farm Operators and the Commissioner of Police, Mr. Aliyu Mohammed Manko, Commissioner for Energy and Mineral Resources, Engineer Taofeek Tijani, Director of State Security Service (SSS), Mr. Ben Olayi and Commander 9 Brigade cantonment, Ikeja, Brigadier A.S. Maikoba.
Speaking at a closed door interactive session with stakeholders at the Lagos House, Alausa, Fashola, urged the operators to ensure that no vehicle that cannot be accounted for is allowed to park in their premises or make use of their facilities so as not to compromise the security of the state.
"You must have to put down your foot about vehicles parking around your premises. We have tried but many of you have insisted; we have been called anti-poor and anti-business, but it is only those who are alive that will do business".
But the indiscipline of the tanker drivers appears to overwhelm Fashola and his government. They block all lanes on the road to their tank farms in Apapa, forcing mayhem on the people. Their actions which totally block the road to commuters are on their own a security risk.
Fashola also met the various business operators at many levels on security but he lamented the menace tanker drivers were causing in Lagos metropolice especially in Apapa..
"We have met with hospitality facilities, we have met with health, we have met with the malls, the motor parks, we are taking every measure, we are not leaving anything to chance, every information that we get we check. But we need leaders in strategic places because we can't run your businesses and we need you now to take responsibility in this area and leave the rest to us".
To those of the operators doing business in Apapa, Fashola urged a reflection on the negative impact of their operations on other businesses and the environment generally.
"You must spare a thought for those who do other businesses in Apapa. They are complaining to me about how tankers have taken over their businesses. And the people I see here are some of the most sophisticated people that our country has produced. I think we can do better", he said.
Noting that property values were diminishing in the area as a result of the operation of tankers, the governor stressed, "But you know what is going to happen? The demand is going to transfer to the other side of town. So we are all going to pay for it. If I cannot live in Apapa again, the next thing I will do is ask, where else can I live".
"It is either I move to GRA Ikeja, or GRA, Ikoyi or Victoria. So we will only come and put pressure on the rent in those places; that is what is going to happen. The people in Apapa are not going to evaporate, they are going to put pressure on those other parts of the city where you and I will live", he said adding that the result would be increase in rent in those places.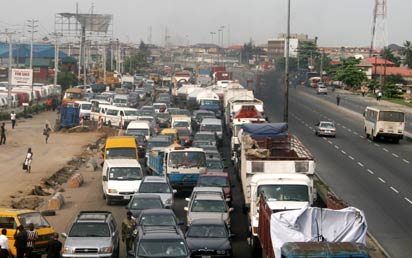 "We can't lose one side of the city simply because we are producing or distributing fuel inefficiently; we can't", the Governor stressed, adding that he had also spoken to tanker drivers over the issue especially the issue of hauling of fuel and the damage it does to the roads.
Ruling out any input from the Federal Government, Fashola said, "The question we will ask ourselves is how sustainable is hauling of fuel going to be. It is diminishing the lifespan of our roads  and we are heading to a point where we will no longer be able to travel by road again if we don't change quickly now".
"We built Funsho Williams Avenue, former Western Avenue, four years ago, I have gone back to maintain it twice. I am yet to know what part of the world that has happened; building a brand new road and coming to maintain it within 12 months. It is the tonnage that the roads is subjected to", he said.
According to him, "If you go along Alaka and Barracks you will see that all almost all the street lights have been knocked down mainly by tankers and trailers.
Subscribe for latest Videos