*Says Land Use Act is curbing communal killings
*Speaks on his legacies
BY OCHEREOME NNANNA
Governor  T.A. Orji, in this interview, speaks on national issues as well as those concerning his Abia State.
You have just one year to the end of an era. By this time next year you hope to be serving the nation from the Senate. How would you like to finish your eight-year tenure?
I want to finish strong. Like you said, by this time next year I would have finished my tenure. When I was entering the Government House as  governor, I started preparing knowing that one day I must leave. I am not afraid of leaving. In finishing strong, I want to complete the jobs I have on my hands. I will try and finish and commission them before I go. I want to leave enduring legacies; legacy of security and unity, I want to ensure they are sustained. And I hope that the person who will come and take over from me will not only continue from where I will stop but also build on what we have started because these are very important to the people of Abia State.
An opinion poll conducted by a housing programme on Africa Independent Television (AIT) confirmed that you are the Housing and Urban Development Governor of the Year 2013. Can you tell us what you have done in that area to deserve the honour?
The assessment was by done by AIT, not  me. When I was putting the projects on ground I never knew that the media would take such a keen interest  on  what we were doing and put us on a scale with other governors and come forward to give us an award. We consider food and shelter as very important in the life of every human being, and that is why we are very strong on housing and agriculture. In Abia, we put a lot of emphasis on security and health. The other area is housing. Every Abian must have a roof over his head. When Abia was created out of Imo State, people were coming to work in Umuahia from Imo State. That was a challenge to me. So what I did was to start constructing houses; affordable houses that they could buy.  I  also empowered the  people to build houses. We provided housing and office accommodation for civil servants, where they would work under a  conducive environment. I am sure you have gone to our secretariat. That secretariat is brand new. It is befitting. We never had a thing like that before. What we had was a secretariat built for us by the Federal Government, and it  could not accommodate all the workers. The result was that our offices were scattered in town. If you go to Abiriba Street you see Ministry of Works. You go to Ohafia Street you see Ministry of Agriculture. It was inconveniencing us and we said no. We decided to build a state secretariat that will house all civil servants within the same complex to facilitate the movement of workers, files, mails and other things.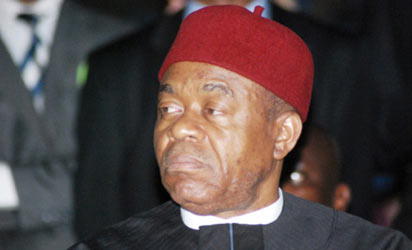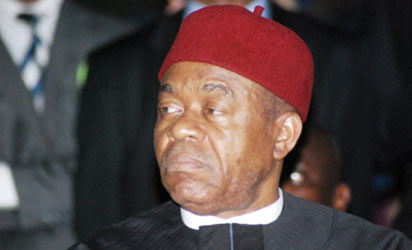 We don't have a Government House. This place we are staying used to be a Government Rest  Huse when we were in Imo State. I started building houses, first for our workers, affordable houses for them to buy; and also houses for members of the public to buy and rent out to our workers and other members of the public.  I challenge anyone of you journalists who come here to go and inspect these housing and other projects.
Why the challenge excellency?
Our new secretariat which we built is not a bungalow secretariat but a high-rise secretariat with elevators. The first of the buildings has been occupied by civil servants. The second is ready and they will move in very soon. We have also completed an international conference centre, which is also of highest standard and quality, with all facilities. Before now we used to have the Okpara Auditorium which can only accommodate about 500 people. But the international conference centre has capacity to accommodate 5,000 people with modern facilities and parking lots in a very serene environment that will bring tourists to Abia State. We also have a new Government House springing up. We have never had one before in Abia State. You have gone round the country and you must have seen how their Government Houses look. As I said before, where I live was once a guest house. We merely expanded it to make it a little bit habitable. The Government House we are building is one of the best in the country. It will serve governors, myself and others to come after me. We also have an e-library, which we set up in Ogurube Layout. Our Abia State Universal Education Board (ASUBEB), which used to be in rented offices, is now comfortably accommodated in its permanent office built by us, also in the highbrow Ogurube Layout. These are all high-rise houses, complete with high quality furnishing and finishing as we see in advanced countries, not the kind of finishing that will disintegrate after a few months and government will award new contracts, no.
We also have another superb building we have established for our traditional rulers. We call it Joint Accounts Account Committee (JAAC) Building because it also accommodates our local government ministry. To build the new government house we had to demolish the traditional rulers council building that was standing there. The new building for traditional rulers (JAAC BUILDING) is almost 80 per cent completed. In that same environment you will see the Abia State Environmental Protection Authority (ASEPA) building. They used to stay in a rented apartment. If you ever went to the offices of the Broadcasting Corporation of Abia State (BCA) it was like a chicken coop. We now have a new complex, fully equipped there. When the Minister of Information, Mr Labaran Maku came here he adjudged it as the best in the country, having gone round to see things for himself during his Good Governance Tour with journalists. What of our Diagnostics and Dialysis Centre? We have one in Umuahia and another in Aba. They house all the diagnosis equipment. There is also another specialist centre for the eye. If you go to Amachara, you will see another big hospital with five high-rise buildings, with special accommodation for our medical students on horsemanship. In that hospital there is a specialised chest clinic. We have built nine new hospitals in nine local government areas. These are some of our legacies in the health sector. We have developed a building model for primary schools in all the 17 local government areas.
Some local governments have more than one. Some have up to four. We intend that with time our primary schools will conform to this model, not only in physical appearance but also in terms of quality of education. We have completed the Amaokwe Housing Estate here in Umuahia and people are living there. We have the Ohobo Housing Estate that is ongoing in Umuahia. We have the Ubani Housing Estate that is almost completed. Our Isieke Housing Estate is completed, and it has been sold out. We are putting up seven duplexes in the place where the civil servants pack away from to their new secretariat. We also made a very ambitious foray into market development. You need to see our market at Ubani. It has over 7,000 stalls. We have also completed the Timber Market or industrial market because it houses all ranges of building materials merchandise. It is along Ikot Ekpene Road near the Government College. It is fully functional, and so is the Ubani Market. There is also the Ohiya Industrial Market where they sell vehicle and machinery spare-parts. It has more than 1,000 stalls. We have decongested the centre of Umuahia, removing the old township market and relocating our traders to our new markets to allow us put up a befitting project in the centre of Umuahia to make it look really beautiful. We have also made the Judiciary arm of government feel really at home with the development of a befitting chain of edifices for their official and residential use. Our courts used to be dilapidated but today we have one of the best court houses in the country. One is in Umuahia, and two others are in Aba. If these are the things that AIT and other people saw and gave us the award, they have only seen half of things we have done in the housing sector alone. That we why we call them legacy projects and I believe AIT has not made the wrong choice.
You recently recalled the non-indigenes whose services were transferred to their states in 2011. You said the new minimum wage was responsible for the action you took. Could it be that the finances of Abia State have improved hence your decision to recall them?
It is good for a leader to be realistic. It is good for a leader not to pretend. We took that policy because of circumstances beyond our control. Other states had taken a similar policy when things were hard for them, and it affected us. We tried it so as to come out of a problem. When I saw that we had started gradually coming out of that problem by way of the increase of our internally generated revenue (IGR) I thought it wise that these our brothers and sisters should come back. And they are happy. I am satisfied that I had the courage to do what I did, and to recall them when I needed to do so. I am calling on my colleagues to do the same. Let them recall our people that they discharged from their states because many of them are still here not doing anything since we could not reabsorb all of them, though we tried our best. The other state governors should be kind enough, just as we are, to recall them. I will be very glad for that.
What has been the role of the private/public partnership model in your housing delivery?
PPP is a very useful model but in adopting it you have to be very sure of the partners or persons you are partnering with. Initially we had our problems. This state ran into wrong hands. We gave them our Certificate of Occupancy and everything and they absconded. We learnt our lesson. Right now we are partnering with very credible business people with good antecedents. And that is why we are achieving what we are achieving now. We have three companies we are partnering with. One of them is an indigenous company owned by a son of Abia. When I discovered him I told him to show us an example of what you can do and he did. We partnered with him to build the Ubani Housing Estate. He has put in place 500 units of houses for the low income people. He is proceeding to build for medium income people. I intend to work together with them because they have done very well. Once we see you credible we continue partnering with you. It is an opportunity for those who want to invest in housing in Abia, let them come. We have the land. We want those who will develop the land in partnership with government.
Would you like the Land Use Act to remain or be changed?
The law should stay. As a governor I make sure that all land under my care is equitably distributed. It affords government the opportunity of having land for development. Secondly, it will reduce the incidence of people coming to take land and go away without doing anything. It also reduces the incidence of land squabbles in the rural communities. We have seen it here, where communities have tussled over land for so many years. The case has been in court, and they have been killing people over the land. And government will come in and say, 'stop quarrelling. All of you should stay clear; government has taken over the land'. By so doing you save people's lives and use the land for the public good. The Timber Market is built on a formerly disputed land. The case has been in the Supreme Court for more than ten years. Brothers and sisters were killing themselves. And I called them and sat them down. I told them I am taking over the land to do a project that will favour every person. And they accepted. If I hadn't that law under my control I would not have achieved that.
As the Chairman of South East-Governors Forum, what would you like the on-going National Conference to achieve, not only for the Igbo people but for the country as a whole?
What I will like the conference to accomplish for the Igbo people is to create an additional state for the South-east to bring it equal to other geo-political zones. And for the country as a whole, I will like them to look into those areas that have been agitating the minds of the people that have threatened the corporate existence of this country, like resource control, sharing of revenue, state and local council creation, state police and all those areas that people have been hammering on daily basis. They should look into those areas and come to a conclusion that will be acceptable to majority of the people, so that this country will continue to be one.