By Abdulwahab Abdulah & Ikechukwu Nnochiri
Chief Justice of Nigeria, CJN, Hon. Justice Aloma Mukhtar, yesterday, accused some  Senior Advocates of Nigeria, SAN, of working in tandem with corrupt judges who are under probe before the National Judicial Council, NJC, for corruption and misconduct.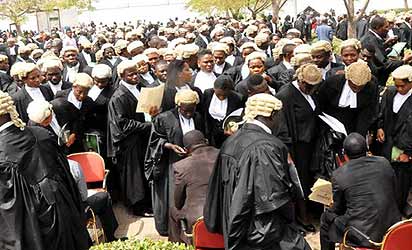 Justice Mukhtar, however, assured that the NJC, under her leadership, was determined to rid the system of corruption and laziness.
In her remarks at the opening session of a conference on judicial reforms organised by the Nigerian Bar Association, NBA, in conjunction with United Nations Office on Drugs and Crime, UNODC; Access to Justice, AJ; Open Society Initiative for West Africa, OSIWA; the European Union, EU, the CJN argued that those senior lawyers who "are working in tandem" with the corrupt members of the Bench are equally corrupt.
Mukhtar, however, did not name those involved in such act.
She said: "We receive petitions day in, day out and we have always tried to hear from both sides. But many times the affected judges complain that they are not given fair hearing. Some will come with as many as six SANs. Those SANs who go with them are equally guilty.
"There was one (a judge) that came with about six SANS, which showed that they are working in tandem. I am sure the lawyers know the corrupt ones (judges)."
Independence of judiciary
On the independence of the judiciary and interference from the two other arms of government, Mukhtar said: "We should try as much as possible to resist interference. We should try to ensure that we operate as counterpart and not an appendage."
She said the principle of Separations of Power must be strictly adhered to, adding that her argument was backed by the provision of the constitution.
She condemned some state Chief Judges who she said "are nuisance, running after the chief executive of their individual states.
"We need to be independent. The constitution guarantees this and we should establish it. I do not see the reason a Chief Judge, CJ, should constitute himself into nuisance in government house."
However, in his response, a senior advocate, Mr. Yusuf Ali, said though he had never defended any judge before the NJC panel, the principle of presumption of innocence entitled a person to defend himself or herself with everything at his or her disposal, including legal representation.
S'Africa's CJ, NBA
In his keynote address, the South African Chief Judge, Reetsang Mogoeng, reiterated the importance of the independence of the judiciary and said: "We should ensure that the judiciary should not be made to look like the appendage of the executive arm of government."
He also cautioned against actions that could taint the image and promotion of justice which the judiciary stands for.
On his part, President of NBA, Mr. Okey Wali (SAN) said corruption and indolence must find its way out of the judiciary. He also said NBA must participate in the appointment of  judges to ensure diligence.
He said: "NBA must recognise that it is only the existence of a virile, fearless and independent judiciary that can guarantee an enduring democratic government and the mainte-nance of law and order.
"The NBA hereby repeat our call that we be an important part of the process of making judicial appointments. Nobody should be appointed a judicial officer without the input and consent of the NBA."
Warning of the consequences of not yielding to the recommendations, he said: "Interference by politicians constitutes the greatest danger to the appointment of quality judges and it is our hope that this conference pays adequate attention to that monster."
The Attorney General of the Federation and Minister of Justice, Mr. Mohammed Adoke, who was represented by Bola Odugbesan, advocated evaluation system focused on the entire judiciary rather than on individual judges.