By Ben Efe
Nigeria's medal's prospects brightened yesterday, with Chika Amalaha winning Nigeria's first gold in the women 53kg weightlifting event.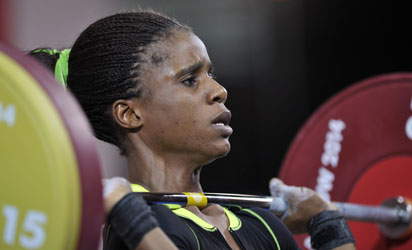 The 16 year0old heaved a combined weight of 196kg to clinch the gold in the keenly contested event. Amalaha defeated Paupa New Guinea's Dika Toua with just three points, while India's Santoshi Masta won bronze with 188kg. The event continues today with the men taking their turn to dig for gold.
Nigeria's Nkechi Opara had won bronze on the opening day of the weightlifting event in the 48kg category.
However, the joy of winning gold was subdued as the country's athletes were still expecting their kits. Amalaha competed in 'mufti' and this remained a subject of discussion in the camp of the Nigerian delegation.