BY HENRY UMORU, ASSISTANT POLITICAL EDITOR
The frenzy surrounding the gubernatorial election held in Ekiti State on Saturday, June 21  could be described as really unparalleled in Nigeria's chequered electoral history.
The election was unique in two ways, one the incumbent, Dr. Kayode Fayemi was defeated by the candidate of the Peoples Democratic Party, PDP, Chief Ayodele Fayose and secondly, Fayemi did not only concede defeat, but congratulated Fayose in the interest of the people of Ekiti State.

Saturday Vanguard took on some delegates at the on- going National Conference on whether what happened in Ekiti State could be a pointer to what will happen in 2015.
Excerpts :
Whatever makes a candidate popular with the people is what you should pay attention to —Peter Odili
Dr. Peter Odili, former governor of Rivers State and a delegate in the Elder Statesmen category at the on- going National Conference.
I believe that democracy is about the people and the will of the people expressed through the ballot.
Therefore every serious political party must aim at selecting candidates that reflect those candidate's relationship with the people and the only way to do it is to allow internal democracy.
So whatever makes a candidate popular with the people is what you should pay attention to. Once you have internal democracy, we are on the right course to true democracy nationwide.
There will be groundswell of support against PDP— Sani Zoro
Mohammed Sani Zoro,  is a former President of the Nigeria Union of Journalists, NUJ and a delegate on the platform of the body.
What happened in Ekiti has been well analysed by the hierarchy of the party as well as the intellectuals of the party and I can guarantee you that it was an isolated event. Now, towards the next election, you would see the groundswell of support that would make up for that loss in Ekiti, in so far as free and fair elections will be guaranteed.
Even what transpired in Ekiti, you cannot call it free and fair, in so far as there were external pressures that were brought to bear on the process.
The militarization of the place. Secondly, the fact that even the social media had validated what took place by way of voters on queues holding bags of rice with the labels and names of candidates and you know that
electioneering campaign ought to close at least not less than 24hours before the election.
But when voters queue up with symbols and signs of particular candidates you know that that one is flawed and  then the ban of officials of the APC and some party stakeholders who had also wanted to go in, to reinforce the campaign of the governor.
So all these will be challenged in court and I can assure you, that in so far as it is an isolated incidence, we just need to re-strategise and we will stage a comeback in a manner that will take the entire Nigeria by storm, we of the APC.
By the time we come up with what will happen in Osun State, given the mobilization and the show of support that APC will have, PDP and other parties will be disappointed.
Not only that we are confident that the court will invalidate the process, as it has done in the past, but the truth is that, they will regret what they have done because they will be routed out, PDP will be routed out of power in 2015.
Senator Saidu Kumo represents the North- East geo-political zone of the country at the on-going National Conference
The Ekiti gubernatorial election which has come and gone and has gone with a lot of lessons, is something that Nigerians and politicians, are looking forward to in this kind of election.
And you know, this is a very good development for democracy of this country, it means that there will be hope. 2015 elections will be credible and it will be free and fair and definitely we are going to see a difference in politics in Nigeria.
PDP is going to excel in 2015. Once there is free and fair elections, and I can assure you, today Nigerians are willing and graciously ready to vote PDP.
Even with comments and complaints of insecurity?
All these issues, there is nothing you can do. They go with human nature. This is a human issue which you cannot do anything about, it is something we can see. Something that is making the nation develop and growing. Like I said, it is a good political development and it is good for Nigerian democracy there is no doubt about it.
Ekiti  election has all the ingredients desired towards making our electoral process mature — Victor Umeh
Chief Victor Umeh is Chairman of All Progressive Grand Alliance, APGA and he is at the Conference on the platform of the party.
The Ekiti election had been commended by a cross section of the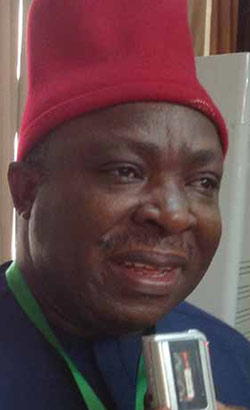 Nigerian society including international observers. If you ask me, I will tell you that the performance of INEC and the security agencies during the Ekiti governorship elections is our desire and our dream that Nigeria would be in a position to conduct very credible, free and fair elections where a winner will be congratulated by the loser.
So the Ekiti election has all the ingredients desired towards making our electoral process mature. So it becomes a reference point as it is done in a civilized democracy.
For the first time in Nigeria, we see a governor who was beaten in a contest accepting defeat and congratulating the winner. So if that is maintained in our elections then election banditry will be a thing of the past.
What happened in Ekiti is a foundation to our democracy—Gani Adams
*Says bringing Nigerian Army to monitor elections is wrong
Chief Gani Adams who is the National Coordinator, Odua Peoples Congress, OPC , represents the South West Zone at the Conference.
I think what happened in Ekiti is a foundation to our democracy. I will advice INEC to keep it up. If they should continue in that way, I think we will have a free and fair election in 2015. And I must commend the governor of the state, Governor Kayode Fayemi for being a very good democrat.
Whether we like it or not, he has made history as the first governor that will accept defeat, within 24hours. It has never happened in the history of this country. Even if APC wants to appeal or go to tribunal, they should be very careful to a level because of his integrity because people are watching.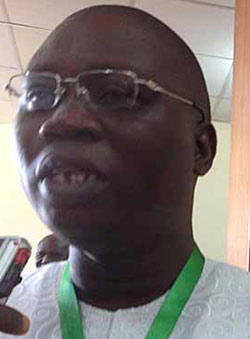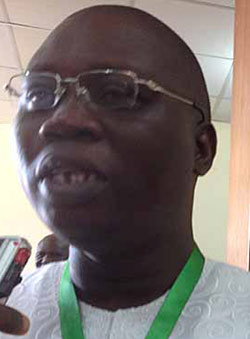 What Nigerians need most now is integrity, especially when  you say a word and you will not keep to that decision. Standing on what you have said earlier is what most people of the western world respect as a statesman, as a genuine person and as a leader that can be trusted.
At the same time, I must use this opportunity to warn our security agencies,you must not intimidate people when election is coming. I agree totally that the election is free and fair; I don't want a situation that the electorate will be intimidated and in a situation that you are being intimidated, you will not have the right and the opportunity to exercise your franchise.
Look at the population of the people that voted in the election, it is less than three hundred and fifty thousand people (350,000) and the population of Ekiti people is almost 3.5million. That shows that there was a lot of apathy. A lot of people did not come out to vote because of heavy presence of security.
I will not encourage the federal government to do that in the next election. If you suspect a crisis, bring regular police men, civil defence, SSS can be on ground to monitor elections. But bringing Nigerian Army is wrong, Nigerian Army is not meant to monitor elections.
They are to defend the territorial integrity of the country.
By bringing Nigerian Army with guns and ammunition to the electoral areas, definitely you want to intimidate the electorate who came out to exercise their franchise , so that is the only point. But when you are talking out of that, the election was free and fair and I would advice INEC to maintain that and if they improve on it, it is on that we can have a free and fair election in 2015.
We cannot conduct any general election with the 1999 Constitution—Braithwaite
Dr. Tunji Braithwaite, founder of the Nigerian Advance Party, NAP is a delegate on the platform of Elder Statesmen category.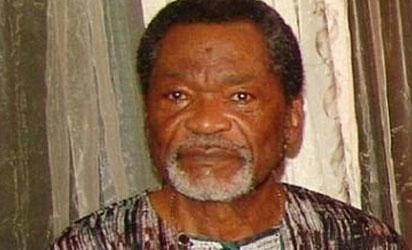 Clearly and even before we get to 2015, we need to have completed a new constitution because we cannot go for general election with the present 1999 constitution. There are many flaws in the 1999 constitution that cannot sustain the next general elections without serious surgical amendment to the 1999 constitution.
In order words, how do you mean?
We cannot go  into any general election with the present constitution, the country still has a lot of work to do.
For these isolated elections, these are different, but for a general election, we cannot conduct the next general election under the 1999 constitution, it is not possible.
If we use Ekiti to generalise, we  will miss the point— Okoye
Says as at today, our elections are a war situation
Festus Okoye, is the National Coordinator, Human Rights Monitor and a delegate representing the Civil Society Organisations from the South East.
This Ekiti is a huge improvement from the conduct of elections in this country. Really for the first time the INEC got its acts together and they got their acts together because, one they created what they call "superracks", where they husbanded and housed youth corp members that were going to act as presiding officers and also husbanded and housed sensitive and non sensitive materials. So it was easy for them to deploy very early to the various polling units.
Now when you deploy to the various polling units on time, what that means is that the people get to the polling units and see things already in order. When they get to the polling units and don't see things in order, sometimes there is rowdiness, there is confusion and then people start getting agitated.
So I agree that they got it right. But Ekiti is an isolated matter, this is because the electoral management body was able to mobilise both their head quarter staff and their staff from other states to Ekiti, to go and assist the resident electoral commissioner in Ekiti state to conduct the election.
Secondly, you have six national commissioners in Ekiti,you have six resident electoral commissioners  in Ekiti, you have AIG in Ekiti, you have so many commissioners of police in Ekiti, So if you use Ekiti to generalise, you will miss the point.
But I think that if the electoral management body is able to build on the successes of Ekiti, there is a possibility that we can have what I call substantially free and fair elections in 2015. But I believe  that we must find ways and means of making sure that our elections are not militarised, we must make sure that our elections become routine matters where those who want to vote can go and vote and those who do not want to vote should stay at home.
But as at today, our elections are a war situation and that is not the path and road to free, fair, transparent elections.

Ekiti election was not  an adoption of PDP, but a rejection of APC—Ladoja
Senator Rashidi Adewolu Ladoja, former Governor of Oyo State and National leader of Accord Party, is a delegate on the platform of the party.
It is a peculiar situation. It is peculiar in the sense that the elections was not necessarily about party, it was not an adoption of PDP, it was a rejection of APC. It was a rejection of APC in the sense that from three, six months after Fayemi assumed power, the people have been shouting that they have home grown government.
Because 80% of Fayemi commissioners were Lagos based. In fact nearly all the political appointees are Lagos based. So they were looking for home based government.  So that is number one issue.
Number two is that, look at the circumstances of the APC convention. What qualifies Segun Oni to be made the deputy national Chairman, while dropping Niyi Adebayo who was the national vice chairman before. Does it not seem as if the new leadership of APC is discarding the former governors with Segun Osoba  as example. Maybe the only person you will be hearing about is Bola Tinubu.
But the national Chairman, Chief John Oyegun is a former governor?
Is he  considered as one, he is just coming in because he is new also. We are talking of governors that came into power at the same time as Akande and co, that is from 1999- date, Chief  Oyegun was governor in 1992, so it is not the same thing.
So these are the things that led to the defeat of APC in Ekiti State. I don't see it as a general trend, I don't see it as an endorsement of PDP. I think it is just an accident that APC lost the election.
What about at the federal?
Federal, circumstances may also decide what happens at that time. What happens at that time will be determined by who and who is contesting also. In a public place you cannot extrapolate as you can extrapolate in journalism. Anything can happen overnight and then turn the scenario.
So these are the things. It is too far for us to talk about 2015. Who knew that the convention of APC would nearly kill it. Everybody would have said that a convention is an internal matter of the party and it will not have any effect. But it is having an effect. So that is it. So that is why I said 2015 is far away and there is nothing to say about it now.
Ekiti election is not a pointer —Ezenwa
Ezenwa Nwagwu, is Chairman, Partners for Electoral Reform and a delegate at the Conference on the platform of Civil Society Organisations, CSOs.
No. It is no pointer. I think one of the mistakes we would be making is over-celebrating and eventually everything would collapse on our heads.
Ekiti is a miniature election if you like. And more importantly, there was a constellation of interests of the citizens of Ekiti to make a change. And that change was expressed through their votes.
The 2015 is general election. If what  we know about our elections repeat themselves in 2015, you will not have guarantee for peace; it was because  the express wishes of the people of Ekiti triumphed, that was why you have peace.
Even if you put a million soldiers and you thwart the will of the people, it is a pointer to greater danger. So the lessons that we have to learn are that we must allow the express wishes of the people of the country to be represented through the elections come 2015 and that would be a guarantee for peace.