BY NDAHI MARAMA
MAIDUGURI— No fewer than 60 people from Gaidamgari village, in Bama Local Government Area of Borno State were killed weekend, while many others sustained gunshot wounds when some gunmen suspected to be members of the Boko Haram Islamist sect attacked the community.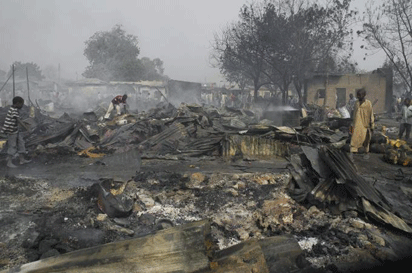 Apart from those who were either killed or maimed in the attack on Gaidamgari, sources said that many houses, shops and vehicles were also set ablaze just as most of the villagers were now taking refuge in Bama town.
Security sources, which confirmed the story, said the attack took place at about 10p.m. on Saturday, pointing out that "only 29 people were killed with few residents sustaining injuries."
This was even as the National Emergency Management Agency, NEMA, yesterday said that over 15, 000 Internally Displaced Persons, IDPs, were taking refuge in Biu and Goniri areas of the state.
Boko Haram recruiting
However, members of the sect, who attacked Damboa on Friday for the second time in two weeks, were reportedly looking for youths to recruit. It was gathered that a large number of troops were yesterday deployed to the surrounding villages and towns to confront the terrorists.
At Gaidamgari, a source said: "On refusal of the community to allow their children, particularly young boys of between the ages of 15 to 20 to be recruited into the Boko Haram group, the terrorists mobilised and launched attacks on the village, killing over 60 people."
According to the sources, the attackers invaded the village in Toyota Hilux vehicles with Improvised Ex-plosive Devices and wrecked havoc on defencless civilians.
In another development, about five motorists, including passengers, were at the weekend ambushed along Bama  Maiduguri road by some terrorists.
A source at the University of Maiduguri Teaching Hospital told Vanguard that "five dead bodies were brought into the hospital weekend, and preliminary investigations revealed that they were victims of Boko Haram road ambush along Maiduguri Bama road."