By Florence Amagiya
Being the first to make something work in a place where so many have tried before with little or no success is worth applauding. So it is not out of place if he is called the 'king of comedy' in Nigeria. The late MC and comedian, John Chukwu (JC Class) in the 80s tried making comedy a lucrative deal but he failed and died poor.   Many saw the late comedian as a joker because he never fulfilled his dream.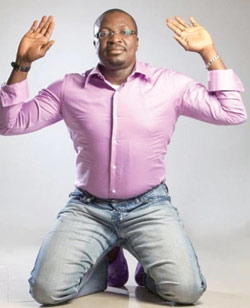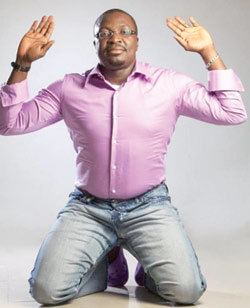 But when Ali Baba came on stage, he changed the history of standup comedy in Nigeria. People began to take comedians seriously. Today, comedians are respected because they are raking billions into their bank accounts as well as living their dreams. Now, they are rich, famous and live in opulence like their counterparts in the Western world. Behold the one who made all these possible.
ALI BABA
Ali Baba is no doubt one of the biggest names and brand in the Nigerian entertainment world. He is arguably the forerunner of standup comedy in Nigeria as well as the richest comedian in Africa. Even though he has been on the scene for more than 20 years, it has not hindered his continuous relevance and outright success. Ali Baba made standup comedy a lucrative deal.
Atunyota Alleluya Akporobomerere, as he was Christened, was born in Warri, Delta State, on June 24th, 1965, to a royal family in Agbarho Otor in Ughelli North Local Government Area of Delta State. He is the first son after several girls. His father is a retired soldier who served in Lagos State. He had his primary education at Ojo Primary School and Command Secondary School, both in Lagos.
His Secondary education was at Ibru College, Agbarho-Otor and he acquired his University degree at the former Bendel State University now known as the Ambrose Alli University, Ekpoma. Alli Baba read Religious Studies & Philosophy.
Professional career
Ali Baba makes millions of naira through various corporate events. He had appeared on television shows with the likes of Patrick Doyle and Charley Boy. He also made appearances on top radio shows. He was briefly with Dapo Adelegan of DP Lekki Limited as executive assistant in 1991.
He may not be in the main stream of comedy at the moment because he does mainly private comedy shows for the money bags, but the story of standup comedy in Nigeria would not be complete without him. Ali Baba started standup comedy back in Ekpoma in 1987 as a student.
He moved to Lagos in 1990 after refusing to accept his father's plan to become a lawyer as is popular among the people from his place. He landed in Lagos with less than N20 in his pocket and worked till 1998 and erected three billboards in strategic locations in Ikoyi, Victoria Island and Marina with the message: Ali Baba – "Being Funny Is Serious Business."
That singular strategy gave birth to standup comedy in the country and made it one of the most lucrative businesses in Nigeria. Consequently, he became one of the richest in the continent. Ali Baba revolutionalised comedy and made it profitable.
Endorsements
Through his efforts, standup comedy received endorsements by the Nigerian people and organisers of shows. People who wouldn't have paid a dime before now pay millions to add crackling comedy to their events.
Ali Baba became the biggest name in comedy in Africa. He gets paid millions of naira performing at government functions. He was also given endorsement deals by reputable companies. He once got an endorsement deal with a multinational firm worth N100 million for two years.
Cars
Ali Baba is crazy about luxurious and expensive automobiles, and he has over 10 expensive cars in his garage. His love for trucks stems from his previous experiences as a cab driver. "I suffered and was oppressed for so long as a cab driver in my youthful days in Benin City; so this is an opportunity to get those expensive trucks I had always loved," he says.
His trucks and cars are valued at over N300 million, including two luxurious and customised trucks worth over N45m. He also has a Mercedes E class, a Land Cruiser, an LR3 and three other glamorous Sports Utility Vans. The number plates of his authomobiles are customised from ALI BABA 1 to ALI BABA 10.
Houses
The king of comedy owns choice properties in Lagos, Abuja, Port Harcourt and his own state, Delta State. One of his properties in Lagos is a luxury duplex in Queens Drive, Ikoyi, worth over N750 million.
Investments
Married to a banker, it is not surprising that Ali Baba has investments in banking. In addition, he has a comedy school that grooms up-coming comedians. Other investments are in importation and exportation businesses, relaxation centres, fashion outlets, and events management outfit.