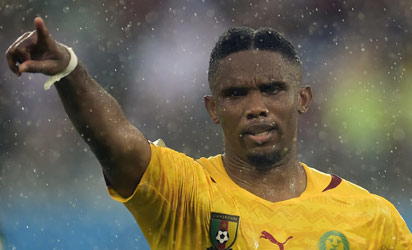 Eto'o
TNATAL  (AFP) – Captain Samuel Eto'o has called for optimism, but fallen African giants Cameroon face the prospect of yet another World Cup whitewash following a 1-0 defeat to Group A rivals Mexico.
Eto'o was reduced to just one real shot on goal in the first-half as the 'Indomitable Lions' were trampled by an Aztec juggernaut at the rain-lashed Estadio das Dunas in Natal where Oribe Peralta hit a second-half winner for Miguel Herrera's side.
Cameroon now sit bottom of Group A behind Croatia, Mexico and leaders Brazil raising the prospect of a repeat of 2010 when Cameroon, then coached by Paul Le Guen, limped home from South Africa without a point.
Up next is Croatia in the Amazonian hothouse of Manaus, and Chelsea striker Eto'o is hoping for divine intervention on June 18 when the Europeans, who suffered a 3-1 defeat to Brazil, will also be fighting for their survival.
"It's important for us to remain positive. We wanted to start the competition with a positive result, but God wanted it otherwise," said Eto'o.
"We can beat any team on our day, but we'll have to be at our best to beat Croatia. It won't be easy because they're in the same position as us.
"Now, we have to turn our attention to preparing as best we can."
Peralta struck in the 61st minute after Cameroon 'keeper Charles Itandje stopped a shot from Giovani Dos Santos, but the dominant Mexicans should have had two goals by then after two strikes by Giovani Dos Santos were ruled out for offsides which replays suggested did not exist.
Those decisions did little to appease a Mexican media which cried foul after seeing Brazil awarded a questionable penalty in a 3-1 win over Croatia on Thursday.
The possibility of yet another refereeing blunder appeared to have crossed the mind of Mexico coach Miguel Herrera, who said afterwards: "I told the boys before the match to keep their focus on our gameplan, whatever happens."
Volker Finke, the German coach of a Cameroon side whose pre-World Cup was marred by a bitter row over player bonuses, deftly sidestepped the issue of refereeing decisions.
But he conceded Cameroon's backs are to the wall.
"They had goals ruled out, but that's the way it is. Now we've got five days before our next match, which will already be decisive for our World Cup," he said.
If Cameroon fail to beat Croatia, their June 23 clash against Brazil in Brasilia could be a dead rubber, a prospect midfielder Benjamin Moukandjo does not even want to consider.
"You don't have to remind me!" he said. "We absolutely have to beat Croatia to have any chance (of staying in the competition). We lost tonight, but that doesn't mean it's all over."
Eto'o, one of several players who in the past served a ban from the national team over squabbling about the often divisive issue of player bonuses, wants to remain positive.
But Moukandjo painted a gloomy picture for fans of the side that the legendary Roger Milla led to the quarter-finals in 1990 amid what was a golden footballing period for the central African nation.
The Nancy midfielder added: "Now we've dropped three points, we're trailing in the race for qualification. We've got two big matches left and if we're going to make the last 16 we'll have to win both.
"Tonight, we tried to fight with the weapons we had. Now we have to fix what didn't work for us, and hopefully create more scoring chances in our next game."