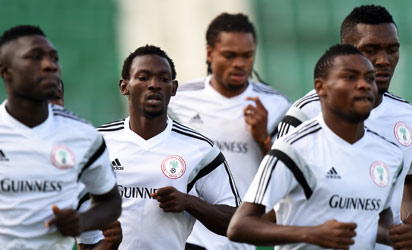 Nigeria's defender Juwon Oshaniwa (2nd L) and other players warm up during a training session in Campinas, some 100 kilometers from Sao Paulo, on June 12, 2014 as the 2014 FIFA World Cup kicks off in Brazil. AFP PHOTO
SuperEagles forward, Emmanuel Emenike has declared war on Argentina, branding the two-time world champions as
'disrespectful and boastful'.
Emenike who said the Eagles "will achieve the impossible" in Brazil maintained that the South American giants were sounding too sure about beating the African champions and the Eagles are determined to bring them down when they meet in their final group match.
"As a professional, you should always respect your opponents, irrespective of their qualities. They think they can beat us because they have individual players? But football is beyond that stage now."
Emenike said the focus in Eagles camp now is not Argentina. "Our first match against Iran is very crucial. Right now, I am thinking about Iran, not Bosnia or Argentina."
He is confident the Eagles are capable of doing well as African champions. Said he, "this World Cup is going to be interesting and full of surprises because there are so many wounded lions in Brazil. We want to fight hard on the pitch and win."
He declared that with team work, the Eagles will go far. " I know the battle ahead of me and the team, but I am banking on team effort, that's the only way to succeed"
Emenike who said he is living his dream recalled with nostalgia how as a kid, he watched the USA '94 tournament which was Nigeria's first appearance at the World Cup.
"Playing in World Cup is a dream come true. I sacrificed a lot and worked hard to get to this stage. I started dreaming of playing in World Cup as a kid following USA 1994, and here I am today fulfilling my dream. I believe so much in hard work as the key to success. I have a formula now – focus plus hard work is equal to success."