*Slain husband's father blasts in-laws: No forgiveness for your daughter
*Women lawyers rally round Wasila
By AbdulSalam Muhammad
Wasila Umar, 14, the child-bride suspected to have killed her husband at Yansoro village, Kademi general area of Gaya local government council of Kano State broke down in tears while pleading with the trial judge handling her case at the juvenile court to set her free because she was home sick.
Wasila rhetorically asked why she had been held by the authorities in a place where she had no access to her loved ones over the past weeks.
The child-bride's dilemma underscored the state of confusion she found  herself in following her detention by the police culminating in her appearance before the juvenile court.
Between April 1 and May 21 that she appeared before the court,  in Kano, she had variously been a guest of three detention centres located in Kano and Gaya .
Interestingly, her situation attracted the attention of human right activists, including the Federation of Women Lawyers in Nigeria which practically took over her  upkeep and defence.
The women lawyers group protested the arraignment of the suspected  killer child-bride before a magistrate court, forcing the Kano State Judicial Council to transfer Wasila's trial to the juvenile court.
The letter of transfer of the trial dated April 30, 2914, and signed by one Sani Shehu for the Registrar, Kano State High Court of Justice, obtained by Sunday Vanguard, was entitled, "Commissioner of police versus Wasila Umar, a juvenile accused of poisoning her husband and three others."
"The Chief Registrar has directed that the above headlined matter which was pending before  Magistrate Court 34, Rijiyar Zaki , Kano is now transferred for continuation at the Juvenile Court to its conclusion", the letter said.
That marked the beginning of the trial of the teenager who had been away from her Kaura village for 51 days.
'Strange land'
However, in an exclusive chat with Sunday Vanguard before her arraignment at the juvenile court, Wasila revealed: "I miss my mum who has not been allowed to visit me in a strange land.
"What, however, keeps me going is the fact that my family are with me at this critical point in my life, and I am highly comforted by their prayers".
According to her,  "my dad and aunt visited me a few days ago and conveyed my mother's message but the vacuum created by  her absence can not be filled by anyone.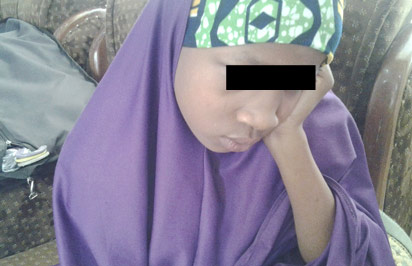 "I have been receiving help from the people I did not know from Adam, I mean women who have shown concern, and cater for my needs at the remand home where I have been detained by the authorities.
"I know for sure this trial will come to an end one day and I would reconcile with my family".
Meanwhile, Wasila's dream of reuniting with her family one day might be a pipe dream.  In the event she wins the case against her by the state, she might not have a home to return due to the tension generated in her in-law's Yansoro village by her alleged killing of her husband and three friends.
Bitterness
Sunday Vanguard's visit to  the village unveiled a picture of bitterness by her in-laws who viewed her action as wicked and could not be forgiven.
The journey to Yansoro was rough; no access road, no school, no health centre, no pipe borne water.
The village is a classical example of  neglect and leadership failure. Yansoro is a village cut off from civilization. An interview conducted with Wasila's father-in-law at the city centre attracted a crowd comprising of the young and the old who constantly interjected to voice out their anger.
Sani Garba, the late Umar's father, told Sunday Vanguard: "I am talking to you with a heavy heart, because I am still nursing a fatal injury handed over to me by my daughter-in-law."
"Do you know that I lost three children to her action and you are asking whether I have forgiven her? The act was too painful to be forgiven  and I don't think I can forgive her".
Shedding  light on the relationship between the child- bride and her late husband, he said, "They  courted for 12 months and my son spent a fortune on her.  The fact remains that the duo were no strangers to each other and it pains me the more when people try to cook up the  forced marriage theory"
Garba, believed to be in his early 60s, went on: "We understand the authorities have taken over the case, but whether they choose to stand by the truth remains their headache for I have since gone to my God who is sufficient for me."
The crowd that converged at the city centre during the short interview appeared satisfied with the old man's responses to questions and gave him a round of applause.
But one was clear from the interview, the deep seated anger they demonstrated during the encounter was a reminder that they could go to war to settle scores.
Absolute grief
However, the atmosphere at Wasila village, Kaura, adjacent to her in-law's was that of grief. Like their counterparts at Yansoro, the residents live a life worse than slavery.
Wasila's father, Tasiu Muhammad, told Sunday Vanguard: "What happened left a sour taste in our mouths but we don't have to abandon the little girl.  That is why I identify with her at this moment of trial". Tasiu linked the alleged action of her daughter to destiny which could not be prevented.
"In such situation, we only look onto Allah for divine intervention", the father said. "What has happened came with a fatal consequence on my family, and I have visited my in-laws in the company of my kinsmen to seek for their forgiveness on behalf of my daughter".
Commenting on their involvement,  the chairperson of the Federation of Women Lawyers in Kano, Hussaina Aliyu, revealed that no formal charges had been preferred against Wasila, stressing that the trial judge had fixed June 16 for mentioning.
Subscribe for latest Videos