By HENRY UMORU, JOSEPH ERUNKE & LEVINUS NWABUGHIOGU
THE National Conference has adopted the recommendations of its Committee on Religion that Christian and Muslim pilgrim boards be scrapped and that  governments at all levels should stop sponsoring religious pilgrimages.
The conference said the two existing agencies be replaced with a body to be called "Religious Equity Commission, RECOM," which should be established in all the states of the federation and the Federal Capital Territory, FCT, Abuja. However, the confab said the scrapping of the pilgrims boards be done in phases.
Heated disagreements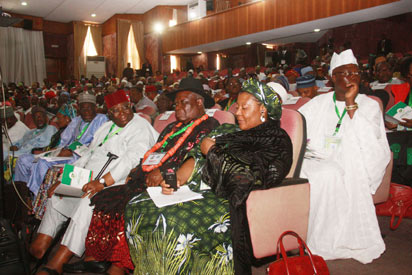 Debate on the committee's recommendation was put on hold two weeks ago following heated disagreements. Christian delegates had endorsed the recommendation but their Muslim counterparts kicked against it, a development that compelled the conference leadership postpone the debate.
Deputy Chairman of the Conference, Professor Bolaji Akinyemi, re-introduced the debate yesterday at the plenary, saying so far, over 350 delegates had endorsed the proposal.
Akinyemi asked the Co-Chairman of the Committee on Religion, Alhaji Nurudeen Lemu, to further educate delegates on his committee's recommendation, which the latter did to the satisfaction of the delegates.
Consequently, the delegates agreed that the Federal Government, in exercise of its oversight responsibility, should provide normal Consular services for the pilgrims through the Federal Ministry of Foreign Affairs and the Nigerian foreign missions in the relevant destinations.
Arguing that the recommendation is in line with Section 10 of the 1999 Constitution, they said each person should fund his or her trip to anywhere he wishes to observe religious obligations.
On the establishment of RECOM, the conference agreed that its mandate would include "advocacy, enforcement of constitutional religious rights such as freedom of religion, freedom to acquire land for religious purposes and others within the limits of the Constitution of Nigeria."