BY HENRY UMORU, LEVINUS NWABUGHIOGU & JOSEPH ERUNKE
IT was a sad day for retired military men under the aegis of Coalition of aggrieved Nigerian Military Veterans who made moves to storm the National Conference to drive home their predicaments but were stopped at the gate by men of the Department of State Service, DSS.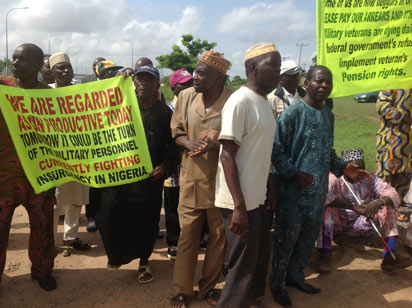 The retired military men numbering over 100 from the 36 states of the country and the Federal Capital Territory, Abuja, gathered at the entrance of the NJI,  singing songs in English, Igbo and Hausa, with some displaying placards with inscription like, 'We have served our country!' 'We have served Africa' 'We have served the world' 'Have we committed crime? 'Why is the government of the day committing genocide against us?' 'God will judge all of us.' 'We demand the harmonisation of military pension based on the consolidated Armed Forces Salary Structures of 2010 and 2011.' 'We are regarded as unproductive today.'
Meanwhile, a team of DSS led by the Conference DSS Coordinator, Ken Chukwurah, stormed the gate and prevented them from entering.
Chukwurah, who listened to the protesting veterans and asked if they had gone to the National Assembly before now and what they felt the delegates could do for them, adding that it was good they were not violent.
Leaders of the group, Innocent Nass and Comrade Gabriel Oaikhena, said they decided to come to the confab after series of protest to the National Assembly with no results.
Their request: "We demand that the 53.37 per cent Federal Government salary increase of 2009/2010 and the accruing three years arrears be paid to us without further delay.
"We demand that our pension rate be updated to the current (2013) salary scale of serving military personnel, and the arrears from date of commencement be fully paid to us. That is the harmonization of our pension rate with that of our still-serving colleagues.
"We find it impossible to believe that Nigeria is so poor that it cannot pay the very basic constitutional entitlement of its veterans who have sacrificed their youth in patriotic service to the nation.
It is even more painful with the fairly-regular news of double-digit billions of naira being stolen (including from pension fund), or found in the private bank account of government office holders and key-placed public servants, almost always with little or token consequences to those caught, tried and found guilty.
"We do not believe we have to become militants and take up arms before someone cares to address our pain. Nor do we have to go the Boko Haram way before someone makes a good analysis and comes up with solution to the problem. We deserve an honourable and respectful treatment as part of the heroes of this nation, until we are given our Last Post.
We, the surviving patriots, are not dead yet, and should not be treated as if our continued existence is constituting a nuisance and unnecessary expenses to the nation.