By Douglas Anele
"Iron gate Emmanuel Okala throws the ball to Chairman Christian Chukwu. Chukwu taps the ball to dean of defence Yisa Sofoluwe; Sofoluwe sends a telegraphic pass to midfield maestro Mudashiru Lawal. Muda Lawal dribbles two opponents and sends the ball to mathematical Segun Odegbami. Odegbami dilly-dallies, shilly-shallies, and locates elastic Humphrey Edobor. The storm is gathering near the opponent's goal area, and it would soon rain a goal. Edobor turns quickly to the right and returns the ball to Odegbami. Odegbami kicks the ball towards quicksilver Sylvanus Okpala who shoots an intercontinental ballistic missile from outside the penalty box. It is a goal! It is a goal! Nigeria has scored!"
The commentary above is a brief reconstruction of late Ernest Okonkwo's characteristic description of events in a football match between the Green Eagles (now Super Eagles) of Nigeria and a foreign national team. Okonkwo, formerly a staff of Federal Radio Corporation of Nigeria, was one of the best radio commentators in the world.
Indeed, as a secondary school student, I was so mesmerised by his virtuoso performance in football commentary on radio that I preferred his commentaries to watching matches on television. It is a disservice to the memory of that great man that Radio Nigeria has done nothing to keep his memory alive. For example, the station ought to play back some of Okonkwo's iconic commentaries whenever it runs commentary on any game played by the Super Eagles, or record them on compact discs and sell to members of the public. Nigerians seldom celebrate genuine heroes; rather they celebrate those who amassed incredible wealth particularly through corrupt practices.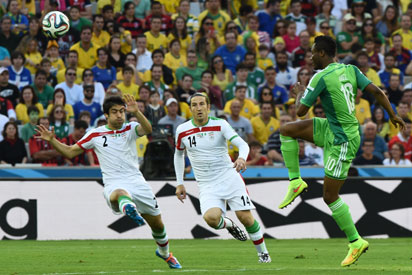 Commencement of this year's edition of FIFA world cup in Brazil brings back memories of Okonkwo; it also offers an opportunity for reflection on the beautiful game, football. Ever since it was invented more than hundred years ago in England, the round leather game (called soccer by Americans) has evolved to become the world's most popular sport. Like other forms of entertainment – in fact, everything created by human beings – football is fundamentally teleological. Probably, the game was invented to mitigate boredom. The principal actors in a football match are the twenty-two players in the field, eleven on each side, who must work cooperatively to ensure that the ball crosses the goal line of their opponents and prevent it from crossing theirs.
Football provides a wholesome outlet for competitive deployment of talent, skill, determination, imagination, and team spirit required for achieving a collective objective. It promotes the mental and physical well being of players and coaches, both of whom are under pressure to achieve good results for their teams. The need for sound physical condition and mental alertness during matches compels players to be careful about what they eat, what they drink and about their lifestyles generally.
In order to attain the level of physical and mental fitness required for top class performance, therefore, players must be disciplined and focused. To play and make impact at the highest levels requires talent. But exceptional footballers do not rely on talent alone; they regularly push themselves to the very limit by working hard to develop their skills optimally. Through the sublime skills they displayed during matches, Pele, Zinedine Zedane, Christiano Ronaldo, Lionel Messi and other excellent players made football one of the most enthralling forms of entertainment ever invented by humans.
Currently, the game has become professionalised and commercialised; it is now a multi-billion dollar business. Top-class footballers (and coaches) are among the highest paid professionals in the world; many of them are engaged in philanthropy worldwide. Businesses (including manufacturing industries) that depend directly and indirectly on football worldwide are substantial. It follows that right now soccer is a powerful socio-economic force which can be harnessed for national development.
Now, although football is a force for self-actualisation and national development, it is also a mixed blessing – it sometimes brings out the worst in people. For example, because of the huge financial and emotional investment in soccer, players, coaches, club owners, governments and fans are increasingly obsessed with winning at all cost, a situation that jeopardises the development and entertainment value of the game. Match fixing and other forms of corruption by different stakeholders constitute a serious threat to the credibility of football. Besides, football is akin to religion; it tends to generate extreme forms of emotional attachment and violent conduct in devotees. In fact, some fans kill, maim and destroy just because their favourite teams lost.
Evidently, such foolish and irresponsible behaviour is a symptom of neurosis occasioned by ignorance, irrational fears, anxiety, exaggerated unrealistic expectations and lack of self-control. In addition, fanatic fans forget that football is for humans, and not the other way round. Football lovers should realise that, irrespective of the outcome, football matches should celebrate love, friendship, solidarity, and the spirit of healthy competition. In the charged atmosphere of a very important match, and considering the huge financial resources expended on players, coaches and so on, it is very easy to become angry and disappointed when one's favourite team loses. FIFA recognises that football is not all about winning; it is a celebration of the joy of competition and wholesome entertainment. That is why it introduced fair play award, and teams that win trophies hardly get the award in the same tournament.
Luck, the unintended, the unplanned and, therefore, the unexpected, play a role in human activities. Football is not an exception. Thus, no matter how talented a player might be, there is no guarantee that a well-executed, goal-bound free kick will not suddenly veer away from the goal post at the last moment. Similarly, a referee may not award penalty against a team because at the exact moment when the infringement occurred he was distracted for a second while trying to brush off an insect that perched on his nose. There are many cases when, close to a very crucial match, the best player in a team gets seriously injured or sick. Because of the inherent unpredictability of the complex events that determine the outcome of matches, fans must recognise that football is a game and moderate their expectations from players in order to avoid disappointment that could lead to unruly behaviour or illness.
The current world cup tournament going on in Brazil has confirmed that football is unpredictable, which makes the sport quite interesting and exciting. Who would have predicted that the current world and European champions, Spain, would be eliminated just after two matches, or that Portugal, despite having the world's best player, Christiano Ronaldo, would be beaten 4-0 by Germany? I watched Nigeria's match against Iran; like most Nigerians, I was appalled by the mediocre performance of the Super Eagles. My impression is that most of our players are old and sluggish, and their attitude to the match was casual and unprofessional. With the exception of Vincent Enyeama, Mikel Obi and Osaze Odenwingie, the rest played as if they forgot their football brains in their hotel rooms. But this is not the time for apportioning blames.
Finally, football is for enjoyment no matter the outcome of matches, because although winning is very important, the joy of participating at all makes winning and losing possible – the two are inseparable. Hence, even if the Super Eagles are eliminated in the first round, we should be happy that Nigeria participated, and enjoy the rest of the tournament.