YEsterday we published the first part of this Conference Hall on the demand by Northern delegates to the National Conference for the reduction of the 13 percent on derivation to 5 per cent. In this continuation, the participants state their positions.
Benson:
When we were practicing true federalism.
Presently, the composition of the delegates to the Confab is lopsided. I don't think they have gone there to speak our minds. They are there just to satisfy their personal avarice.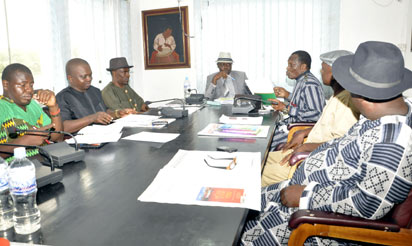 If you go to the north today, you will see classic poverty; you will see they battalion of Almajiris on the streets, yet these delegates argue that they are speaking for the north. This country should go back to true federalism.
The Confab delegates should go back and do a rethink.  I thank God for the opportunity that my president had, to speak to some of our delegates, to tell them that they are not doing what we expect them to do. I know that in the next two or three weeks, you will start to see what we are talking about
Eppeh Kpobiri Kingsley: I am in agreement with those who have said that we have problems of poor selection of delegates to the National Conference. To that extent, it will not make any meaningful impact on the problems of Nigeria, unless they address the critical question of fiscal federalism. For me, they have to revisit the Aburi Accord and the Henry Willinks Commission report. That is where they ought to have taken their bearings from. Most of the delegates are there just to defend the interest of the status quo.
If you take people who are already satisfied or in their comfort zone, you would not achieve anything. On the other hand, we are talking about the people who in one way or the other, helped to create the problems in the first place. How can we expect meaningful changes when majority of the delegates who were selected  are those who have created the troubles of Nigeria?  For me, the SGF is using the National Conference to play out its own agenda. We would have expected that some youth leaders from  different parts of the country should be there to express their own views .
We needed people with fresh ideas but from the look of things, the National Conference will not achieve anything at the end of the day.
I must also say that President Jonathan did not play his own part. He ought to have guided the setting up of the secretariat of the Confab and what should be the focus. He ought to have briefed them on his own vision, but he just left the Confab in the hands of  civil servants. For me, when I saw the selection of the delegates, I knew that nothing meaningful would be achieved. The result we are going to achieve will only benefit the northern and the South West regions.
Moderator:  As Engr. Ambaiowei pointed out earlier, when the economy relied on agriculture as its main revenue earner, some one like Chief Obafemi Awolowo was a strong advocate of 50 percent for derivation. Interestingly, he was the Vice Chairman of the SMC when derivation was removed in 1969. So why is the South blaming the north on this? So, what do you think will be the consequence of this if this becomes a resolution of the National Conference?
Engr. Ambaiowei: Specifically, to address the core of the matter, the Ijaw people, and I believe, majority of Nigerians, have agreed that from our founding fathers, at Independence in 1960, it was a faint talk that when Dr. Nnamdi Azikiwe and Chief Obafemi Awolowo were talking about "let's unite, let's forget our differences etc, it was Sir. Ahmadu Bello, who said let us talk about our difference, because it will help us to know ourselves better and we will then unite better. That was why they gave the country true federalism or a federation of three legs.
The principle prescribed was 50 percent derivation. In other words, whatever resources or revenue that you made from hardwork or nature's blessing, you will keep 50 per cent in that region and use it for the sole development of that region  at its own pace. You are fully in control of that.
The exclusive legislative list of the federal government that we have canvassed in our position – Defence, Central Bank, Coinage, immigration and emmigration, citizenship, aviation policy, etc were just as slim. Now 20 percent of that revenue was like a tax that you pay to the central government from the revenue that you generate from your region. Although it was exclusively for development of what they called national infrastructure,the infrastructure that will integrate every region of the country – the railway system, the Federal Highway system, the national power grid system etc.
I had already laid the background that things went wrong because some people pointed guns at the others and they changed everything. It is what they changed that gave an undue advantage to the north and it has become like honey that is so sweet that they don't want to give it up. Again, those unfair advantages that the North has gained through military coups, they don't want to concede an inch. Now, to be very specific, the North is bandying population and landmass as criteria for revenue sharing. That is wrong!
If the state of California in the USA, which is bigger than Nigeria, America also has Connecticut, which is just like the size of Bayelsa State, when have you heard about Connecticut or California, haggling over revenue sharing as we are having here?
This cannot happen because the tenets there are that of true federalism, but here, it is the opposite.  That is why you are witnessing the things that are happening whether its Ankio Briggs versus  Junaid Mohammed or Tanko Yakassai versus Professor Kimse Okoko, the people of Southern Nigeria versus Northern Nigeria. The issue is not different from who maintain the status quo of unitary system and those who want to stand and be counted as federalists? That is the debate.
Those who want unitarism to continue are those you see and can count all across, while those who want true federalism are lurking in the shadows.  What I want to say is that when we want to cite detailed statistics, we will throw more light, but let me say, briefly that Alhaji Tanko Yakassai circulated a certain document at the confab,which we came here with it.
Right here in this document, (shows the document), Alhaji Yakassai bandied some figures and made certain claims which have been further amplified by the document which the Northern delegates are saying that 80 percent of Nigeria's land belongs to Northern Nigeria and that only 20 percent belongs to the South.
They bandied figures on the population of the country,  claiming a whopping 75 million to the North and 25 million to the South. But I want to debunk all those claims. Going back to the 1911 census that Yakassai quoted,  the North had a population of 8,120,000 people.
Ambanowei:
And by 1931, twenty years after, it had increased to 11,368,000 which is about 40.9 percent. In the South, we had a population of 7,934,000 in 1911 and by 1931 it increased to 8,566,000. This was  an increase of only 7.9 percent in the same 20 year period. In fact, in the case of the Eastern region, the population dropped by 560,000 between 1921 to 1931. That was when the East had not even fought a civil war.
So, the population figures that the North wants us to believe is completely false. By that logic, every other thing that they have claimed by building on this falsehood is fraudulent. They have no case to make.
Let us go to the other critical item which is the  land mass and the challenges of the swampy  coastal areas of Niger Delta. You will notice that it costs about N600 million to build a 1km of road in the South with swamp terrain, but in the north which has arid land area, you don't need more than N30 million to build a kilometer of road. Are you now going to say that we have the same challenges?
We must also explore another area which is environmental pollution and degradation. The people are claiming that some oil flow from up North down to the creeks and so, they have every right to the oil even in the littoral areas. Tell me, are the landlocked countries of Chad, Niger and others laying claims to benefit from the offshore oil resource in Nigeria?
What would have happened to the Northern Nigeria and their claims to the oil wealth in Southern Nigeria if the British had not amalgamated the Northern and Southern protectorates in 1914? The North should not test our patience.   We have stated clearly that we want the country to return to regional structure to replace the present 36 states structure,  which has proven weak, unviable and unwieldy.
•We want the country to adopt a system of legislature which is part time under Parliamentary model, as it will reduce cost of governance and free funds for development of the regions.
•We want power sharing, especially, through ceding by the federating regions an exclusive legislative list to the federal government whereas all other powers are retained by the regions.
•We believe that it is only through agreed and prescribed percentage tax on the revenues generated from the resources in the regions that the federal government will be sustained or funded.
•We believe also  that all the regions should be fully independent in creating sub-units like states and local governments for the convenient administration of their areas.
•We believe that the above items are the underpinnings of any true fiscal federalism worldwide; hence need to be inculcated in our own polity too. This will undoubtedly, place our country on a path of unity, peace, progress, development, prosperity and security as this is the best approach to even deliver on Vision 2020-20.
For true fiscal federalism to thrive, it is our considered view that there should be alteration, deletion, substitution and/or outright inclusion of new section(s) as the case may be, of these sections of the 1999 Constitution.
We advise that National Conference should not end up like previous ones that were merely cosmetic but yield for the country critical, strategic, enduring and irreversible true fiscal federalism and 100 percent resource control.
Moderator: Barr. Onokpasa, what is your view on the Northern proposition that the derivation should be reduced to five percent.The issues about the Nigerian state is very very clear. What will be the fate of the country if this goes through?
Barr. Onokpasa: Well, in the first place, let us start from our own level at Niger Delta. Let us still go back to that obnoxious Supreme Court ruling in the AGF vs Attorney General of Abia State. It was a case that centred on onshore/offshore dichotomy. The late FRA William (SAN), gave the Supreme Court a very interesting argument.
According to him, a country's territory ends at the low water mark, which is the function of the tides. With due respect to the Supreme Court, it ruled that federating units in the littoral region are not entitled to derivation from sources off-shore
I think the president of Ijaw National Congress has said something along that line. The argument is this. If for the fact that you don't have a littoral state, you would not be entitled to derivation from oil revenues, is it equitable to denying those littoral states additional benefits of those resources which you would not get if they were not littoral states?
If you say that under international law, it is only the sovereign that is entitled to administer the territorial waters and the resources derivable there from, well I would say, what are the territorial waters that is being administered by the sovereign by Niger, Chad and Mali which are landlocked countries?
The entire reduction argument at the National Conference is for me, an unfortunate and intolerable insult. At the sane conference, the distinguished Lamido of Adamawa claimed that the bulk of his kingdom is in Cameroon. One may ask, what is Lamido still doing in Nigeria.
The answer is clear? He is waiting for more oil money. Nigeria is based on sharing of oil money; there is no other basis for the unity of Nigeria. If the oil dries up in the Niger Delta today, it is this very people that are insulting us that would first call for the dismemberment of Nigeria.
So, we have a situation where an unproductive part of the country insists on dictating to the productive part of what to do with the commonwealth. I once heard an infantile argument from certain quarters up North, one that was absolutely pedestrian to the extreme. The argument is that the Niger Delta was from the debris washed down to the creeks and Delta region by the River Niger.
In actual fact, the oil deposits are from decayed organic matter. In fact, most of the places where you find out today, millions of years back, they were under the sea.
Oil cannot flow down a Onokpasa: river. If it does, that would be oil pollution. It is not oil resources. Then you have a situation where the person who said this happens to be a professor, then, you begin to wonder what sort of intellectuals we have up North.
There is another myth which says that oil fields in the Niger Delta were developed with revenue that came from government funds especially when agriculture was the main contributor to the economy. I have researched the topic and I can state categorically that there has never been a time when the Niger Delta was a liability. The Niger Delta is what is called the oil Delta province in history.
It has always been a productive region. If you were to take the six geo-political zones of Nigeria today, I can say it authoritatively that the South South has always been productive far ahead of other regions in the country.
While they were producing the so-called groundnut and cotton, we were producing rubber, palm oil and timber.
In fact, Sapele was the timber capital of Africa. We have always been productive people. The oil fields of Niger Delta were never developed with the funds from and by the Nigerian state. They were  developed by way of Foreign Direct Investment from major oil companies – Royal Dutch Shed, British Petroleum, Chevron and Texaco. The federal government only began to buy shares in the IOCs by way of nationalisation. The money that was used to set up NNPC came from royalties from our oil money. Nobody has done us any favour in this country; we have paid our dues.
Productive region
The North, which pretends that it is a very productive region, has been a bad investment of the British empire. I can prove it any time, any day. Having created the protectorate of Northern and Southern Nigeria, the British administration under Lord Luggard discovered that the North was an unproductive region and it was always having budget deficit, at the same time, the Southern protectorate was always having surplus.
So, he advised the Home Office in London that the solution to the problem is either to give up the Northern protectorate to the French to annex it to Niger republic or they should amalgamate the Northern protectorate with the Southern protectorate and use the budget surplus of the Southern protectorate to off set the deficit in the Northern protectorate.
The North has always been a liability in the history of Nigeria. It is remarkably an unproductive region. The real tragedy is the fact that the North could have been productive but its leaders have decided to indulge in willful indolence.
They have deliberately refused to be productive. The North is blessed with abundant natural resources, arable land and indeed, human resources but for some mysterious reasons, its leaders have refused to harness these all these years. They prefer to come down South and pounce on our oil and dictate to us how our patrimony should be shared.
There is a reason God apportions resources differently from place to place. Where you have the resources, you use it, where you don't have it, you look for an alternative. How much oil does Japan or Germany produce?
Does Switzerland produce oil? These are some of the richest countries in the whole world.
A section of our Northern leaders suffer from what I would call parasitism complex. I heard them calling for amnesty for Boko Haram. They want the federal governmentto reward criminals and murderers. Let me say it here, the Niger Delta militants wanted to bid farewell to arms, and they did, because they saw reasons to negotiate. They were not murdering people who did not share their belief, their demands were not motivated by their faith.
The amnesty programme did not start with Jonathan, so it is not because a Niger Delta man is in power that  the militants decided to lay down their arms.  No, they did it while Yar'Adua was still alive and the president. There were expectations. It was a deal. We said we would lay down our arms, the production of oil would continue but these are the things we expect. The question we nowwant to ask is whether the reduction of the 13 percent on derivation the reward for laying down our arms and keying into the amnesty programme?
Any attempt to reduce derivation is a recipe for disaster. It is an invitation to civil war. In fact, it will guarantee the dismemberment of Nigeria more than any other thing I can imagine.
Moderator: The confrontation between Northern delegates and Madam Ankio Briggs centered on resource control. The Northerners are arguing that the hydrocarbon deposits in the Niger Delta was washed down all the way from Futa Jallon to the creeks, so the South South people should not see it as their own. Is Nigeria all about sharing oil revenue? Does this country really have a focus of what its life could be beyond bickering about oil revenue?
Agbeyegbe: Mr. Moderator, I want to make a statement that may surprise all of you. I am very much in love with the Northerners because of the way they project and protect their interest. They project that interest regardless of what you think, they keep pushing. We in the South do not do the same thing. Why are we so lukewarm about projecting and protecting our interest?
The North does not mind sounding ridiculous in most of these things that they say. You may just laugh at them, but they haven't stopped over the years and to the extent that they now make them issues and you feel compelled to respond to them. They are dissipating your energy; they are trivialising the issues.
The National Conference going on today is a mockery of Jonathan. It is a mockery of those of us who thought that if we could cause the coming together of ethnic nationalities to talk about our problems, we might make some progress. What progress do we want to make? We want to take off all those shackles of British colonialism or the 1979 constitution. The question is, what are we doing to achieve that objective?
Today, we have the president of the senate who is a Northerner, at least, not so properly called. We have a Yoruba leader of the opposition in the person of Asiwaju of Yorubaland; we have the Guardian Newspaper, we have Vanguard, we have Thisday, these are powerful instruments of non- northerner. What use have we made of them? We expend our time on documentations and proving the Northerners wrong because it is all deliberate. I want us to stop relating to these issues as we are presently doing.
Look at this Nigerian map. Aren't we lucky that they have taken the whole country as the north? They don't care whether you think they are being ridiculous in their claims. As far as they are concerned, they are achieving something out of it.
In a situation where our son is the president of the country, when they were constituting the secretariat, they made sure that they went back to the tripod to answer your question. They think that Nigeria is about sharing resources and revenue. When the British put together what it call Nigeria, it did not have the minorities in mind.
It created a tripod. So, when we started Nigeria, we have Northern Nigeria, Western Nigeria and Eastern Nigeria, but there was no Southern Nigeria. There was no room for the minorities. They were either part of the Igbos or part of Yorubas or  part of the Fulanis and Hausas in the north. Nigeria is about sharing revenue. All these arguments are for the purposes of sharing oil revenue.
The only people brave enough are the Yoruba people.  Before this National Conference, the Yorubas had a meeting in Ibadan which I attended. What did they telll their delegates? They said"never mind that the modalities for representation has been so bastardised, never mind whether you are a bricklayer, a carpenter, etc, as long as you are Yoruba man and you go there to advocate anything that is against the Yoruba interest, you should not come back because you will have no house and no family to return to".
How many of us have said that from where we came from? They have called for regionalism. They have also said that there are basic minimum conditions beyond which they would not go ahead or accept the status quo. They have asked for a parliamentary system of government and  fiscal federalism. Fiscal federalism has its meaning, once you accept that principle, you don't start talking about resource control.
Because what is in your area belongs to you and above all federations are creations of the federating units where they have their own individual constitutions. For me, this  conference will be a huge failure if it ends without creating a country based on federating unit of people who have agreed to live together on their own accord, not forced by somebody sitting in Sokoto or Aso Rock or in the desert, and directing my affairs in the swampy lands, the creeks and river and swamp that God has put me.
I don't want us to dissipate our energies any more. We want all our people in government at that conference to use what they have to push our interest forward or let us resign to the slavery that the 1999 constitution has put us into. This conference is not for us, it is a talk show and we are misled that our son is the president.
2015 and Politics of terror tactics
Moderator: How would you see what is playing out as an essential part of 2015 politics, especially the brand of politics that is taking shape in the South West where there is an alliance with the North East to dethrone President Jonathan at all cost?
Onokpasa: What is happening is all about 2015. The North wants to stop Jonathan even before the election because they know that he will win again. What is wrong with a man from Niger Delta being a president for a second term? When the election comes, they know that he would win in the South South, South East, Middle Belt and even South West. He will equally get some votes  in the North East.
Unfortunately for our dear brother Bola Tinubu, who apparently believes he has pocketed the entire Yoruba nation and he will be the one dictating to them to vote against GEJ, the Yorubas are noble and ancient race and I believe they would soon see through Asiwaju's brand of commercialised approach to politics, and then they would close ranks with their Niger Delta cousins once more and vote Jonathan confidently. If Jonathan was from the North East or may be Fulani man would he be receiving all these flanks.
What is wrong with being an Ijaw? As long as we are equal partners in the Nigerian project, we demand to be treated with respect and given our due rights and privileges. That is why we are insisting on President Jonathan for 2015. It is obvious that the era of being "born to rule is over".
The dynamics that are currently playing out are no longer conducive for one tribe to lord it over other Nigerians. There is no longer a monolithic North. There are people in the Middle Belt who know that they have a distinct features as minorities and they no longer wish to be under the control of Hausa Fulani. It is quite clear that even electorally, it is very difficult for the North to claim that it has a monolithic North..
When President Goodluck Jonathan was running for the presidency in 2011, he won in the four geopolitical zones and his major challenger won in two..  President Jonathan has been unfair to the Niger Delta. We want Jonathan back just to prove that a man from Southern minority can aspire to the highest office in the land and will not be hounded out from his position by those who believe that they are born to rule Nigeria. We are free born of Nigeria and there are no second class citizens in Nigeria. We want to prove that if Jonathan can do it successfully, then all of us can have hope tomorrow that Nigeria belongs to all of us.
Agbeyegbe: Without these building blocks there  will be no Nigeria.
What are the things that defines his presidency. He seems to reject sound counsel that are offered gratia, and he accepts those self destructive ideas that come from the quarters that want him to fail. We have not seen in him the traits of a leader who has the benefit of highest level of academic attainment or the fire of a South South man in the presidency. We are seeing a president that waits to be humiliated out of power, without a fight. Where is his balls?
Ambaiowei: He wants to be more Nigerian than Nigerians, more democratic than democrat… (interjection)
Agbeyegbe You cannot be more catholic than the Pope.
Moderator: We have heard campaign from foreign nations that the North needs a Marshal plan to redress the poverty and inequality in the region.
Barrister Onokpasa: As far as I am concerned, the entire nauseating talk about reducing 13 percent to five percent is deliberately targeted at undermining Jonathan's presidency and humiliating all ethnic minorities as well as the entire South. The parasitic contingent from the core North has realised that we will not yield on our insistence on an increase in derivation and to checkmate equity, they are prepared to dance naked in the market square all in a bid to prevent the inevitable.
One misguided American on CNN was ridiculously canvassing a Marshall Plan for the North. We have been canvassing a Marshall Plan for the Niger Delta which supplies oil to America since the days of Isaac Boro and more recently during the Ogoni crisis that led to the judicial murder of Ken Saro-Wiwa.
Who is going to pay for the Marshall Plan for the North? Is it our oil money that will be used to develop a region whose leaders frittered away all their years in power, preferring to feather their private nests while the entire North which they pretended to be representing remained a complete backwater and the basket case of Nigeria?
There will be no Marshall Plan for the North unless a Marshall Plan is first delivered in the Niger Delta.The North as we all know is potentially richer than the South in terms of both human and natural resources. If their leaders have been too creative to develop them, that's their problem and it is not for the Niger Delta or the entire South to take Panadol over their headache. We have already tried more than enough for the North.
We have been babysitting the North with our oil money since Independence. We are now tired of being bled dry by a region of failed leaders who by their ineptitude, let their own people down and are now hungry for more of our oil money to ferry to Dubai and Switzerland. These people have been apportioning oil wells and stealing the  money with impunity for ages and are now desperate to return for more looting. It will not happen, come 2015.
We insist on true and fiscal federalism, with derivation as the fulcrum of genuine federalism. We will accept nothing less than 25 percent, increasable every year by five percent  till we arrive at 50 percent. If they do not give us our 25 percent, nobody will get anything – not even a dime of our oil money. Go and develop your own solid resources.
We are no longer interested in feeding those who will return the favour with ingratitude, arrogance and greed for more oil money that does not belong to them. To the extent that they had to resort to acts of terrorism because a man from the oil bearing region is in power. They swore to make the country ungovernable for him.
If there is no fiscal federalism, there will be no lifting of oil from our shores. We may be peaceful today but we are ready for anything tomorrow. If the present crisis in the North is not enough for them, no problem – let them be our guests. We have done it before and we can do it again. Let no one delude himself that it will be limited to Ijaw areas. Jonathan is our collective property now and we are all oil-rich.
We are all in this together and henceforth, we shall all stand united together. No longer will one part of the country be enslaved to the other part. We have all been blessed by Almighty God and it is an insult to Him if we refuse to avail ourselves of his blessings. Let everyone therefore look inwards and eschew any parasitic approach to nation building or peaceful co-existence. There must be justice for peace to reign.
We insist on our own Marshall Plan. The North is not by any means the only neglected part of Nigeria. If it was neglected, then it was only neglected by its own leaders who paid lip service to the welfare of their own people while they were desperately perpetuating themselves in power for the rabid and unbridled embezzlement of our oil money.
There are numerous parts of the South-East, South-West and Middle-Belt that remain catastrophically underdeveloped and criminally neglected. As for the Niger Delta, it is a testament to heinous neglect and a monument to deliberate underdevelopment. Nobody is having it easy in Nigeria and the core North should stop disturbing us with their self-inflicted calamity. We are all in the same boat and the rest of us have an even better case than the crocodile tears they are presently shedding.
This is one of the reasons the Niger Delta Patriotic Initiative, in concert with other genuine grassroots movements, is insisting on an authentic Marshall Plan for comprehensive development of our region. We will be jump starting the process with a Funding Summit for the entire Niger Deltan Region. We will no longer tolerate an underfunded NDDC or Ministry of Niger Delta Affairs.
We believe these interventionist agencies are being deliberately starved of funds by a cabalistic anti-South lobby in the corridors of power and their call for reduction in derivation only amounts to adding insult to injury. Our governors cannot be said to have failed us at all. 13 percent is peanuts compared to the gargantuan amount of work needed to develop the Niger Delta.
In spite of these constraints, we can boast of some of the best performing governors in Nigeria. You cannot draw up a list of the top ten performing governors in Nigeria without Uduaghan, Akpabio, Dickson, Imoke, Oshiomole and Amaechi making that list. If our governors fail to perform, it is our headache and we will take them to task.
The Niger Delta will no longer settle for second class status nor will it play second fiddle to those who delude themselves that they are born to rule.
All minorities, both North and South, will no longer be taken for a ride or used and dumped like waste products. The entire South and the North Central will close ranks as before and chart a new course for our destiny. Those who choose to remain behind may feel free to do so. We are not ready to be the willing tool of the North and we remain opposed to their tactics to keep us disunited and unable to manage our own affairs.
We are resolute in our opposition to the declaration of Sir Ahmdu Bello that the new nation called Nigeria shall be the estate of the North. This statement was ignored in the 1960s to allow peace to reign but it is clear now that the North is on the path of war with the other parts of the country.
We insist that derivation must be increased and extended to every single resource. If import or export duty is collected in the South-West, then Yorubas should benefit from it. If VAT is collected in the South-East then Igbos should benefit from it. The North cannot insist on Sharia and be using the VAT from sale and consumption of alcohol for its development. This is hypocrisy.
Let the rabble rousing leadership of the North develop their vast natural resources and collect derivation from there. All we are saying is stop being greedy; stop trying to reap where you did not sow. And for God's sake, for crying out loud, the leaders of the North should grow up.
The much they can do for their people is to send them to Sudan, Libya, Pakistan, Somalia, Afghanistan and all those backward places to learn how to make bombs. Who told them that the South East has forgotten how to produce Ojukwu bucket or the mass killing Ogbunigwe. We in the Niger Delta are ever ready to resume our struggle.
Ambaiowei (interjection) I want to make this observation concerning the law and legislation in social affairs and what Uncle Fred Agbeyegbe and Onokpasa pointedly posed to us. What are our choices? Do we just keep lamenting and do nothing about it? To start with, it is the Rev. Marthin Luther King Jnr. whose work over the years created the opportunity for Barack Obama to become president in the United States of America that once said that: "an oppressed people would not remain oppressed forever".
When Isaac Boro did what he did, it is because we as oppressed people, did not want to be oppressed forever. Before the militancy in Niger Delta, there was Kaima declaration. The militancy brought down crude oil production to 700,000 bpd, Ken Saro Wiwa was put to death, but since then, no single oil has been extracted from Ogoni land. That is the next direction of the battle in lower Niger region.
Nigeria at this point in time is a cliff hanger. We are on the precipice, something must give way to avert the impending danger. Before coming to this Conference Hall, I held a meeting with some Ijaw delegates to the National Conference at Chief EK Clark's house in Abuja and the acting President of Ijaw National Congress raised the issues of what is their position at the National Confab.
To my amazement, they told me that they are there to defend a pan Nigerian agenda. We are first who we are by the various ethnic nationalities that we come from. It is either you are Ogoni, Ikwerre, Kalabari, Efik, Yoruba, Nupe, Gwari, Urhobo, Ibibio, Bini, Ukwani, Isoko, Aniocha, Itsekiri, Fulani or Hausa.