BY SIMON EBEGBULEM
BENIN—GOVERNOR Adams Oshiomhole of Edo State, yesterday, said he will not be distracted in the task of bringing development to every part of the state by what he described as the impunity and disregard for the rule of law by some lawmakers in the state House of Assembly .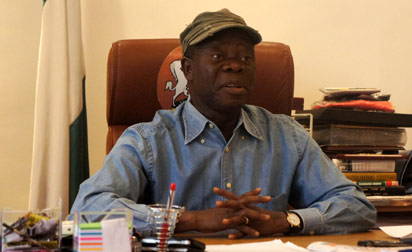 Speaking while inspecting the storm water masterplan project in Benin City, the governor, said: "Between now and December, we will lay asphalt on this Upper Siluko Road, it will be six lanes and between then and the middle of next year, we will put street lights on the road.
"Let me assure you, all those people who are fighting in the House of Assembly, trying to cause trouble, who want us to bring government money for them to share, we will not give them public money. We will use Edo money for Edo people. And with your prayers, we are not afraid. We know that for as long as we work for Edo people, the devil is a liar."
Some of the residents of the Upper Siluko Road area, who responded hailed the governor for the massive drainage system and road network in the area, adding that they were firmly behind him as they see the good works his administration is doing.
A resident, Mrs. Nonye Umezurike, said: "A saviour has come to us and we are very happy. For many years, those of us doing petty business here were finding it difficult to earn our daily bread, but God has come to our aid by bringing Governor Oshiomhole. He has answered our prayers. For years, there was no road for us to get home, we were trekking and swimming through flood, but today, even when it rains, we move on solid ground. I know that after his tenure, his successor will also work for the people because Oshiomhole has set the precedence."
For Mr. Augustine Ajayi-Obanor, flood had ravaged the Upper Siluko Road area for over 40 years before the intervention of the Governor Oshiomhole administration.