Dr Bukola Saraki, two- time governor of Kwara State, was elected senator for Kwara Central to succeed his sister, Gbemisola Saraki-Fowora. He was also a member of the People's Democratic Party (PDP) until he defected to the All Progressives Congress (APC).
In this interview, he speaks on insecurity in Nigeria, what needs to be done to arrest the Boko Haram militancy and maintains that the President Goodluck Jonathan-led government has not done enough in tackling the situation.
He says the APC is the party to beat come 2015 general elections. Excerpts:
BY GBENGA OKE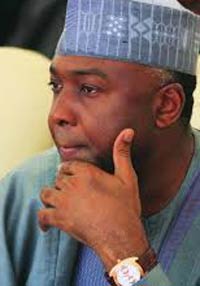 There was a report credited to you that guns and bombs will not help in the fight
against insecurity in Nigeria. In the present situation the country has found itself, what do you think needs to be done?
In the article I wrote, the point I was making is that guns and bombs alone cannot solve the problem of Boko Haram and insurgency in Nigeria. I said there are two major critical factors which are leadership and political cooperation.
On the political cooperation leg, I demanded that all stakeholders, whether you are a governor or a senator, the President, should come together leaving behind whatever our political views are and consider this war as not against the current government but as a war that is being fought against Nigeria as a country and that Nigeria is for all of us whether you are in government or you are in the opposition.
There must be an environment that is created that allows everybody believe that he has some role. The second part is leadership which falls squarely on the doorstep of Mr. President to provide. When you bring the two features together, you will realize that this war is not limited to an attack on President Jonathan's government alone; I think it is a responsibility for all of us.
That is very important because it determines the approach of government and it also determines the support by the opposition. I think one of the problems we have with the issue of Boko Haram is that government said some people who don't want it to succeed are behind it.
The issue is that the insecurity affects the whole country.  So, I think political will and leadership will help address some of these issues. It is not just going to there to throw bombs, the issue of poverty must be addressed and there must be commitment.
Some of the stories you hear are just crazy. You hear soldiers talking about allowances not being paid on time; that does not help the fight against insurgency. There must be the right approach to address the problem.
The fear I have is the continued loss of lives but I don't believe the problem is not in-surmountable. So I do not have the fear that we cannot bring an end to this insurgency. I am very confident that if we are determined, focused and sincere, we can bring this to an end.
The National Assembly just approved an extension of the state of emergency in the three states of North-east worst hit by insurgency. Many have maintained that the emergency in place in those states never achieved any desired result and there might be no need for extension. Do you think the extension will play a major role in curtailing the Boko Haram activities in those states?
From the way I see it, I don't think it has worked but, at the same time, those who come from that part of the country say it is necessary and the military say they want it; we should not give the military any excuse not to perform. I don't think state of emergency is our number one priority.
I think funding, right morale of the officers, political cooperation, those things rank up there before the state of emergency.We have a situation whereby soldiers are complaining that they are not getting paid, nobody will believe this because of the kind of resources we have in this country.
But with the National Assembly passing a resolution saying government should come with a supplementary budget so that enough funding can be approved and with the assistance we are getting from the international community, definitely we have stepped up. These new measures and actions will make a difference not just because we just renewed the state of emergency.
I think the next three months are crucial for government because too many lives have been lost and too much time has been wasted.
The international community and many Nigerians have condemned President Jonathan for taking action too late on the abduction of the Chibok girls. Do you agree the President acted late?
When you have a President, he must be ready to take the good and the bad. The responsibilities are many especially in the area of security. You can see what happened in South Korea, an issue which the Prime Minister has nothing to do with; it was a private company affair, he pleaded with the people. So these are the responsibilities you take as the number one citizen of a country.
That is why I said leadership is key. And on an issue like this, because of the federalism we operate, the governors of those states must also play their own role to support. In the case of Chibok, people are asking why it took Federal Government a long time to respond; it took government that long because it was in denial, some people were spinning it was the opposition's joker.
So time was lost and we were not effective as we should have been. That is why those comments were coming from leaders around the world because they didn't see the zeal; they didn't see the passion and then you hear a country that has the GDP of almost $500billion saying its military cannot be paid, their allowances are not paid as and when due, they are not as armed as the terrorists.
You expect that from a poor country, not a country like Nigeria with N4 trillion budget. It would have been a different story assuming we have all the equipment, the military's morale is high, but to say Boko Haram is better equipped than our military does not speak well for government.
Many people have argued that there is nothing different between the People's Democratic Party (PDP) and the All Progressive Congress (APC). Their reason is that many people who regard themselves as democrats in the APC defected from the PDP claiming no internal democracy, but with the result of the APC congresses, many have accused the APC of doing same. How do you react?
There is a level of democracy in APC. There will be different areas where people have lost out and are complaining that they are not satisfied with the process.  When you say there is no difference between the APC and the PDP, I think the differences are enormous.
First of all, if we look at governance, the level of performance by the PDP as regards the need of the people, I think the PDP under this administration has not done well at all.   APC is more accountable to the people and trying to make sure that all promises made to the people are fulfilled.
If you look at the APC states, you can see infrastructural development, good governance. Also, if you look at party congresses now, they are pretty much like party primaries, so you expect this kind of thing and I think some of the issues have been brought to the table to be resolved.
You do not find where the party leadership determined the results, what we have seen is some fraction happening at the local level. What we used to see in the PDP in some cases is the national headquarters driving the processes and not allowing the states to do what they want. What we have in APC is that within a state, there might be two or three groups competing for leadership and that is healthy in any democracy.
The APC is waxing stronger and has always played its role as the main opposition in Nigeria. However, many Nigerians still doubt the ability and sincerity of the party especially as we move closer to the 2015 elections. What do you think will make your party different?
For any Nigerian today, the choice is very simple. If you believe the country is going in the right direction, you believe that the country is addressing the issue of insecurity, you believe the country is addressing the issue of job creation for youths, you believe the level of corruption that is being addressed is satisfactory, then you have no business with APC.
Your choice is simple; continue to vote for the PDP. But if you truly believe that Nigeria can be better off, you believe the government is not addressing corruption, you believe that this level of insecurity we have seen in unacceptable, you believe our youths can be better off, you believe there can be a better Nigeria and there is need for us to change, then your choice will be APC.
I think each individual in Nigeria must be able to assess what is happening in the country. You have to first ask yourself whether the PDP government has failed; if your answer is yes, your fear or apprehension that when APC gets there, will they do better?, that should not be a reason for you not to vote out a non-performing government.
If a government has not performed, you vote that government out of power.But you will agree with me that the so-called democrats in APC today all moved from the PDP and that is still a dent on APC……..
I can tell you that there will be difference in the two parties. I left the PDP, but if you look at my antecedents either as governor or senator, you can see what I stand for. I left the PDP because I was tired of saying this is wrong, but we could not bring about the desired change and many of us who found ourselves in APC have common values on some of these issues.
To leave a ruling party is not an easy decision. It is easier for you to stay in that comfort zone, but if you sit down and ask yourself questions, the issue of security, are we addressing it? Forget the politics, oh they don't like, it is one part of the country that does not like my government, forget whether they like your government or not, the question is, are you addressing the issues or not?
Corruption, is it being addressed?   Unemployment is there. People like us have stood on some of these issues. I was in the Senate in May 2011 and by September 2011,  I was shouting that fuel subsidy management consuming close to N1trillion was wrong. I was in the PDP then; we were doing all these things because we could see the implication.
If you are losing about N1trillion to subsidy, what is your budget? So we found ourselves coming together under a party based on our views and antecedents. So, what people should be looking at is the character of some of us who are driving the issue of change, it is not based on personal interest; it is based on the need that we see dangers in the way we are going as a country and that is what the world is telling us today. We have said this a long time ago and we have been vindicated.
These are people who have risked everything; fighting in a third world country, standing up against government is not easy; you are harassed, blackmailed, intimidated. After going through all that, you think we will not bring about change? That level of commitment will definitely bring about a better Nigeria.
Nigerians find it difficult to trust politicians characterized in the same manner whether APC or PDP.   How will APC convince Nigerians that the party stands for true change just as you have said?
It is by our actions, our policies, the character of the people speaking. Somebody who has been speaking in the opposition, who has been fighting corruption in the key sectors, he has shown consistency that these are his views. He is saying the status quo should not remain. APC can't be worse than what we are going through right now, we have brought government to all time low.
We have had several governments in this country, but we have never had a time where the international community was describing our government as this. Go bring the records out from the days of President Obasanjo and see whether we had this kind of perception.
It cannot be any worse than this. So, in trying to use the excuse that we do not know whether the APC can be any better is a very negative approach. We need to have a more positive approach; we need to ask ourselves whether this system is working.
You cannot deny the fact that you are a force to reckon with in the politics of Kwara today…..
I think what we are trying to do as much as possible is to again improve the lives of our people, be there for them in terms of economic development. As a leader, you must be able to be there for the people you claim to be serving and one must know every point in time that you are holding a position to serve the people. You must make yourself accessible and accountable to the people who are voting for you.
And that is what we are doing and that is part of being a consummate politician all the time. I regard some politicians as seasonal politicians, you only see them when it's like six months to the election, they are not there to understand the needs of the people; they are not there for the people when they should be.
I think a lot of people in Kwara have seen through that, they appreciate the bond of those leaders and politicians that are with them. We relate with them at all time.
What is your relationship with the incumbent governor of Kwara state,  Abdulfatah Ahmed?
We have a good relationship.
But there are reports that there was a kind of pact between you and the governor that he will run only a term and that is causing some rift between …….
(Cuts in) I think all those stories are just what you people in the media houses are using to sell your newspapers. You wake up and not based on anything on ground, you just write all those stories.
I can tell you and the people back home can tell you that I and Governor Ahmed have a good relationship and we are working well. The issue before us is to ensure that the party meets its promises to the people in the state. Our relationship is very cordial.
But it is being claimed you don't like his leadership style. Will you say you are satisfied with the level of governance he has provided for the state?
The government is doing well. The government just created about 26, 000 new jobs. He promised it last December and delivered it now, he has done very well putting in mind that unemployment is a major issue all over the world and in Kwara as well. He has also done a lot in education, healthcare and other sectors.
One is not surprised because he has the capacity to do it. So he is doing well.
You are a former governor and now a member of the National Assembly. Several people have argued that it is not normal after serving eight years as governor, then you moved over to the National Assembly.
I don't see any big issue in that. I find it interesting. At the end of the day, somebody can decide to serve his people in any position and I think it depends on the electorate whether such person will win or lose election.
I mean people are not appointed into such positions or force themselves there, there are processes and I think if people still want to be in public service, why does it matter whether they are former governors or not?
I think they even add more value to the system. So I don't get what the message out there is. Is it that they should not go to the Senate, or they are not up to standard, or they cannot contribute well on the floor of the Senate?
It's still boils down to the fact that Nigerians are dissatisfied with the fact that after ruling a state for eight years,   you move over to the National Assembly because you want to remain relevant…..
The question is when that man was a governor, did he perform? And if he performed, did he win the election? If he won the election, then where is the problem? I think we must begin to believe in our system and, as such, at the end of the day, the National Assembly members are representing the people and if the people say this is the person they want, why do me and you begin to question that? There was a former governor that contested the election, he lost.
So it's not automatic. So, it is not just because they are former governors alone, it is because they must have performed in the manner that justified the confidence of their people. If they have not performed, they will lose election. I think people should lay emphasis on what they have done as state governors.
On the National Conference
From day one, it was clear that it was going to be a jamboree. Where is it going? What constitutional power is being done on the assumption that the National Assembly may allow the possibility of considering the reports? I think those should have been done before the conference.
I don't see much coming out of it; yes, we will have different recommendations but having recommendations is not the issue. The question is, how do you bring those recommendations to be implemented? At the moment, there is no tool or law to facilitate that. If the National Conference ends tomorrow, what next?
It is good to talk for talking sake but now we have gone beyond talking sake, we have to start looking at making things happen and the necessary environment and necessary laws that should have been in place are not in place, so I really don't see much coming out of it.
Subscribe for latest Videos