BY ONOCHIE ANIBEZE in Brazil
Emmanuel Emenike powered past a Bosnian defender to provide the assist that Osaze Odemwingie clinically finished to give Nigeria a 1-0 victory that has now placed the Super Eagles on a good stead to qualify for the second round of the ongoing World Cup in Brazil.
The Eagles play Argentina today in Porto Alegro and a draw sees them through. If they lose and Iran beat Bosnia with a wide margin Eagles could be going home.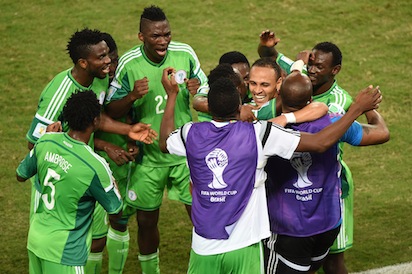 Stephen Keshi, Nigeria's coach does not see that happening if the players play for one another.
Before that Emenike's pass, he had done everything to score, sometimes being selfish with the ball. There were times he attempted to score when his team mates were better positioned. He looked away and carried on. Even after the goal , Emenike did a lot to score a World Cup goal, sometimes shooting when another player was in a better position to do that.
Ogenyi Onaze did the same thing a couple of times.
Keshi says nothing is wrong with a struggle to score but he is telling the players that the most important thing is team victory and not who scores.
"We have worked on that and I have told them not to be selfish. Sometimes players show excessive hunger in the field. It is good but team victory is absolutely important," Keshi said yesterday as he prepared the boys for the big clash with Argentina.
Eagles can be assured one thing today. Brazilians will support them massively. The rivalry between Argentina and Brazil in football is bitter. The fans here will be cheering Nigeria and Keshi hopes that a good team play will give Nigeria a good result to move on to the next stage. Eagles will still qualify if they lose and Bosnia beat Iran or draw with them. Keshi is positive and not thinking of a defeat.