By Denrele Animasaun
"The bread which you hold back belongs to the hungry; the coat, which you guard in your locked storage-chests, belongs to the naked; the footwear mouldering in your closet belongs to those without shoes. The silver that you keep hidden in a safe place belongs to the one in need. Thus, however many are those whom you could have provided for, so many are those whom you wrong." –– Basil the Great
Long may the Eagles soar?
May I extend my absolute delight that the Nigerian team made it to the knock out stage? It was a joyous occasion especially when we all were rooting for One Nigeria team.
How much is our vote worth?
The Ekiti people have spoken and they have voted for Ayodele Fayose for governor of the state. It does leave a bitter taste (pardon the pun), when one knows that both main candidates did give raw and cooked rice to the people in the state prior to the election. Long after the rice have finished would it be worth their votes, I wonder. Call me a cynic, but this is not a proper way to conduct a free and fair election, it taints the result, which by the way, was largely a safe and trouble free by Nigerian standards.
If this stunt becomes the trend next year, then Nigerian voters are being taken for a ride and politicians are insulting the populace by indicating that everyone can be bought. I hear that one politician said that if you are given gifts by the political parties, by all means take it but vote for who you really want. Such sound advice. The state was battle-ready with over 30,790 policemen, soldiers and members of the Nigerian Security and Civil Defence Corps in attendance. It is interesting to know who picks the tab and whose instructions these armed personnel were following. How I wish they could deploy such numbers to Chibok and its environs.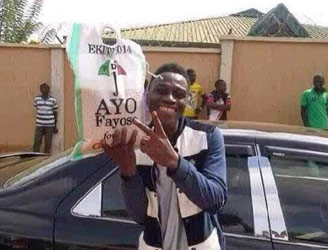 The outgoing  governor has being  magnanimous in accepting the result and wishing the governor-elect his best wishes. Governor Fayemi in a broadcast in Ado -Ekiti, said he has no option than to accept the result of the election and congratulate Fayose "if indeed the outcome of the election is the will of the Ekiti people".
This is very reassuring and only wish this was the attitude many will take in the face of political defeat.   Being in politics is not  a do-or-die and our  politicians should  know that  the gravy  train cannot go  on forever. In most countries, you go into politics to help shape the lives of the people for the better and to represent the people you serve. At the end of the day, if the lives of the people that voted for the individual does not change for the better, then the voters are equally to blame for the way they voted. We have to consider also that people with criminal records or a dubious past should not shoe in and or hold public office, that like getting the cat to watch the meat!
"An empty stomach is not a good political adviser." — Albert Einstein
Remember Chibok Girls
"If we have no peace, it is because we have forgotten that we belong to each other." — Mother Teresa
The young girls have been missing for over 70 days and still more abductions, killings and bombings continue in and around the same area. The government spokesmen have been telling the people that they should go about their daily lives and they (the government and security agency) are actively waging war on BH. They say this from the safety of their fortified garrisons.
I do not think people can rely on the thinly veiled reassurances, not when people have become sitting ducks and their lives decimated and traumatised by tragedy and wanton brutality.  Nigeria, where is the compassion?
This week alone, Abuja was rocked by explosions with several fatalities and causalities. Over 60 women were hijacked and forcefully taken away by the terrorists, among those abducted are children between the ages of three and 12.
The Damboa local government officials said they were afraid to speak out because of the controversy surrounding the Chibok abductions, with Nigeria's government coming under heavy criticism for its slow response.
The newly appointed religious leader, the Emir of Kano, former Central Bank Governor, Sanusi Lamido Sanusi, said the attack had "traumatised every one of us" while visiting the wounded in hospital. Yes, those who know feel it but who do they turn to their grief and anguish to? The government do not think it is their bag.
In April, Abuja bombings killed 120 people. In May, twin car bombs in the central city of Jos left more than 130 people dead, and a car bomb at a bus station killed 24 people in the Christian quarter of Kano, a Muslim city.
This Monday, bomb exploded at a medical college in Kano killed at eight people. Last week, at least 14 died in a bomb blast at a World Cup viewing site in Damaturu, a state capital in the north-east
An explosion shook Apapa in Lagos last Wednesday. The twin blast which affected four buildings, including two banks has reportedly claimed five lives. Bomb experts and security operatives have yet to prove that indeed a bomb was detonated.
The Public Relations Officer, National Emergency Management Agency (NEMA), Mr. Ibrahim Farinloye, said the explosion was caused by gas cylinders. And that people should not be unduly concerned. No people are convinced, they are on hyper vigilance mode and this has a physical and mental health consequence on the lives of our people. We will continue to pray for the return of the girls and when they do, in whatever state they are in. They and their family will need a lot of support and intervention. For the politicians, you cannot throw money on this problem. We need security, better lives for our young and good standard of living. Piece meal and empty pronouncement just won't cut it.
Dear Madam,
RE: NO IFS, NO BUTS ONLY MERIT WILL DO
Your article in the Sunday Vanguard of yesterday (June 22, 2014) was a breath of fresh air. Indeed, you hit the nail on its head; you identified the hydra-headed monster that has and still is preventing us as a nation from meaningful progress. The issue at stake here is at the core of ALL our problems in Nigeria.
We threw merit away long, long ago and we have nothing but retrogression to show for it. It can be said that not doing things on the basis of merit is the very foundation of corruption. Nobody makes the right democratic choice by looking at issues through the coloured spectacles of ethnic and religious bias. We would have a truly great nation built on strong democratic values only when we stop allowing ethnic, religious or other prejudices from determining who leads us.