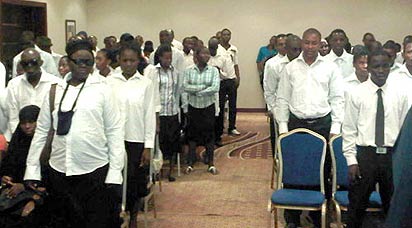 *Physically challenged persons … seek more recognition
By DAYO ADESULU
DIRECTOR, Helping Hands Special School, Miss Chinenye Okoye has stated that 12 million Nigerians are living with learning disability adding that out of that number, six million are children.
She noted that the learning disability ranges from poor mental math ability, inconsistencies in basic computation of addition, multiplication, division and subtraction. Others, according to Okoye, include; difficulty with understanding money and credit concepts, failure to understand how small steps add up and near-total unawareness of mistakes. She explained that it could also be in form of high proficiency with book work but failure of math tests and above average ability in reading, writing and other subjects, but seeming inability to understand mathematical concept.
According to her, dyslexia is a phonology-based learning difficulty which is usually manifested as a reading difficulty and gradually evolves into difficulties in other subjects. This challenge, she pointed out, is not due to either lack of intelligence or desire to learn but usually having a neurological basis as the root cause. She said: "We believe that every child has potentials and that if given the right enabling environment and the encouragement they need to thrive, most would make dramatic improvement."
Having conducted researches on this subject, Okoye asserted that no two children can ever be the same. "We have designs that are individually tailored with ample considerations given to the individual deficit, learning styles, behavioural patterns and personality profile of each child.
Addressing journalists during her courtesy visit to Ajeromi Local Government Area in Lagos, Okoye reiterated that children with speech difficulty are curable through speech therapy. Her words: Speech interactive programme is designed to help children with communication difficulties make positive gains. The programme comprises of various standardised programmes to effectively improve areas of speech deficits.
Such speech deficits include: Speech delay, as in the case with autism and other developmental delays. Sound production disorders (including articulation and phonemic disorder). Dysarthria or weakness of speech muscles. Others are; Verbal dyspraxia and apraxia of speech and lisps (difficulty pronouncing 'L, R, S, etc sounds)"
Asked what the challenges are, she said: "My challenge goes beyond funding. A lot of schools are not doing the course. Many who are in the field are not trained. Every child cannot be the same. Identify the key area and deal with it. It must be through test before you can know the state of each child. We have poor manpower. In Nigeria, we have just one university doing the course. For speech therapy, there is no Nigerian university doing speech therapy.