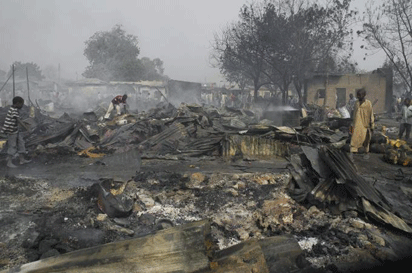 By NDAHI MARAMA
MAIDUGURI— Boko Haram Islamist sect, yesterday, killed 51 persons and injured 12 others in separate attacks in Borno State.
In one of the attacks on Gurmushi village in Marte Local Government Area of Borno State, the terrorists killed 42 persons and set the entire village ablaze, leaving many of the villagers displaced and taking refuge in Cameroon.
Marte is a border community with Chad and Cameroon, which had witnessed deadly attacks in recent times, including the military offensive on some terrorists camps along the Lake Chad Basin, where many of the terrorists were killed last year.
Marte is north and about 160 kilometres drive from Maiduguri, the Borno State capital.
Residents' accounts
A resident, Mallam Abacha Umar, said: "Gunmen, suspected to be Boko Haram terrorists, invaded our village (Gurmushi) killing over 40 people, while 12 others sustained injuries. They also set the village on fire."
Another resident, who does not want his name in print, told newsmen on phone that the gunmen stormed the village in the early hours of yesterday and started shooting sporadically, killing dozens of people and setting houses ablaze.
He said: "I counted over 40 corpses, while the village was razed down completely and most of us ran into the bush for safety."
Another resident, who spoke to the BBC Hausa Service monitored in Maiduguri by 3p.m. yesterday, said she fled from the village to neighbouring Cameroon, adding that 42 people were killed, while the 12 injured people were receiving treatment at a Cameroonian hospital close to the border.
She said they had all fled the village to Cameroon for fear of another attack from the Boko Haram terrorists as, according to her, they have intensified their attacks in the area in recent times.
Efforts to get the spokesman of 7 Division of the Nigerian Army, Col Muhammed Dole and Police Public Relations Officer, DSP Gideon Jibrin, for confirmation did not yield any result as their phones were switched off at press time.
The terrorists also carried out another attack yesterday morning on Amuda and Arbokko border villages killing nine people, before torching dozens of houses and shops.
The invasion
Boko Haram members were said to have stormed the villages in Toyota Hilux vehicles, motorcycles and an Armoured Personnel Carrier.
This is coming barely few hours after Cameroon deployed about 1,000 troops to border communities in North-Eastern Nigeria.
The two border villages are about 128 kilometres South-East of Maiduguri, the state capital.
Eyewitnesses say the gunmen came through the 16-kilometre Kughum Pulka border road by 2a.m., and stormed the two neigbouring villages, firing gunshots at residents who fled into farmlands and bushes at Mandara mountains.
'They're after males'
Pirda Takweshe, a resident of Amuda, who escaped to Pulka yesterday said: "I cannot imagine how I escaped last night's attack.
"It was God that saved my life; otherwise I would have been shot dead in my burnt house.
"The gunmen are after male who try to challenge them in what they claimed to be 'work of God'.
"Two of my neighbours were shot in the back and leg, while they were fleeing their houses."
Another eyewitness from Arbokko also told newsmen that most of the villagers fled into the hill, but that some were shot dead as they attempted to prevent the attackers from razing their houses with petrol bombs and explosives.
The Police Public Relations Officer, DSP Gideon Jubrin could not be reached for confirmation at press time, but a top security source confirmed the two incidents.