By Japhet Alakam
The need for proper of funding plays in Nigeria was re echoed last week when the National Troupe of Nigeria (NTN) hosted its 30th play reading session with the reading of Omo Uwaifo's 'One Kingdom, One Monarch' at Cinema Hall II, National Theatre, Iganmu, Lagos.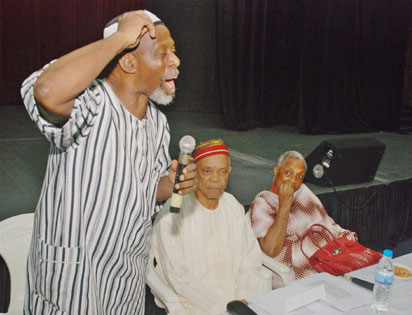 It was observed that there is need to sponsor cultural plays like One Kingdom, One Monarch that can lift the spirit and add value to the people instead of turning the country into dumping ground of foreign films. The event which was chaired by renowned poet and essayist Odia Ofeimun was attended by many theatre lovers and students of creative arts.
In his opening remarks, Martins Adaji, Artistic Director of the National Troupe while welcoming the guests said that the idea  is make people cultivate the idea of reading plays, try them on stage to test how realistic the play can be as a performance piece when staged. It was also meant to expose the work to theatre experts so that they can come out with criticisms that will make the playwright come out better.
Before the commencement of the reading, drama students of the Creative Arts Department of the University of Lagos directed by Joshua Alabi performed an excerpt from the play in Agit prop style, a way of compressing the entire play into small scenes used by producers to save cost.
After the short performance, Odia somehow deviated from the normal norm by inviting criticisms of the short performance. The system was criticised by some of those that spoke as it failed to bring out the historical contents of the play. Deputy President, National Association of Nigerian Theatre Arts Practitioners (NANTAP) Steve Ogundele, who started, described 'One Kingdom, One Monarch' as a traditional play and that Alabi's employment of agitprop is commendable.
Adaji commended Alabi's directorial approach and noted that the play highlights the importance of dialogue in resolving conflicts. On her part, Director, Drama of the Troupe, Josephine Igberease noted that it's a cultural and historical play and that Alabi choice of agitprop was to reduce production cost.
On his part, Odia who started by highlighting the pedigree of the playwright, an electrical engineer urged all to identify with him. "He is an inspiration to many of us who write in the city; he has also put in a consistency that is admirable though he is an engineer that chose to be a writer, a playwright" .
He continued by noting that a play truly becomes one after it is staged and enjoined the audience to critically critique the students and the playwright. "You don't h—ave to be nice to the playwright because he is an engineer; he's a bloody playwright," Odia reiterated.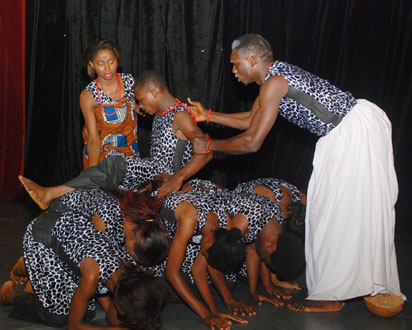 After that, Odia selected five persons, Ogundele, Muyiwa Odukale, Efe Orhorha, Soibifaa Dokubo and Williams Ekpoto to the stage to read excerpts from the play set in 18th century Benin Kingdom and centred on Oba Akengbuda and a general of the Edo military, Ogbe. The Oba is fond of the warrior because of his courage and inventiveness but a minor misunderstanding between the duo leads to a needless war that claims several lives.
Again, Odia instead of calling for comments from the floor, stampeded the readers to speak on how they felt after reading the play and they expressed their views too.
Another issue was on the use of Agit prop, here some of them supported it that it is good for some plays to save cost but others disagreed pointing out that the style will stifle the play's elevated language noting that historical plays should not be done with agitprops.
Odia however agreed with the majority, noting that "agitprop only works when a play has been properly staged." He however acknowledged that budgeting is a big issue in choosing a directing style for a play. There can be no performance without a thriving economy that derives from established industries functioning optimally,  adding that the National Troupe ought to be adequately funded to produce three major plays in a year.
Contributing, veteran TV producer, Femi Robinson held that supporting theatre in Nigeria is the most important thing and that any directing style can be chosen.
Igberease, who  noted that culture and commerce has to be mixed proportionately, explained that the play is a big cast production that will need at least six weeks of rehearsals and gulp up to N20 million to stage.
Director, Dance of the Troupe, Arnold Udoka while commending the play said, "you can migrate it to other directorial styles but you need to stay faithful to the playwright's work. I will just ask the playwright to revisit the wordiness so that the poetry becomes tighter. It is wonderful historically but too verbose. Then you don't have to change the format because of the budget; don't cut corners. Look for budget and face its historicity. Give it the respect it deserves because it can compare with Shakespeare."
Commending the playwright, Adaji said that though 'One Kingdom One Monarch' needs more work structurally, "it is a director's play. In fact, it is a good play for it to have elicited this kind of dialogue. It means you have done well sir."
Responding, Uwaifo who confessed that he was thrilled at how the session went said that all the comments will be taken on board and reiterated that every writer must subject their works to critics because no body know it all.
Subscribe for latest Videos